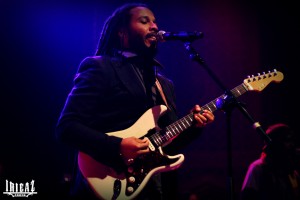 Photos By Thomas Koppinger
The Scene: The Ogden Theater was filled with musical prayers on Saturday. It was a celebration of life, of freedoms, and of love. Ziggy Marley and opener Natty sung their praises to Jah and brought us a little closer to heaven. The show was not sold out, but there couldn't have been more than a handful of tickets left because the place was packed! Reggae is a spiritual music, no two ways around it, and everyone came to worship the Marley bloodlines that have brought so much enjoyment to us all for the past few decades. Off the stage there were few Dreadlock sightings, but plenty of folk partaking in the ceremonial lighting of the chalice. The Ogden is one of the most popular venues in Denver and their sound system is impeccable; not too bass ridden and crystal clear.
The Opener: Natty brought his soulful folk reggae blend over from the UK to start getting our heads right. Natty, with his dreads neatly placed under a wrap atop his head, strummed his acoustic folk style Gibson percussively while always keeping a mellow tone. The bass player set the groove and also played hand drum and a kick snare. The trio was completed with a rather sassy electric guitar. Natty sang intelligent, positive and politically aware lyrics with a smooth and passionate voice. His songs ranged from upbeat songs about the X Box generation to true roots rydims that sent the puffs of smoke into the air.
Ziggy Marley: Ziggy Marley and his band took up nearly every inch of the Ogden's large stage. Behind Marley were two key players, a bass player, a full drum kit, a multi percussionist and two additional guitarists. To his right was a dready beauty who sang back-up vocals and acted the songs out through dance. Opening up with the uplifting "Welcome To The World" our moods were immediately brought to greater heights. The lead guitarist was way more jammy then I expected, and his intro to "Be Free" was a refreshing surprise. As they played every note clean and tight, chants of "Freedom is good for you" came from the stage. "Make Some Music" was a thick roots groove that was sexy and soulful.
Watching Ziggy Marley on stage, you can't help but see his father in him. We all know Bob Marley was a legend that is beyond compare, bringing an obscure form of music to the corners of the globe, but Ziggy picked up where he left off in his own way. He shares the legacy with us and has created a career that would stand firmly on its own no matter who sired him.
Ziggy's "Beach In Hawaii" combined the sounds of all the islands and the Nubian princess swayed, shimmied, and pulsed to the infectious track. Marley admitted to having "Reggae In My Head" as he swung his ass-long dreads and bounced around the stage, exploding into his father's classic "Stir It Up." As much as everyone loves Ziggy's music, they absolutely go ape-shit when he plays the songs of the senior Marley. As a huge cloud of the Ganja smoke rose into the upper balcony, we collectively entered into a rhythmic trance that united present and past. The female singer gripped her shirt and slapped her hand over her heart as Ziggy high-stepped across the stage like only a true Rasta can.
As the ferocious movements continued on the stage we were brought "Forward To Love." One of Ziggy's radio hits, "Tomorrow People" was what the crowd was waiting for and we reached our hands to the sky we related the lyrics to situations of the present day. Ziggy put down his guitar and danced across the stage claiming he's "Gotta Be True To Myself," as we all clapped along. As Marley performed his timeless song, "Changes," he chanted "Do we wanna see some changes for ordinary people?" and images of Occupy Wall Street and the hopeful spark it has created ran through my head. Reggae is music of the people, and although a successful man, Ziggy stays lyrically true to the principles and concepts of the foundation of reggae.
Whipping the crowd into a frenzy, Marley erupted with the fast ska bounce of "Black Cat." He swayed on the stage like a tree in the wind and we saw how spiritually connected this man is as he simultaneously communicated with the audience and the skies. Marley said "I Want To Love You" to us all and then proclaimed "Love Is My Religion." Singing the lyrics "I will take you to the temple tonight." Couples who came together made-out freely and those not paired up basked in the love radiated throughout the room. Jumping into "Look Who's Dancing Now," Ziggy's dreads flew across his face as his finger pointed to the sky. I looked, and EVERYONE was dancing now!
Leaving the stage briefly, the group of stellar musicians returned to close out the night with "Justice." and finally his father's classic, "Jamming." The Marley clan is the royal family of Reggae and Ziggy the prodigal son. Never forgetting the impact of his father, we all showed our appreciation for carrying the torch as we gave our heart-felt applause.
Energy: A+
Sound: A+
Musicianship: A
Stage Presence: A+
Set/Light Show: B
Overall: A
Brian Turk grew up in the shadow of the Catskill Mountains, near Woodstock, NY. He comes from a family of music lovers, audiopliles, Dead Heads and avid concert goers.The musical magic that can only be created in the Catsklills, both past and present, is what Brian cosiders the epicenter of his music addiction. The music of The Band, and most recently The Levon Helm Band, is the soundtrack of home for him. Brian's mother took him to his first concert at 5years old...it was Johnny Cash and Roseanne Cash at Jones Beach Amphitheatre. For Brian, music is a family affair. He feels the same way about live music...we all convene to celebrate together. Brian's writing life started when he wrote his favorite author, southern fiction writer Clyde Edgerton, a fan letter at age 13. When most kids were idolizing baseball players and television, he was worshipping writers and musicians. The two became friends and Clyde shared his craft with Brian. The next year Brian attended Duke University's Young Writers Camp. This is the extent, of what Brian considers, his "formal" training in writing. From then on his goal was to capture snapshots of life through words. Brian has been involved with live music in various facets over the years, and combined with his enthusiasm and love for Denver's music scene, he creates a vivid description of what he sees and hears. If you see him out at a show, dancing with a notebook in hand, say hello.