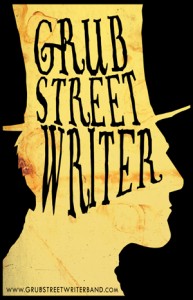 Andy Palmer is a man of conviction, one who has spent his life searching for meaning…and it sounds like he has found it in his music. His experience as a spiritual seeker, a public defender in Brooklyn, and communing with nature as a raft guide have given him years of truth to write about. Andy played in Boulder's music scene years ago, but headed back to the east coast and focused on other pursuits. Newly returned to Colorado, he is jumping onto Denver's stages with tenacity.  Palmer has just released his first album, Sometime Around, and will be throwing a release party at The Walnut Room this Friday. Even though he just released a new album under his name, the band Grub Street Writer is his main obsession.
I had the chance to sit down with Andy and Grub Street Writer's electric guitar player, Dan Kern. What I saw was two men from totally different backgrounds, who are about to add something fresh to Denver's venues. Andy claims to come from a jam background, in terms of what he listened to growing up, but chooses to present his music in a more primal way. To Andy, there are two sides to his music, "the jam, peaceful, no negativity thing, and the hardness. I want Grub Street writer to hit people and tell them it's okay to acknowledge the dark and the light. I used to think there was no room for negativity in music, but over the years I have started opening up. I am searching for a middle ground that is hard to find for most bands. Dark, light, fast, upbeat, mellow." Dan is from a jam background, in terms of playing, and his style lends an openness and depth to Palmer's stripped down creations.
Obviously happy to be working together, these musicians are starting from the ground up.  Andy and Dan, or "Dandy," met when Palmer's album was already in production and while they have been playing the material Andy had already created for Sometime Around, they are also spending a ton of time together co-creating new songs. Andy's songs are simple in musical structure, focusing on the lyrical presentation. His acoustic guitar playing may be basic, but it is far from flat. Energetic, aggressive and raw, Andy's edge is softened by the Kern's style on the electric guitar. For Kern "the dynamics of music are really important. That is probably what me and the other's in the band have had to focus on the most. Paying attention to the changes in verses, making a simple two chord song flow by adding punctuation." It is this unique approach that will please the ear of potential Grub Street Writer fans and broaden their appeal to a much larger audience.
Produced by Denver local Justin Peacock Sometime Around is an album of substance. With lyrics that come from the soul of a man who is careful when he speaks, Palmer analyzes the realities and harshness of life through song. While he frequently smiles, his voice is as rough as the world he sings about. When Andy thinks about song-writing, he thinks about "crafting songs for longevity. Songs that have emotional impact and hit you somehow. Not because you can dance for twenty minutes to it. It is more about the dramatic presentation of feelings, not to try and get someone out of their seats." Dan Kern added "No one is going to be spinning around in hula-hoops at our shows, but they will get deeply into it."
Grub Street Writer will be performing Andy Palmer's album Sometime Around in its entirety at the Walnut Room on Friday.  Details can be found here.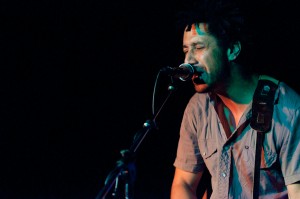 Andy Palmer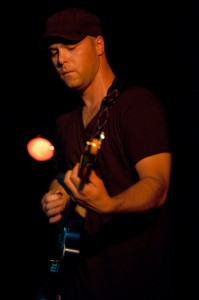 Dan Kern
Brian Turk grew up in the shadow of the Catskill Mountains, near Woodstock, NY. He comes from a family of music lovers, audiopliles, Dead Heads and avid concert goers.The musical magic that can only be created in the Catsklills, both past and present, is what Brian cosiders the epicenter of his music addiction. The music of The Band, and most recently The Levon Helm Band, is the soundtrack of home for him. Brian's mother took him to his first concert at 5years old...it was Johnny Cash and Roseanne Cash at Jones Beach Amphitheatre. For Brian, music is a family affair. He feels the same way about live music...we all convene to celebrate together. Brian's writing life started when he wrote his favorite author, southern fiction writer Clyde Edgerton, a fan letter at age 13. When most kids were idolizing baseball players and television, he was worshipping writers and musicians. The two became friends and Clyde shared his craft with Brian. The next year Brian attended Duke University's Young Writers Camp. This is the extent, of what Brian considers, his "formal" training in writing. From then on his goal was to capture snapshots of life through words. Brian has been involved with live music in various facets over the years, and combined with his enthusiasm and love for Denver's music scene, he creates a vivid description of what he sees and hears. If you see him out at a show, dancing with a notebook in hand, say hello.