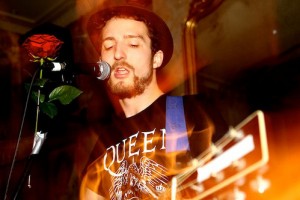 The Scene: Much to my surprise, and many others, there was a sign that read: "Yes! We are sold out. No more tickets, not even one," above the box office window at the Marquis Theater on Friday night. Veteran punk rocker Frank Turner was in Denver with his backing band The Sleeping Souls and they were being supported by the folk punk duo Andrew Jackson Jihad. The Marquis crammed the fans in there like sardines and since we showed up a little late there was hardly any room to move once we got inside. Due to the cramped space, we found a comfortable spot next to the bar and stocked up on Pabst tall boys. The crowd was not what I was expecting in the least bit and I blame Frank Turner for this. Aside from a few younger punk rock looking folks amidst the masses, it was mostly well dressed couples and groups of people that appeared to be in their late 20s or early 30's.
Andrew Jackson Jihad: These guys are the main reason my friends and I made it out to the venue on Friday night. They are an acoustic folk-punk band from Arizona consisting of Sean Bonnette on guitar and other instruments, and Ben Gallaty on stand up bass. Their brand of punk-rock is a unique take on an old and dying sound. Sean's lyrics are not only intelligent but steeped in raw emotion. The last time I saw them was in an old warehouse turned anarchist collective /venue and multiple times throughout their set I was asked by curious audience members "who are these guys?"
It was great to see a smaller band get the recognition they deserve. If it wasn't for the Frank Turner crowd I feel like the venue would have been a lot less packed. Sean's intense lyrics grab a hold of you and don't seem to let go. Intense and honest, his way with words fills you with emotion that is not easily forgotten. It was clear that not everyone really understood Andrew Jackson Jihad, but the ones that did were able to walk away from the night with a new found clarity. His songs are intense, morbid at times, and beautifully well written. Their nearly hour long set was filled with songs from their new album Knife Man as well as old favorites. Some are sing-a-longs, some are hardcore dance numbers, and some songs force you to simply stand drop-jawed and wide-eyed.
In all honesty, I would have been completely content with them headlining. His one of a kind style of strumming is matched perfectly by the simple bass rhythm's plucked out by Ben. Andrew Jackson Jihad remains one of my favorite bands. They are unbelievably underappreciated and deserve much more credit than they have. It is truly amazing the energy that only two people with 10 strings can bring to the stage.  It proves that you don't need a full band or overly intricate songs to gain attention. I recommend anyone who digs passionate music look into Andrew Jackson Jihad. You will be tumbling their songs on repeat in your head for days.
Frank Turner: Frank Turner got his start in the post hardcore band Million Dead. In the years since they disbanded in 2004 he has focused on solo acoustic music with less of an edge. Since 2005 he has released 4 solo albums and garnered what is apparently quite the large following worldwide. When he walked out on stage dressed all in white the crowd erupted and I had to agree with the few rumblings of disappointment I heard due to him having a live band and not just playing a completely solo set.
I don't believe he has headlined a show in Colorado before but you wouldn't be able to tell by the size of the crowd. I even had the opportunity to be heckled by Frank's brother in law for my choice of beverage which apparently indicated I was a "Hip Hipster." It was all in good fun, though.
Unfortunately I had trouble relating to a majority of his songs. Except, of course the ones about drinking whiskey. Due to the dense crowd it was tough to find a nice spot to dance, but people began to loosen up after about the fourth song. He shuffled back and forth between old material fans could sing along with and songs off of his new release England Keep My Bones.
By the end of the set a small mosh-pit had even formed complete with the occasional crowd surfer. Frank expressed deep gratitude for everyone that showed up for the sold-out show and shared memories of playing in front of crowds astronomically smaller at the same venue. I don't doubt for a minute that next time he will grace the stage of a larger theater that will be packed to the brim.
I wouldn't suggest seeing Frank Turner if you are expecting the punk-rock from his past. His style has evolved in so many ways over the years. His sound is reformed and exactly what you would expect from an ex-hardcore band front man turned English folk countryman. His brand of rock and roll certainly has staying power and deserves every raised glass of fine ale it received on Friday night. Too bad I could only afford Pabst.
Energy: B+
Sound: B
Musicianship: B
Stage Presence: A
Set/Light Show: N/A
Overall: B+

I rode my skateboard from school in 7th grade to my buddy Vince's house where he put on the song "Perfect Government" by NOFX and I was hooked. The next day I bought the album Duh by Lagwagon. The next year I saw Against Me! at the Starlight Theater in Fort Collins, my mom dropped me off. I've since devoted every waking hour to anything done with passion. My speakerbox bumps everything from Lil' Wayne to Pablo Casals. I was never very good at making music, but I am damn good at listening to it. I've been filling up yellow notepads with random thoughts and misspelled words for as long as I can remember. I enjoy whiskey of all sorts, Newport cigarettes and the company of my family. I've got an addiction to run-on sentences that I'll probably never cure. A solid handshake with a stranger who has become a friend over a few beers means the world to me. You'll often find me wide eyed and wandering with an ear to ear grin. I live for funky break beats and spreading the love.