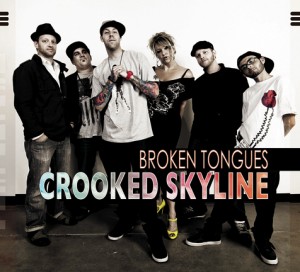 Well, I'm no Phillip Mylnar, but this week my playlist has included Jeru The Damaja, Biggie Smalls, Black Sheep, Mad Cobra, and Shabba Ranks and when the new Broken Tounges album Crooked Skyline exploded through my speakers, I immediately loved their unique style of live band hip-hop.
The album opens up with Christie Chambers' soulful and powerful voice inviting us in, singing "Take my hand I'll show you the way…" to an energetic blend of hip-hop, jazz, rock, funk and soul. The six members of this group bring unique backgrounds to the table, blending it all into 83 and a half minutes of funkin' hip-hop power with instruments, samples, singing, turntabalism, and lyrical flow all fitting together like pieces of a puzzle.
From start to finish the album makes you move and the band brings a dramatic element to the hip-hop beats, allowing Broken Tongues to explore the outer reaches of their musical range. The whole album is great for bumping with the windows down, without having to offend the soccer mom next to you. There were a few songs that particularly stood out and will stay in rotation: The sexy first track "The Way," the San Diego boardwalk, sunny day deceleration of confidence, "Dimes in Dollar Stores," and the emotional and spacious last track "Sunrises" that features a hard edged rock-fueled drive that will make any candy kid go "BOOM!"
Broken Tongues' CD Release Party will go down at Cervantes Other Side on Friday November 4th and I cannot wait to see these guys live! I wouldn't expect it to be anything other than a sweaty, freaky good time.

Brian Turk grew up in the shadow of the Catskill Mountains, near Woodstock, NY. He comes from a family of music lovers, audiopliles, Dead Heads and avid concert goers.The musical magic that can only be created in the Catsklills, both past and present, is what Brian cosiders the epicenter of his music addiction. The music of The Band, and most recently The Levon Helm Band, is the soundtrack of home for him. Brian's mother took him to his first concert at 5years old...it was Johnny Cash and Roseanne Cash at Jones Beach Amphitheatre. For Brian, music is a family affair. He feels the same way about live music...we all convene to celebrate together. Brian's writing life started when he wrote his favorite author, southern fiction writer Clyde Edgerton, a fan letter at age 13. When most kids were idolizing baseball players and television, he was worshipping writers and musicians. The two became friends and Clyde shared his craft with Brian. The next year Brian attended Duke University's Young Writers Camp. This is the extent, of what Brian considers, his "formal" training in writing. From then on his goal was to capture snapshots of life through words. Brian has been involved with live music in various facets over the years, and combined with his enthusiasm and love for Denver's music scene, he creates a vivid description of what he sees and hears. If you see him out at a show, dancing with a notebook in hand, say hello.