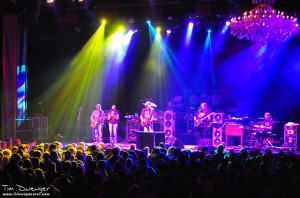 All Photos By Tim Dwenger
The Scene: As the I waited for the Box Office to figure out a snafu with my tickets for the evening, I had the chance to check out the crowd that was outside The Fillmore on Saturday night before Dark Star Orchestra took the stage.  Though there were some tie-dyes and dreadlocks, and even a few fingers in the air hoping for miracles, the crowd was a little sparce.  I'm sure it had to do with the fact that Furthur was just in town (read our review of a lackluster Saturday show here) and most Deadheads favored dropping their hard earned cash on those shows, rather than fork over for a cover band a week later, and who can blame them for that.  Once inside the venue the curtain was drawn behind the soundboard, cutting the floor in half, and though it did get the point where it was fairly full in the front half of the room, The Fillmore was definitely a bit big for Dark Star this time around as the empty air around the venue seemed to suck much of the energy that was pouring off the stage.  Maybe next time a couple of nights at The Bluebird would work?  Let's hope so!
Dark Star Orchestra: After catching a sold-out Furthur show at Red Rocks so recently, I wasn't sure that more Dead tunes were exactly what I was in the mood for on a Saturday night, but none the less I headed out to catch my first Dark Star Orchestra show.  I'm not sure how I've missed these guys over the years, but somehow they just didn't make my priority list.  Well, on Saturday I found out what I had been missing.  These guys are a tight bunch of players and they've got the best parts of The Grateful Dead vibe down pat.
Dark Star has undergone some changes over the past few years, first in 2005 co-founder Scott Larned tragically passed away and then in 2009, lead guitarist John Kadlecik was tapped by Bob Weir and Phil Lesh to join Furthur, ostensibly filling the late Jerry Garcia's role.  Today, Rob Barraco has taken over the Keyboard duties and Jeff Mattson has filled Kadlecik's shoes.  I have a long history with these two as they were the backbone of the New York area jamband The Zen Tricksters when I lived on the East Coast and I caught them playing Dead tunes and originals countless times at venues like Maxwell's in Hoboken and the legendary Wetlands Preserve in Manhattan.  It was nostalgic to see these two reunited on stage playing the music they love so much alongside such a capable bunch of musicians.
While I was still outside, the familiar strains of The Dead's Disco classic "Shakedown Street" floated out the door and fortunately I was inside seconds later to witness an absolutely stunning version of the tune.  The band then moved into the country rock section of the show that was heavy on Bobby tunes like "It's All Over Now" and a great segue between "Mama Tried" and "Mexicali Blues."  As the set wound down, Mattson stepped to the mic for a fantastic take of Bob Dylan's "Tangled Up In Blue" the pushed the energy in the room to a fever pitch and sent us into setbreak with our dancing shoes on.
After a modest 30 minute intermission, DSO returned with the late 70's Weir/Barlow tune, "Feel Like A Stranger," that began a seamless second set of music that wound between structured classics like "Eyes Of The World," and "Estimated Prophet," and looser, more jam-oriented tunes like "King Solomon's Marbles" and "Dark Star."  The mid-set Drums and Space combo allowed the crowd to take a break, find that last beer, and hit the bathroom before settling in for The Beatles "Hey Jude" and Traffic's "Dear Mr. Fantasy," a pair of covers that set us all up nicely for a rocking version of the Saturday night staple "One More Saturday Night" to wrap up the second set.
After the band tenderly rocked our souls as they closed out the evening with the Garcia/Hunter ballad "Brokedown Palace," I was struck by how much energy had been flowing from the stage all night as the musicians locked step and fed off each other.  That's what has been missing at many of the recent Furthur shows that I have seen; the energy and that "oneness" on stage that can make a show so different from the next.  Granted I'm basing this on one Dark Star show, but they showed me what I am looking for in Grateful Dead music and while I'm not saying I won't head out to see Furthur or Phil and Friends again in the future, you can bet I'll be catching Dark Star Orchestra again.
Set I: Shakedown Street ; It's All Over Now ; Easy To Love You ; Loose Lucy ; Mama Tried > Mexicali Blues ; Mississippi Half-Step Uptown Toodleloo ; The Music Never Stopped > Tangled Up In Blue
Set II: Feel Like A Stranger > Eyes Of The World > Wharf Rat > King Solomon's Marbles > Estimated Prophet > Dark Star > drums > space > Hey Jude > Dear Mr. Fantasy > Hey Jude finale > One More Saturday Night
Encore: Brokedown Palace
Energy: B+
Sound: A-
Musicianship: A-
Stage Presence: B-
Set/Light Show: B+
Overall: B+
Music has always been a part of my life. It probably all started listening to old Grateful Dead, Peter Paul & Mary, and Simon & Garfunkel records that my parents had, but it wasn't long before they were taking me to concerts like Starship, Crosby, Stills & Nash, and Huey Lewis & The News. I got the bug to write about music after reviewing an Eric Clapton concert for a creative writing project in high school but didn't really take it up seriously until 2002. Since then I have published countless articles in The Marquee Magazine and done some work for Jambase.com, SPIN Magazine, and various other outlets. I started Listen Up Denver! as a way to share the music information that is constantly spilling out of my head with people who care. Please enjoy!