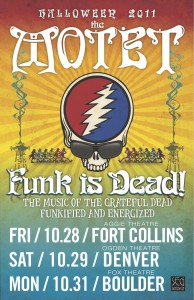 Why You Should Go: For Halloween 2011 The Motet will be paying tribute to the music of one of the most influential rock bands of the last 40 years: The Grateful Dead! How does the Grateful Dead's sound fit into the energy and vibe of a Motet Halloween show? They will be taking the challenge of reworking those epic and timeless songs with the energetic afro-funk grooves that you come to expect from The Motet hence the title Funk is Dead!
In addition to usual suspects of of Dave Watts (drums), Garrett Sayers (bass), Joey Porter (keys), Ryan Jalbert (guitar), Scott Messersmith (percussion), and Dan Schwindt (guitar), they will be bringing in 3 of their great vocalists: Jans Ingber, Paul Creighton, and Kim Dawson. Also, they will be showcasing a trio of horns (whos ever played the Grateful Dead with a horn section?!): Gabe Mervine (trumpet), Matt Pitts (tenor), and Pete Wall (bari). The boys are certain that these are going to go down in Motet Halloween history as some of the most exciting and creative shows they have ever put together! With the Boulder show already sold-out, make sure to get your tickets soon so you don't find yourself at the concert with your finger in the air looking for a funky miracle!
Venue:
Friday: The Aggie Theatre, 204 S. College Ave – Fort Collins, CO 80524 – 970-482-8300
Saturday: The Ogden Theatre, 935 E. Colfax Ave – Denver, CO 80218 – 303-832-1874
Monday: The Boulder Theater, 2032 14th Street – Boulder, CO 80302 – 303-786-7030
Doors:
Friday: 8:00 PM
Saturday: 8:00 PM
Monday:  8:00 PM
*Price:
Friday: $24 – ADV Buy Tickets
Saturday: $25 – ADV Buy Tickets $30 – DOS
Monday: Sold-Out
*All times and prices are gathered from other sources and I am not responsible for mistakes or inconsistencies. They are intended only as guidelines. Please, always call the venue if you desire the most accurate information possible.