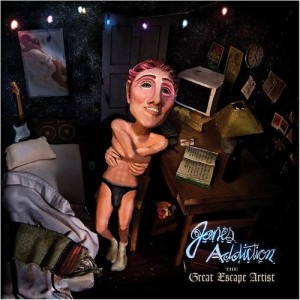 Taking their name from Aldous Huxley's psychotropic writings, The Doors arrived on the music scene back in 1967. They blended art rock, jazz infused pop, and blues together to create a new sound. Unlike their contemporaries, The Doors refused to be mere entertainers, they continued to push the boundaries of themselves and music. That is why The Doors remain relevant today, 40 years after Jim Morrison's death.
It only seems fitting that the first true alternative band, a band that would influence the likes of Nirvana and Rage Against the Machine, would have their beginnings in the same city as The Doors. In 1985, Jane's Addiction was formed in LA. Lyrically they espoused Huxley-like concepts of pure aesthetic and sacramental vision and Perry Farrell's enigmatic persona as a front-man served to underline those ideals. Dave Navarro wove an intricate sonic tapestry on the guitar to accompany Farrell's engaging and often times mystical voice while rhythms, almost tribal in nature, were provided by bassist Erik Avery and drummer Stephen Perkins. Combining elements of rock, punk, and folk, Jane's created a one of a kind musical style that captivated and challenged audiences.
Fast forward 26 years, 5 albums, a few #1 singles, and numerous side projects, and today we welcome the release of the first new Jane's Addiction studio album since 2003, The Great Escape Artist. While Avery was replaced by TV on the Radio's Dave Sitek during the recording of this album, the electronic textures, Navarro's guitar-god solos, Perkins' trance inducing percussion, and Farrell's erotic shaman-like vocals combine to create an album that nears the perfection of Nothing's Shocking. Tracks "Irresistible Force," "Splash a Little Water On It," and "Words Right Out of My Mouth," show how Jane's, like the Doors before them, refuse to be mere entertainers and continue to push the boundaries of their music. Unlike many of Jane's contemporaries, whose music has been relegated to discount bins, Farrell and his bandmates continue to evolve and be relevant to today's music listeners.

Wherever the music is, you'll find me with my camera, shooting on street corners, from barstools at clubs, from the side of the stage at theaters, and from photo pits in places like Red Rocks. Clicking away, trying to capture the emotive essence of music, and all those moments that we forget because of one too many Pabst Blue Ribbons.