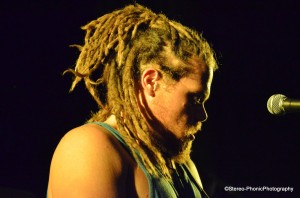 All Photos By Johne Edge
A crowd of underage "X" on the hand kids and 20 something's filled the Bluebird Theatre to near capacity last Saturday.  The young audience saw The Green take their music genre full circle.  While the band never fully abandoned their Reggae roots they broke the music back down to the base elements during certain songs.  They embraced  the R&B  that helped birth Reggae and added elements of Soul, Pop, and Rock.  The East Colfax venue echoed with four diverse and distinct voices as singer Caleb Keolanui, singer-guitarist JP Kennedy, singer-keyboardist Ikaika Antone, and singer-guitarist Zion Thompson shared the vocal duties over the course of the evening.  Singing songs from their debut album, 5-track EP, and the new Way & Means album, the audience was transported to a Pacific island beach with ocean waves rolling in.  Vocals well in hand, The Green has solidified an already fresh unforgettable sound with the inclusion of drummer Jordan Espinoza and touring bassist Brad "BW" Watanabe.   As the set finished I remember feeling a little bad for Giant Panda Guerilla Dub Squad who were left with the task of  trying to match the energy and crowd pleasing performance that The Green had just delivered.
Just off stage, singer-guitarist Zion Thompson was kind enough to take a few moments to talk to us at Listen Up Denver!
Listen Up Denver!: Can you provide me the lyrics from a song that describes the bands mood in regards to tonight's show.
Zion Thompson: The lyrics to the song "Alive" are "Together we can make some memories, to help love grow and live eternally." When everyone sings that lyric it kind of gives the whole feeling of unity …and the crowd tonight was unreal… the crowd was awesome everybody was singing, and when everyone sings that… the song brings everyone together.  So that was special tonight.
LUD!: How did you come up with The Green as the band's name?
ZT: It means a million different things to us.  It could be from the movement for the environment, with us being from Hawaii it represents the lands…the green represents the land to us, just like in reggae culture on the flag green represents the land … it can also represent the herb and that kind of thing…it's something for everybody, no one dislikes the color green.
LUD!: You guys are a long way from your homes in Hawaii, and only two shows into a 30 plus stop tour.  How is life on the road, and splitting a bill with Giant Panda Guerilla Dub Squad?
ZT: We love Panda…those guys have been friends of ours for a while now.  We are in the same management family.  They take good care of us, we take care of them…we have got each other's backs.  It's a breeze, its great being on the road with them.
LUD!: Any upcoming tour stops you are looking particularly forward to playing, and why?
ZT:  We are looking forward to the Roxy in L.A, looking forward to getting through Austin and Dallas…we love the south, New Orleans… going up to New York City is one of our favorite places.   We are hitting up Florida and the Carolinas…we love all that.  Everywhere man, we just love getting out…just seeing different stuff and different people…we love it all.
LUD!: What is the most outlandish thing your band would consider putting in your backstage rider?
ZT: I don't know, we try to be sensitive about those kind of things…maybe like a pound of weed or something… we just ask for the basics usually, like some good local beer.
LUD!: What is your bands' drink of choice?
ZT: I love craft beer.  I love traveling around the country and trying different beers, but I would have to say that Crown Royal might be the bands drink of choice…that's JP Kennedy's fault.
LUD!: Your guys sophomore release Ways & Means drops on October 25th.  What can our readers expect from the new album?
ZT:  It's an example of everything we have in our arsenal… we have four different singers and four different styles of songwriting on the album.  It's all of the ways and means that we have to bring the world reggae music from Hawaii.  Bringing music from our perspective.  Dancehall, Roots, lovers, everything including R&B, Soul, Pop, and Funk, all the stuff we like to add in there…it's all there.  Maybe a slightly matured sound from being on the road.
After catching these guys live, and having a chance to preview their new album, it's no surprise that The Green continue to win awards for their music and to top the reggae charts.   If you haven't had the chance to hear The Green's youth-infused blend of reggae, be sure to check out their new disc, Ways & Means, available now on iTunes and at Easy Star Records.
Wherever the music is, you'll find me with my camera, shooting on street corners, from barstools at clubs, from the side of the stage at theaters, and from photo pits in places like Red Rocks. Clicking away, trying to capture the emotive essence of music, and all those moments that we forget because of one too many Pabst Blue Ribbons.