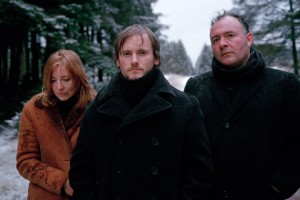 Stack on the qualifiers and hybrid genre tags, but not even the most creatively synthesized verbiage will do; in the end there's only one answer when someone asks what Portishead sounds like — the recursive answer: Portishead.
Many bands shape genres during their evolution, and some bands redefine genres, radically altering them with transformations that show signs of the birth of a new sound. But very few bands have managed to define a sound from the first beat of its creation the way Portishead did 17 years ago. Sure, they weren't alone in the development of trip-hop (one of the aforementioned hybrid genre tags — the one most commonly used regarding Portishead) as a nascent sound. The British band Massive Attack put their fingers into the primary influences of trip-hop — jazz, electronica, and hip-hop (a hip-hop sound that differed from the hip-hop/rap that was popular in the U.S. at the time because the U.K. hip-hop scene tended to sample more from Jamaican influences) — three years prior with their debut album Blue Lines.
But whereas Massive Attack showed a glimpse of what was on the horizon, Portishead was that horizon, all encompassing.
When Portishead's debut album Dummy dropped in 1994, it was like a new musical species had been discovered. When their eponymous second album hit in 1997, after three years of artists' responses to Dummy (Massive Attack's Protection, Tricky's own Maxinquaye, DJ Shadow's debut Endtroducing….., etc.), the sound was cemented. But then, a decade of near silence.
Finish This Article Over At The Marquee Magazine Site . . .

Catch Portishead Performing Live:
1st Bank Center – October 27th
The Marquee is an independent, Colorado-based, PRINT & ONLINE Free Music Magazine. The Marquee strives to be the Farmer's Almanac of the regional music scene — providing readers with facts, tid-bits, in-depth feature stories and a Calendar section that is unparalleled on Colorado's Front Range, covering every live music venue from large venues such as Red Rocks Amphitheatre to small clubs and coffee shops.