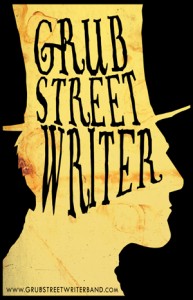 The Scene: The Walnut Room welcomed over a hundred music lovers to the CD release party for Andy Palmer's Sometime Around. I was surprised at the buzz and anticipation of the crowd as these kinds of parties can sometimes be lack-luster or obligatory for friends, family, or anyone you can get to fill the room. Palmer made some smart choices in order to pull this night off well. First, the venue. The Walnut Room has amazing sound, a warm vibe and is so clean! The next right move was choice of openers; Joel Van Horne from Carbon Choir and I'm A Rebel Dottie.  Lastly, he and his band brought well-rehearsed material to the stage.
Nothing about the night seemed forced, stale, or unprofessional. The crowd was into the music but also a bit chatty as they were obviously loosened up by the beer and excitement of the release of the new record. As we all rubbed elbows with a surprising number of other local musicians, it seemed like no one wanted to miss what was about to go down.
Joel Van Horne: Van Horne, the lead singer and guitarist of Indie/Emo/Alt/Pop band Carbon Choir, and his Martin D-35 captivated us with his ethereal voice and rich guitar tone. I am usually not one for the genre Carbon Choir is affiliated with, but Joel's musicianship just could not be denied. His originals were well written and full of feeling, but it was the cover of the Beatles "A Day in The Life" on that Martin that got me.
I'm A Rebel Dottie: The renegade folk guitar and drum duo produced a lot of sound for two dudes. An upbeat acoustic guitar was paired with some solid drum grooves creating a sound that was both light and grimey at the same time with just a hint of country. These guys were a blast, and got the crowd moving a bit… a perfect Segway between Van Horne's sweetness and Grub Street Writers depth.
Andy Palmer and Grub Street Writer: I saw Grub Street Writer perform at another venue over a month ago, and didn't really know what to think. Something was definitely there, but it just was not coming together right, and the sound was kind of crappy. Well, I saw a different version of Grub Street at The Walnut Room. They were tight and their music was presented in more detail. The sound was great and it seemed like Palmer's vision is finally coming together. I also realized that his acoustic guitar playing is far more developed than I had originally given him credit for.
Palmer is trying to present his music by adding some refinement and space to his Folk/Punk attitude and sound. Combining the subtleties of guitarist Dan Kern's Jam and Jazz influenced Les Paul licks, with Palmer's more raw acoustic style turned out to be a sure-fire way to do it. Both Kern and Palmer were on fire, and people loved it!
Though producer Justin Peacock did about as good a job as anyone could have, the material from Sometime Around sounded more nuanced and driven when performed live proving that you cannot record or cage the energy and growl of Andy Palmer. The fact of the matter is this band is meant to be seen live.
Although a lot of material from Andy's album Sometime Around was performed, a more recently penned song about Colfax got the crowd moving, and I swear if there was a hula-hoop in the room the shorty with the short hair in the front would have been all about it! Kern's style was rather "buttery" as Palmer's brother aptly put it, and I expect the Palmer and Kern team to come up with some more great material as the continue to work together in the future!
In short: Lyrics full of introspection and depth were combined with the sweet oblivion of a jammy Gibson tone. Resonator guitar was combined with funky bass lines. Andy's gritty voice was accentuated by the vocal stylings of Ayo Awosika. Dark was paired with light for an all-around…well, good freakin' night.
Energy: B+
Sound: A-
Musicianship: B
Stage Presence: A-
Set/Light Show: B-
Overall: B

Brian Turk grew up in the shadow of the Catskill Mountains, near Woodstock, NY. He comes from a family of music lovers, audiopliles, Dead Heads and avid concert goers.The musical magic that can only be created in the Catsklills, both past and present, is what Brian cosiders the epicenter of his music addiction. The music of The Band, and most recently The Levon Helm Band, is the soundtrack of home for him. Brian's mother took him to his first concert at 5years old...it was Johnny Cash and Roseanne Cash at Jones Beach Amphitheatre. For Brian, music is a family affair. He feels the same way about live music...we all convene to celebrate together. Brian's writing life started when he wrote his favorite author, southern fiction writer Clyde Edgerton, a fan letter at age 13. When most kids were idolizing baseball players and television, he was worshipping writers and musicians. The two became friends and Clyde shared his craft with Brian. The next year Brian attended Duke University's Young Writers Camp. This is the extent, of what Brian considers, his "formal" training in writing. From then on his goal was to capture snapshots of life through words. Brian has been involved with live music in various facets over the years, and combined with his enthusiasm and love for Denver's music scene, he creates a vivid description of what he sees and hears. If you see him out at a show, dancing with a notebook in hand, say hello.