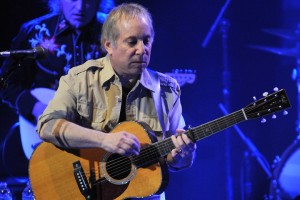 Photo By Tom Cruze
The Scene: While we rolled into the 1st Bank Center a little late and sadly missed the openers, The Secret Sisters, we were there in time for the lights to go down and welcome Paul Simon to the stage.  As we walked in through the doors of the mid-sized hall, I was thrilled to see that there were people from all walks of life buzzing around in the corridor.  Well dressed older couples from the suburbs, young hippies from Boulder, and even kids clinging to Mom's hand as they rushed to their seats.  It proved to me yet again that Simon's music has a timeless appeal that will have a lasting impact on generations to come long after the 70 year old legend moves on to greener pastures.
I will say that there was one thing that truly made me laugh as we made our way to our floor seats.  For years I have joked on this site and in countless other forums, about the "Wine and Cheesers" that frequent shows at The Botanical Gardens, Chatfield, and occasionally Red Rocks and other venues.  Basically these are the folks that go out to hear some loosely Adult Contemporary show, or one that they perceive that way, and drag along a cooler with a wide selection of cheeses, pates, fruits, and if the venue allows, several bottles of very nice wine.  Let me make it clear that I am in no way putting this crowd down, and in fact I've been known to sidle in right alongside them and enjoy a nice spread of my own, but I do think they are distinct sub-culture of our music going community here in Denver and beyond.  Well, obviously AEG and the 1st Bank Center has picked up on this as well, as right there next to the old hippie selling Coors from a tub around his neck, was a booth dedicated to selling "Gourmet Cheese and Cracker Platters!"  And yes, for you skeptics, there were quite a few folks partaking!  Wine and Cheesers, your day in the sun has arrived!  You have been officially recognized at an arena show.  I would like to personally congratulate you for your perseverance in the face of ribbing from people like me.
The Opener: The Secret Sisters, Laura and Lydia Rogers, walked onto the stage and approached two microphone stands with a single acoustic guitar. It was an odd sight at first being that there was a plethora of instruments in the shadows behind them. I was highly skeptical, but being a fan of down-south folk and country music, I was intrigued by the two Southern Belles on stage. My skepticism was quickly thrown right out the window as they opened their mouths and filled the entire venue with angelic sounds. One would strum the guitar and harmonize while the other's voice permeated the air. The sisters took turns with the guitar on every other song or so in between cracking jokes and talking about the difficulties of life on the road with your sibling.  Their folk influenced Nashville sound reminded me of country pioneers such as Patsy Cline and Peggy Seeger. The short but powerful set ended with an acapella number that rattled my spine and left me both speechless and dying to run over to the merch booth and pick up their self titled debut album. It was a great way to warm up for what the folk legend; Paul Simon had in store.
– Thanks to Levi Macy for the write-up on The Secret Sisters
Paul Simon: The first time I caught Paul Simon performing live was way back in 1991 at Madison Square Garden in New York City.  I remember it like it was yesterday, I was in high-school and my Dad and I drove into the city on a Saturday evening and we had seats about 20 rows up directly behind the stage.  The view out over the stage and arena was fantastic and during "You Can Call Me Al," the Garden began it's characteristic bounce along with the 18,000 people who were all dancing in unison.  The feeling was electrifying and the energy surged through all of us to the stage where Simon was so blown away that he asked us all if we wanted to hear the song again.  The overpowering cheers that filled the vast arena sufficed for a "yes" and he and the band launched into the classic for a second time right then and there.  It was Paul Simon at his best, giving the crowd what they wanted, when they wanted it, and it has kept me going back to see him time after time.
20 years later, Simon and his "So Beautiful or So What," tour stopped at a considerably smaller 1st Bank Center on Wednesday night and while I didn't feel the floor bouncing, Simon didn't appear to have lost so much as a step.  It took a few seconds to get the sound ironed out during the opener, "Boy In The Bubble," but once they had it dialed in, the room sounded fantastic and Simon's voice was as good as ever.
During the two hour show, the legendary songwriter and his 9 piece band took us on a journey through his catalog that stopped on percussion heavy gems like "50 Ways To Leave Your Lover," "The Obvious Child," and "Diamonds On The Souls Of Her Shoes," alongside several of the stand-out tracks from his new record like "Dazzling Blue," "Re-Write," and the title track, "So Beautiful or So What."  It was a setlist that ebbed and flowed with smart precision.  Simon allowed us to get up and groove for a few tunes before settling us all back down.  Like a master puppeteer, he pulled us up out of our seats for a Reggae tinged version of "Mother And Child Reunion," that fit perfectly alongside the cajun flair of Graceland's "That Was Your Mother" which saw couples spinning each other in the aisles.
The first true highlight of this stellar show began when Simon coaxed the first few notes of "Hearts and Bones" from his guitar.  This has always been one of my all time favorite songs, period, and his treatment of it on Wednesday was nothing short of breathtaking as he wove the Sun Studios classic "Mystery Train," and Chet Atkins "Wheels" into the outro.  It was a triptych that took us from the heights of Folk music to 50's Swing and all the way out to the country with effortless flow.  Then, as if to demonstrate his breadth as a songwriter, Simon managed to slip in the 1977 AM Radio classic "Slip Slidin' Away" without any of us thinking twice.  It was masterful.
As if this wasn't enough, Simon threw in a stunning version of Simon & Garfunkel's "The Only Living Boy in New York," that surely drew a tear or two from the rapt crowd that quieted to near silence in respect as the ethereal harmonies floated through the room.  The set ended with a rousing version of one of my personal favorite Graceland songs, "Gumboots," that featured a Xylophone solo and left us all wondering how anything could top what we had just seen as Simon and the band made their way off stage.
After a brief break Simon returned on his own with an acoustic guitar and broke into a touching solo version of "The Sounds Of Silence" that would have only been better had Art Garfunkel appeared next to him to sing the harmonies.  The band then came back and rest of the 6 song mini-set took us on another ride as he had us dancing to "Kodachrome" and then singing along from our seats to quiet take on The Beatles "Here Comes The Sun."  He wrapped up the first encore with the one-two punch of "Crazy Love" and a horn filled "Late In The Evening" that packed the most energy of the evening.  Though that would have been enough, Simon returned after another short break for "Graceland," Bo Diddley's "Pretty Thing," and a rendition of "Still Crazy After All These Years" that reminded us as we walked to our cars, that yes, we are still crazy about Paul Simon . . . after all these years.
Setlist: Boy In The Bubble, Dazzling Blue, 50 Ways To Leave Your Lover, So Beautiful or So What, Mother and Child Reunion, That Was Your Mother, Hearts and Bones -> Mystery Train -> Wheels, Slip Slidin' Away, Re-Write, Peace Like A River, The Obvious Child, The Only Living Boy in New York, Love Is Eternal Sacred Light, Diamonds On The Souls Of Her Shoes, Gumboots
Encore: Sounds of Silence, Kodachrome -> Gone At Last, Here Comes the Sun, Crazy Love Vol. II, Late In The Evening
Encore II: Graceland, Pretty Thing, Still Crazy After All These Years
– Yes, you read that right, he didn't play "You Can Call Me Al," glad I got it twice back in 1991 😉
Energy: A-
Sound : A
Musicianship: A+
Stage Presence: A
Set Light Show: A-
Overall: A

Music has always been a part of my life. It probably all started listening to old Grateful Dead, Peter Paul & Mary, and Simon & Garfunkel records that my parents had, but it wasn't long before they were taking me to concerts like Starship, Crosby, Stills & Nash, and Huey Lewis & The News. I got the bug to write about music after reviewing an Eric Clapton concert for a creative writing project in high school but didn't really take it up seriously until 2002. Since then I have published countless articles in The Marquee Magazine and done some work for Jambase.com, SPIN Magazine, and various other outlets. I started Listen Up Denver! as a way to share the music information that is constantly spilling out of my head with people who care. Please enjoy!