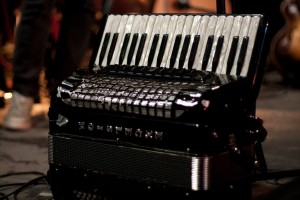 All Photos By Mike Bond
The Scene: The down and dirty Hi-Dive was packed last Monday…yes Monday. My favorite dive bar to see music in, the Hi-Dive brings acts that attract some of the coolest and most eclectic crowds in town. Filled with smiling people who didn't fit a "type," each person in the crowd seemed like someone you wanted to have a conversation with, people of substance and substances. The PBR and Whiskey flowed and I mingled through the crowd, realizing The Felice Brothers fans are true fanatics. The 200 or so people in attendance knew the Felice Brothers catalogue from start to finish and shouted, hugged, pushed, and sang all night long. It was debauchery at it's finest, both on-stage and off.
Gill Landry: I would have not known who Gill Landry was had it not been for the "of Old Crow Medicine Show" attachment to his name, but I wished I had come across this man's solo work sooner. He stood on the stage playing an un-marked single pick up hollow body electric guitar that was wise and well-traveled. Gill's appearance, sound, and authenticity reminded me of some of the great train-hopping songwriters of our past. In Woodie Guthrie like attire, he stayed true to the look. Real Americana with the swampiness of Landry's Louisiana blood made for a set filled with songs of crime, lust, tobacco sacks, and railroad tracks. His singing voice is backwoods country that is both sweet and clear, but has been soaked in Chicory and smoke.
The Felice Brothers: On the way home from the Felice Brothers Show, the cab driver said he has heard the Felice brothers compared to The Band. He asked what I thought. There was nothing at a Felice Brothers show that reminded me of The Band, except an accordion and the fact they are from the Catskills. This was the first I had heard this, and upon getting home, I found on-line that many others have made that confusing statement. So, some personal history: I openly declare The Band and the Grateful Dead as the foundation of my love for music. I spent a majority of my life just outside of Woodstock, NY and have cried watching Levon Helm sing "The Weight" at one of his Midnight Rambles. Growing up in the Catskills in the 70's, 80's and 90's was a very unique experience. I grew up with parents, friends parents, and uncles playing The Band, Dylan, The Grateful Dead, Van Morrison, The Velvet Underground, The NY Dolls, Dr.John, etc. and great music played everywhere I went. Woodstock being within 100 miles of NYC, I got access to tons of music as I grew up, most memorable for me were hip-hop mix tapes from the city…specifically by Ron G. We lived in the Catskills, but true NY to the core, kept a certain edge and attitude. It just can't be explained…anyone who lives in the Catskills absorbs the musical history into every cell, and we live and breathe it no matter where we are. Combine that with exposure to great hip-hop/punk and other urban delights just a short ride away, and the fact we lived in the woods…well we mimicked those before us. We partied, listened to music nonstop, walked the woods, fought, and created our own dark times. Now, I don't know The Felice Brothers personally, but they were just up the road. Maybe what people are experiencing is the soul of the Catskills pouring off the stage, and since only one other band has really done that, that could be what all the confusion is about. So, maybe what you see on stage are men raised on the best music on earth, who just love to get down. Now, back to the business at hand.
The Felice Brothers recordings could not prepare me for the onslaught of seeing them live. The venue was nearly totally blacked out, including the stage. There were signs that said "No Photos" (Listen Up Denver had the only honor). Darkness prevailed as The Felice Brothers ripped into a "Hey Revolver" that was sonicly harsh and loud, taking the recorded version into the gutter and dirtying it up a bit. Drums, bass and sampler pads combined for a punked out "Ballad of Lou the Welter Weight." The audience kicked beer bottles around, danced like heathens, and hung off of people they didn't know with the biggest smiles you have ever seen. It kind of felt like a party with people you were dying to meet, at least the 20 of us right at the front of the stage. I shot a mean look at a guy for accidentally hitting my nose while he was dancing and as my NY blood boiled the band started playing "Take This Bread"… singing "Take this bread, if you need it friend, 'Cause I'm alright, if you're alright." It was perfect timing, and as foe turned to friend we put our arms around each other's shoulders and danced. A perfect parallel to the "don't fuck with me" tone of the music combined with meaningful lyrics.
The Felice Brothers didn't chat with the crowd; there was a lot of agitation and rawness coming from the stage, as if their Americana punk was being played in a boxing ring. These guys are proud, authentic, tough, brilliant, raw, emotional, and real Catskill thugs. As they blasted into a rowdy version of "Back in the Dancehalls," a tamer studio recording was turned into aggravated assault that got us all throwing our hands in the air and singing "damn it feels good to be back again." This band is a live band; their energy is infectious and intimidating. They played as if they preferred no one to be there, and we danced like we wouldn't want to be anywhere else.
What drew me to The Felice Brothers music a couple years ago was their modern Americana sound. They use accordion, strings, and organs to accompany a punk rock infused folk. Their lyrics are smart and make you listen to albums over and over. By presenting the music live in such an intense way, it felt like two different bands.  I will continue to love the studio work and play it repeatedly in my home, but will do my best to not miss a live Felice Brothers show again!
Energy: A-
Sound: B-
Musicianship: B
Stage Presence: A
Set/Light Show: A (The absence of light was the best light show possible for this band!)
Overall: A-
Brian Turk grew up in the shadow of the Catskill Mountains, near Woodstock, NY. He comes from a family of music lovers, audiopliles, Dead Heads and avid concert goers.The musical magic that can only be created in the Catsklills, both past and present, is what Brian cosiders the epicenter of his music addiction. The music of The Band, and most recently The Levon Helm Band, is the soundtrack of home for him. Brian's mother took him to his first concert at 5years old...it was Johnny Cash and Roseanne Cash at Jones Beach Amphitheatre. For Brian, music is a family affair. He feels the same way about live music...we all convene to celebrate together. Brian's writing life started when he wrote his favorite author, southern fiction writer Clyde Edgerton, a fan letter at age 13. When most kids were idolizing baseball players and television, he was worshipping writers and musicians. The two became friends and Clyde shared his craft with Brian. The next year Brian attended Duke University's Young Writers Camp. This is the extent, of what Brian considers, his "formal" training in writing. From then on his goal was to capture snapshots of life through words. Brian has been involved with live music in various facets over the years, and combined with his enthusiasm and love for Denver's music scene, he creates a vivid description of what he sees and hears. If you see him out at a show, dancing with a notebook in hand, say hello.