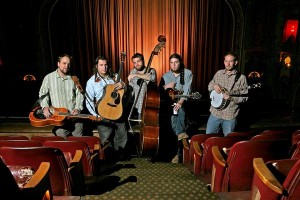 You can't fault Anders Beck for referring to the present state of time as being the "suicide years" for the Michigan-based quintet Greensky Bluegrass.
And he means it both figuratively and literally.
Just a bit earlier on this mid-September day, Beck faced the daunting task of navigating the band's new tour bus along a lengthy patch of interstate along the East Coast. "I mean, we're all accomplished van and trailer drivers, but this definitely has been a new adventure these past few days," Beck said during a recent phone interview withThe Marquee. "It requires all out attention when driving."
Beck and company were able to get back to their day, er, night jobs later that night when Greensky performed at the 8×10 in Baltimore.
Nevermind that the group played the night before in Pittsburgh and would be playing five of the next six nights in Philadelphia, New York, Cambridge, Mass., Burlington, Vt., and Ithaca, N.Y., Beck and company rapidly are becoming proven road warriors, even though friends and family are a little concerned.
"We've been working so hard that people have been making sure we're OK," Beck said from the greenroom at The 8×10. "They'll kind of look at our schedule and then we'll start getting calls and they'll be like: 'Wow, are you OK?' They're truly concerned with how much we're playing. But we're all totally into it.
"We play almost 200 nights a year. We're busy as hell, but we're not going to be on MTV or VH1 or anything like that. That's not our model for success. Our model for success is word of mouth and live shows, and just throwing a party everywhere we go," he said.
The party will come to Colorado later this month, with gigs slated in Aspen, Fort Collins, Denver and Boulder — the last of which is on Halloween.
Finish This Article Over At The Marquee Magazine Site . . .

Catch Greensky Bluegrass Performing Live:
The Belly Up – October 27
Hodi's Half Note – October 28
Bluebird Theater – October 29
Fox Theatre – October 31
The Marquee is an independent, Colorado-based, PRINT & ONLINE Free Music Magazine. The Marquee strives to be the Farmer's Almanac of the regional music scene — providing readers with facts, tid-bits, in-depth feature stories and a Calendar section that is unparalleled on Colorado's Front Range, covering every live music venue from large venues such as Red Rocks Amphitheatre to small clubs and coffee shops.