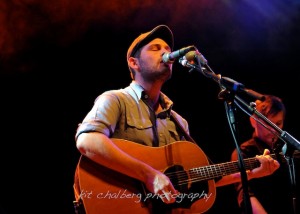 All Photos By Kit Chalberg
The Scene: Boulder was bustling on Friday night as people made their way to the entrance to The Fox Theatre. Gregory Alan Isakov's sold-out home town show attracted a lot of Anthropologie sponsored groups of twenty-something girls, but also many couples. Some seemed to be dragged by their girlfriends, gratuitously holding purses with a grimace; other couples were stoking the flames of a Friday night, well dressed and full of anticipation…for both the show and the resulting mood to be set.
The Fox is an intimate venue and we were all cuddled up on the elevated benches around the perimeter of the room. Those who couldn't find bench space seemed annoyed and tried to squeeze in where it just wasn't possible, knowing this would be a show better enjoyed seated. We were quickly warmed from the chilly Boulder air as the venue filled with over 700 bodies from the front of the stage back into the lobby. As the air got stuffier, clouds of smoke were released from above the stage. Somehow only staying above the musicians, the smoke was there all night, like steam rising from the freight train inspired songs. The night was full of Americana tales that can hang with the best, and we were all captivated by every word.
The Opener: Fairchildren took us through a fairytale inspired set that was driven by Julie Davis's upright bass and the mallets of drummer Patrick Meese. Their sound was dark, mysterious and soaring, yet kept a funky groove. Julie's dynamic vocals wove a constant thread through the music; a strand of silk for the band to play off of. The lyrics were presented with dramatic volume changes and resonance, more like another instrument than a means to tell a story. Julie Davis could have been singing her grocery list and it would have been as dramatic. The presence of a haunting organ and tight guitar rounded out the robust sound. Their cover of Kenny Rogers' "The Gambler" was amazing, and it got us ready for a night of storytelling.
Gregory Alan Isakov: Gregory Alan Isakov calls Boulder home, but he is a man of the road, and his roots are in South Africa. He and his band walked on stage like they may have had day jobs as brakemen, gamblers or merchant marines. Isakov dressed in traditional denim and chambray work wear reminded me of his influences. As this train left the station, his guitar set the pace with "That Moon Song." Gregory's voice is sweet and subtle and his impeccable guitar playing stays turned up in the mix, never losing its impact or poise. His lyrics immediately floored me and I was hooked from the start. I spend most of my free time at home in front of  my record player, listening to brilliant people with guitars tell well written stories, and Gregory Alan Isakov's talent is equal to almost any platter that has ever spun in my home. His songs are spiced with highways, salt water, railroad tracks, gasoline, blood, and grease…with a hint of romance.
The steam kept bellowing and the presence of Flogging Molly's Bob Schmidt on banjo stoked the fire. Isakov played his Americana tunes "Virginia Mae" and "Dandelion Wine," followed by the "The Stable Song," which featured Julie Davis on vocals. Mr. Isakov humbly told us how he was nervous to play a home town show, but said it seemed like the perfect night to play some new songs that will be on his next album. The first of those, "Dreams on the Windowsill," was full of detailed imagery and well-chosen words. As Gregory switched acoustic guitars throughout the night, his amazing talent with the microphone, strings, and pen made me think of albums like Springsteen's "Nebraska" or songs like "Duncan" by Paul Simon.
His song "Master & A Hound" really showcased his meticulous guitar picking and touching voice. The air in The Fox was balmy and still as the crowd waited for each word as if it were a piece of art on its own. Isakov said he had heard tickets were going for inflated prices on Craigslist, laughing that it was the true sign of success. While Isakov can stand firmly on his own, his band adds some great energy to the live show. The closing song, "Liars," started off slow but eventually chugged ahead intensely causing hairs to fly frantically of the violinists bow. The crowd was in no mood to go home, and the Fox echoed with stomping feet and clapping hands, punctuated by someone shouting "we aren't going anywhere!"
Isakov and his band came back out on the stage and kicked into "If I Go, I'm Goin.'" Stating he really didn't know what else to play he joked that he wasn't like those bands who write their first, second, and third encores on their set list. He took us through a couple more new songs eventually slowing it down with the jazzy prohibition era sounding "Salt in the Sea." The band eventually left the stage leaving Gregory to play a solo "3 AM," which he claims to sound the best in a 1980's Toyota pick-up.
After two hours of hearing genius lyrics and acoustic guitars being played to near perfection, I realized that Gregory Alan Isakov will undoubtedly be joining the ranks of the great American songwriters. His music is some of the most pure Americana played today and will resonate with any true lover of great writers with guitar and vocal prowess.
Energy: B
Sound : A
Musicianship: A+
Stage Presence: A
Set Light Show: B+
Overall: A-
Brian Turk grew up in the shadow of the Catskill Mountains, near Woodstock, NY. He comes from a family of music lovers, audiopliles, Dead Heads and avid concert goers.The musical magic that can only be created in the Catsklills, both past and present, is what Brian cosiders the epicenter of his music addiction. The music of The Band, and most recently The Levon Helm Band, is the soundtrack of home for him. Brian's mother took him to his first concert at 5years old...it was Johnny Cash and Roseanne Cash at Jones Beach Amphitheatre. For Brian, music is a family affair. He feels the same way about live music...we all convene to celebrate together. Brian's writing life started when he wrote his favorite author, southern fiction writer Clyde Edgerton, a fan letter at age 13. When most kids were idolizing baseball players and television, he was worshipping writers and musicians. The two became friends and Clyde shared his craft with Brian. The next year Brian attended Duke University's Young Writers Camp. This is the extent, of what Brian considers, his "formal" training in writing. From then on his goal was to capture snapshots of life through words. Brian has been involved with live music in various facets over the years, and combined with his enthusiasm and love for Denver's music scene, he creates a vivid description of what he sees and hears. If you see him out at a show, dancing with a notebook in hand, say hello.