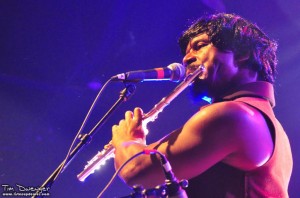 Photos By Tim Dwenger
The Scene: Let's be honest, with Halloween falling on a Monday this year, didn't you think that maybe people would blow their wad over the weekend and leave Monday a little flat?  Well, a walk down Colfax on Monday night would have proved you wrong very quickly.  With Warren Haynes channeling the Godfather of Soul at The Ogden (review to come soon), and Karl Denson ushering in the spirit of 1971 at The Fillmore with Rose Hill Drive and Anders Osborne, the north side of the street was a sea of costumed music lovers.  From Edward Scissor Hands to Ronald McDonald to Osama Bin Laden, all walks of life were represented with wild outfits everywhere you looked.
Opener: Anders Osborne. At about 10 minutes of 8, New Orleans mainstay Anders Osborne took the stage in front of a relatively sparse crowd.  When a guy in the front called for one of Osborne's originals, he responded "isn't tonight about 1971?" as he put a pair of goggles on and launched into a blistering, 20 minute take on Neil Young's "Cortez The Killer."  Though the song wasn't officially released till 1975, no one was checking dates as Osborne shredded guitar solo after guitar solo thrashing around the stage, headbanging as he played.  From there, Osborne stayed with the Neil Young theme and served up a fantastic cover of a song that was released in 1971, "Ohio."  After another 10 minutes of bliss he and his two bands waved goodbye all too soon.  While I could have listened to this kind of in your face rock-n-roll all night, I was thrilled that we had gotten 30 minutes of it.
Rose Hill Drive: As we waited for Boulder's Rose Hill Drive to take the stage, I noticed that the room had really begun to fill up in anticipation of the quartet tackling The Who's seminal album "Who's Next."  It has to be noted here that Rose Hill had a couple of things working in their favor.  For one, they have attempted, quite successfully, to cover complete albums in the past for their New Year's Eve shows at The Boulder Theater.  Their takes on Led Zeppelin II, Aerosmith's Toys In The Attic, and Jimi Hendrix's Band of Gypsies have been raved about up and down the front range for years.  Second, back in late 2006 and early 2007, Rose Hill Drive had the opportunity to tour with The Who and learn the ropes, possibly a few tricks, from Roger Daltrey and Pete Townsend up close and personal.
The boys took the stage decked out as women and took off into the legendary album without missing a beat.  From the opening notes of "Baba O'Riley" to the epic closing riff of "Won't Get Fooled Again," Rose Hill Drive nailed it.  Karl Denson emerged to add Sax to "My Wife" and "Going Mobile" found just about everyone in the crowd singing along to the catchy chorus.   The energy was there in spades and they even managed to approximate Daltrey's intimidating vocals, Townshend's masterful guitar work and Keith Moon's thunderous drums with stunning authenticity.  It was a sight to behold.
Karl Denson's Tiny Universe: Karl Denson and his band The Tiny Universe came out on stage before 10 and while we all expected them to dive right into the featured performance of the evening, The Rolling Stones' album Sticky Fingers, they instead kicked things off with some of the high energy funk they are known for.  Denson's typically bald head was topped with a James Brown wig and it seemed to make him even a little funkier than usual as he swapped his Sax for a Flute and a cowbell.  Nearly 45 of minutes of funk got the energy of the room primed as the band ran through staples like "Soul Satisfied" before inviting Anders Osborne back out to join them for Sticky Fingers.
As the expanded line-up kicked into "Brown Sugar" I immediately loved the feel that Denson and his band were bringing to these classic Stones tunes.  They were all just a little funkier and the costumed masses that packed most of the floor got down to business, shaking everything they had as Denson strutted the stage in Mick Jagger fashion.   While he did the vocals proud, when Osborne took the mic for songs like "Dead Flowers" and "Bitch" the band really seemed to let loose a little bit.  Osborne's phrasing and his raw take on things really made the tunes come alive when he took over the reigns.
Denson introduced Janis Joplin to come out and sing "Wild Horses" and this turned out to be one of the highlights of the whole evening as the costumed siren nailed the oft covered classic and had the crowd eating out of the palm of her hand.   Another highlight of the Stones portion of the show turned out to be the much overlooked "Sister Morphine" which featured Denson's strongest vocal performance of the night as he poured himself into the lyrics and conveyed the powerful emotion of the song effortlessly.
They wrapped up Sticky Fingers with Denson's reading of  "Moonlight Mile" and segued back into the Tiny Universe brand of funk, forgoing the setbreak that was on the schedule.  About 11:30 the band took a brief break and came back for a three song encore that featured the supremely funky "What You Want Before You Get Too Old."  As Denson and the band said "good night" just before midnight, four hours of music came to an end and with it and amazing trip back in time to 1971.  They had given us a little bit of everything, from the psychedelic folk-rock of Neil Young, to the hard edged power-pop of The Who, to the R&B influences that litter Sticky Fingers, these three bands treated us to a musical history lesson sorts and topped it all of with some good ol' fashioned funk.  It was a Halloween party for the ages, literally!
Energy: A-
Sound : B+
Musicianship: A
Stage Presence: A-
Set / Light Show: B-
Overall: B+
Music has always been a part of my life. It probably all started listening to old Grateful Dead, Peter Paul & Mary, and Simon & Garfunkel records that my parents had, but it wasn't long before they were taking me to concerts like Starship, Crosby, Stills & Nash, and Huey Lewis & The News. I got the bug to write about music after reviewing an Eric Clapton concert for a creative writing project in high school but didn't really take it up seriously until 2002. Since then I have published countless articles in The Marquee Magazine and done some work for Jambase.com, SPIN Magazine, and various other outlets. I started Listen Up Denver! as a way to share the music information that is constantly spilling out of my head with people who care. Please enjoy!