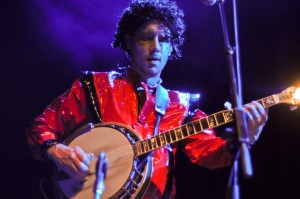 Photos By Billy Maher
The Scene: The hill in Boulder on a Monday night isn't usually the happening place to be but that was different this week. Bluegrass lovers and retro music enthusiasts showed up at The Fox in full force for the Greensky Bluegrass "Totally Bitchin' 80's Dance Party." Whacky costumes at a concert in Boulder are usually the norm, but being that it was All Hallows Eve, nearly everyone struck up their imagination and threw on some funky get-up. Although, I've got to say that I was a little disappointed that less people dressed in 80's gear than I had initially imagined would for a night billed as an "80's dance party." That aside, people showed up early and came ready to boogie the warm October night away.
The Opener: Whitewater Ramble. Fast picking, high octane, dance-grass group; Whitewater Ramble from Fort Collins opened up the show. These fellas are quickly gaining recognition all over the Front Range for their unique, no-holds-barred brand of bluegrass. My timing was off and I was only able to catch the second half of their set but I was thoroughly impressed with their tight playing and ability to get the crowd moving.
They really caught my attention with a highly energetic version of Paul Simon's "You Can Call Me Al." Then going into a loud, fast, progressive jam that proved how talented Howard Montgomery is on the bass. I mean literally on the bass. The man was actually standing, balanced on top of the bass while slapping out the notes. Their set ended in true Halloween form with an extended hony-tonk sounding version of Stealers Wheel's "Stuck in the Middle."  Which I found very appropriate since there were actually clowns standing to the left of me and jokers to the right.
Greensky Bluegrass: When I walked into the Fox I have to admit that I had really high expectations for the Greensky. They shred stages regularly, and have never once let me down. The build-up for this show has been huge, both on the streets and the interwebs. This was the final night of their Colorado run which started in Aspen at the Belly-Up and was followed by sold-out shows in Fort Collins and Denver, finally culminating at the Fox Theater in Boulder for an 80's fueled Halloween dance party for the ages.
Zombie Michael Jackson on the banjo didn't hesitate one second, starting the night off with "Thriller" which slipped right into another Jackson classic, "Beat It." Spirits were high by 10:45 when teen wolf let out a howl and took over with a knee-slapping rendition of Duran Duran's "Hungry Like The Wolf." This was followed by Young MC's rump-shaker, "Bust a Move," which got everyone in the packed house to do just what they were told.
The buzz surrounding this show had me very excited from the time I saw it announced. Hearing a top tier string band perform all of songs I have drunkenly yelled along with at house parties for years was definitely a sight to behold. They touched almost every aspect of the 80's music realm. They went from revamped ballads such as "When Doves Cry" to blues rock from ZZ Top dedicated to  the "Sharp Dressed Man" on the Dobro, Detective "Sonny" Crocket. The monsters of rock on stage even found time to fit original instrumentals between everything awesome the 80's have to offer. What would an 80's dance party be without a sing-along to the quintessential supernatural movie of the entire decade: "Ghostbusters?" The first set ended with an ode to a group that pioneered the sound that Greensky is mastering as New Grass Revival's "Can't Stop Now" wrapped the set up at around 11:45 when Teen Wolf assured us that the 80's were a "very long decade" and they would be back for more.
Staying true to the Halloween spirit and the musical costume, the band hardly broke character and the second set was another cornucopia of 80's gems. By not sticking to one genre of music from that time period they kept everyone's attention with the eclectic mix of sounds. My favorite part was the traditional number "Shuckin' The Corn" sandwiched inside Prince's "Little Red Corvette." They even went over-seas with numbers from Australian New Wavers Men at Work and the psychedelic jam "One Slip" from Pink Floyd.  The second set ended with a Greensky original, one of the very few of the night, "Tarpology." Then, after returning to the stage once more with Poison's ballad "Every Rose Has its Thorn," they bid us goodnight.
Greensky has been a favorite band of mine for quite some time now and Monday night only solidified that claim further. To turn the music from what is arguably one of the coolest decades into a good ole fashioned barn burnin' hoedown was a feat not many bands could achieve. They did it fashionably and with impeccable style. It was by far one of the most unique takes on a Halloween costume I have ever witnessed and it most certainly made for a "Totally Bitchin' 80s Dance Party" that most will not be forgetting anytime soon.
Set 1: Thriller (Michael Jackson) > Beat It (Michael Jackson), Hungry Like A Wolf (Duran Duran), Bust A Move (Young MC) > Break Mountain Brokedown (Greensky) > West LA Fadeaway (Grateful Dead), Sharp Dressed Man (ZZ Top), When Doves Cry (Prince), Ghostbusters (Ray Parker Jr.) > New Rize Hill (Greensky) > Can't Stop Now (New Grass Revival)
Set 2: Eye Of The Tiger (Survivor), Young Turks (Rod Stewart), Little Red Corvette (Prince) > Shuckin' The Corn (Traditional) > Little Red Corvette (Prince), Atlantic City (Bruce Springsteen), Who Can It Be Now (Men At Work), Driving My Life Away (Eddie Rabbit), Tarpology (Greensky) > One Slip (Pink Floyd) > Tarpology (Greensky)
Encore: Every Rose Has Its Thorn (Poison)
Energy:A+
Sound : A
Musicianship: A+
Stage Presence: A
Set Light Show: B
Overall: A
I rode my skateboard from school in 7th grade to my buddy Vince's house where he put on the song "Perfect Government" by NOFX and I was hooked. The next day I bought the album Duh by Lagwagon. The next year I saw Against Me! at the Starlight Theater in Fort Collins, my mom dropped me off. I've since devoted every waking hour to anything done with passion. My speakerbox bumps everything from Lil' Wayne to Pablo Casals. I was never very good at making music, but I am damn good at listening to it. I've been filling up yellow notepads with random thoughts and misspelled words for as long as I can remember. I enjoy whiskey of all sorts, Newport cigarettes and the company of my family. I've got an addiction to run-on sentences that I'll probably never cure. A solid handshake with a stranger who has become a friend over a few beers means the world to me. You'll often find me wide eyed and wandering with an ear to ear grin. I live for funky break beats and spreading the love.