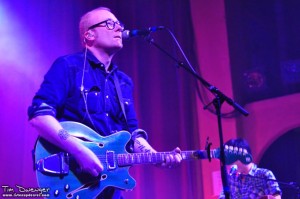 Photos By Tim Dwenger
The Scene: While I have to admit that while I was a little worn out from all the Halloween festivities (See our review of The Motet's "Funk Is Dead" show here, and Karl Denson's "Halloween '71 Revisited" here) I still made it out on Tuesday night to catch one of my all time favorite songwriters, Mike Doughty.  Though the weather was turning, and a snow storm loomed on the horizon, The Bluebird was about two-thirds full (pretty respectable for a Tuesday and the day after Halloween) with longtime Doughty fans and a few new comers who were in for a treat. 
The Opener: Moon Hooch. We walked in midway through Moon Hooch's set and while I had never heard of them, I was immediately intrigued by their line-up and their upbeat jazzy sound that had the whole room fired up.  While most rock bands consist of fairly standard attack of guitar, bass, drums, and maybe a keyboardist, Moon Hooch was rocking the house with two sax players and a drummer.  While Wenzl McGowen primarily focused on the low end with a Baritone Sax and a Contrabass Clarinet, Mike Wilbur wailed on the tenor sax to provide some melody to the group's danceable songs. 
At one point McGowen told us about a memory he had of walking around in New York and seeing a piece of cardboard on the ground and thinking "that's all I need, cardboard."  With a sly glace he stepped to the side and jammed a 6 foot cardboard tube into the bell of his instrument and proceeded to honk away as the crowd cheered him on.  In response to almost deafening cheering as they wrapped up their final song, Wilbur stepped to the mic and told us all that this had been their "best show ever," and pleaded with us to invite them back to Denver.  I for one hope they are back very soon!
Mike Doughty & His Band Fantastic: About thirty minutes after the Moon Hooch madness had finished, Mike Doughty took the stage backed by his "Band Fantastic" and opened the show with "(I Keep On) Rising Up."  Immediately I was reminded of why I love this guy.  His effortless vocal delivery, casual demeanor and understated poppy groove transported me off to another place where life is just a little bit easier and simple melodies hang in the air like butterflies.   
While obsessively catchy songs like "27 Jennifer's," "American Car" and "Tremendous Brunettes" kept us moving and singing along, it was Doughty's between song banter that made the show.  Despite the fact that he has recently released a studio album entitled Yes and Also Yes, he repeatedly reiterated his "pro-piracy stance" on music.  He let us know that while the disc was for sale in the back, there are countless places on the internet where we could obtain the music for free.  Though he said he couldn't provide us with an exact URL, he encouraged us to Google our way to free music!  He went on to say that if we found it in our hearts and wallets to shell out our hard earned cash for the CD, that we should rip it and give it to our friends.  He made it very clear that his only real care is that people listen to the music.  Honestly, it really made me want to rush to the merch table and buy up a few copies especially as he ran through a couple of great tunes from the album including "Dive Into The Un," "Day By Day," and a version of "Russel" that segued into one of Doughty's most well known tunes "Bustin' Up A Starbucks."
 As the set wound down, Doughty introduced "Like A Luminous Girl" as the "song before the fake last song" and went to riff on the admittedly silly practice of rockstars to say "good night" to the crowd before returning for one, two, or even three encores that sometimes add up to six, eight, or even ten songs.  As the time for the "last song" arrived Doughty kicked into "Looking At The World From The Bottom Of A Well," the lead track from his 2005 LP, Haughty Melodic and then he and his three bandmates then stood around the drum kit, laughed, pretended to figure out some more songs to play and encouraged us to cheer louder so they would play more . . . HA!  After a minute or two a smiling Doughty stepped back to the mic and gave us the three additional songs he had promised.  "I Hear The Bells," followed by a "Put It Down" which seamlessly transitioned into "Pleasure On Credit" wrapped up a very enjoyable musical program as Doughty kept referring to it as throughout the night.
We walked outside to find more than an inch of snow on the ground but somehow our steps were lighter and our moods brighter thanks to Mr. Doughty's musical offerings.  Somehow his music never grows old to me and I'll keep seeing him each time he comes to town.  Now, if you aren't familiar with the man and his music, take him up on his offer and get out there and steal yourself some 😉
Energy: B
Sound: A
Musicianship: A-
Stage Presence: A
Set Light Show: B-
Overall: A-
Music has always been a part of my life. It probably all started listening to old Grateful Dead, Peter Paul & Mary, and Simon & Garfunkel records that my parents had, but it wasn't long before they were taking me to concerts like Starship, Crosby, Stills & Nash, and Huey Lewis & The News. I got the bug to write about music after reviewing an Eric Clapton concert for a creative writing project in high school but didn't really take it up seriously until 2002. Since then I have published countless articles in The Marquee Magazine and done some work for Jambase.com, SPIN Magazine, and various other outlets. I started Listen Up Denver! as a way to share the music information that is constantly spilling out of my head with people who care. Please enjoy!