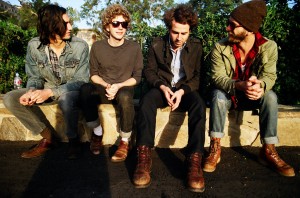 It's been a bit of a whirlwind year for Los Angeles rock band Dawes. They have released their stellar sophomore album Nothing Is Wrong, toured with Allison Krauss, and performed as the backing band for legends Robbie Robertson and Jackson Browne.
In a recent interview with The Marquee, nonchalant frontman Taylor Goldsmith made it sound like it is all in a day's work for him and his three bandmates.
"Both of those opportunities came about in pretty typical, expected ways; friends of friends kind of things, I guess. Robbie's manager called our old producer and said, 'I'm looking for someone to sing background vocals on my record,' and my name came up. After I did that he needed a band for his shows and said, 'What about that guy Taylor's band?'" Goldsmith said. "On the other hand, Jackson is an old friend of our producer and he had him listen to some of our stuff and Jackson liked it, so we got the opportunity to get involved with each other. These experiences have been amazing. Both of those guys have been huge influences to us and heroes of ours, so to get to play with them was incredible."
At first listen, the influences of Robertson's former group, The Band, and Jackson Browne are immediately apparent, as are '70s West Coast staples likes Crosby, Stills and Nash, and The Eagles. With a sound that is reminiscent of the glory days of Laurel Canyon, Goldsmith's slight reedy tenor is joined in tight harmonies by his brother, Griffin, to create rich vocal layers backed by primarily folk-rock melodies that are strongly rooted in Americana. It's a formula that has been around for years, but one that sounds fresh in the hands of these four young musicians.
Finish This Article Over At The Marquee Magazine Site . . .

Catch Dawes Performing Live w/ Blitzen Trapper:
The Fox Theatre – November 7th
The Marquee is an independent, Colorado-based, PRINT & ONLINE Free Music Magazine. The Marquee strives to be the Farmer's Almanac of the regional music scene — providing readers with facts, tid-bits, in-depth feature stories and a Calendar section that is unparalleled on Colorado's Front Range, covering every live music venue from large venues such as Red Rocks Amphitheatre to small clubs and coffee shops.