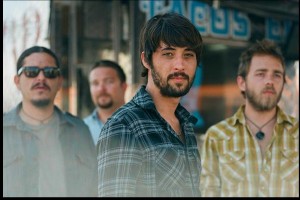 Why You Should Go: Ryan Bingham and his band The Dead Horses are the next generation of West Texas Country Music.  Following in the footsteps of Joe Ely, Lyle Lovett and Willie Nelson, Bingham and his band have set a new standard for country music.  His gritty voice and Academy Award winning songwriting have made Bingham somewhat of a celebrity in the close knit community he comes from, but he swears that he's in this because he loves making his own brand of country music.
"When there are a lot of people around saying 'look, you have to capitalize on this and do something really commercial,' you might think about it for a second," admits the LA-based singer-songwriter. "But at the end of the day, there's not a chance in hell I could do that. It made me sick to my stomach just thinking about it. I couldn't get up in front of people and play a bunch of stuff that didn't mean anything to me."
The result is a show that focuses on the root of why Bingham has attracted so much attention, his songs.  They tug at your heart and make you want to take a pull on the Whisky Bottle.  In their own way, Bingham's songs are beautiful and we all need to do ourselves the favor of listening to him . . . if only to let him take us away to someplace else for one night.
Venue:
The Ogden Theatre, 935 E. Colfax Ave Denver, CO 80218 – 303-832-1874
Doors:
8:00 PM
*Price:
$20.00
Buy Tix Here
*All times and prices are gathered from other sources and I am not responsible for mistakes or inconsistencies. They are intended only as guidelines. Please, always call the venue if you desire the most accurate information possible.

Music has always been a part of my life. It probably all started listening to old Grateful Dead, Peter Paul & Mary, and Simon & Garfunkel records that my parents had, but it wasn't long before they were taking me to concerts like Starship, Crosby, Stills & Nash, and Huey Lewis & The News. I got the bug to write about music after reviewing an Eric Clapton concert for a creative writing project in high school but didn't really take it up seriously until 2002. Since then I have published countless articles in The Marquee Magazine and done some work for Jambase.com, SPIN Magazine, and various other outlets. I started Listen Up Denver! as a way to share the music information that is constantly spilling out of my head with people who care. Please enjoy!