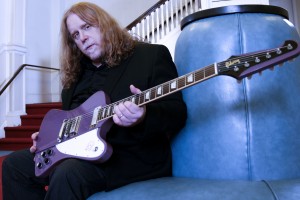 The Scene: The Ogden Theatre was a Funky Good Time on Halloween! Last Monday's extremely sold-out show proved yet again that Warren Haynes is one of Denver's favorite artists. This was the first time I had seen Haynes on his own, and the last time I saw him play was with The Allman Brothers at the Beacon Theatre in NYC quite a few years ago. Man, I forgot just what this man and his guitar can do! He was here in May at the beginning of his Man In Motion tour, and retuned with nothing but treats this Halloween.
Everyone was chattering about how the second set would be all James Brown songs and I have to admit that I was surprised that a Jamband guru would be attacking such extremely different material than what he does with the Allman Brothers and Gov't Mule, and was very anxious to see how it was going to sound. He walked onto a dark stage and, back to the audience, tuned the Gibson that rested squarely on his belly. We were already ripe with anticipation as it was past 8:30 when he came out, and the crowd cheered the whole time he was preparing.  It almost looked like he was making an offering as he stood there alone on the stage, and as the band walked out, the lights went up and he turned around and greeted us with that signature smile. The half costumed crowd went wild as he wished us Happy Halloween and jumped right into it!
Warren Haynes Band: Starting off with "Tear Me Down," "Rivers Gonna Rise" and "Sick of My Shadow;" he and singer Alicia Chakour quickly showed me why they picked James Brown tunes for the second set. Warren Haynes produced nothing but rock fermented, gospel distilled, Soulshine…and Ms. Chakour put the cork in the jug.
Haynes and his band satisfied the jam craving in all of us, and even though they started off slow and soulful, each song flowed into rich long jams. Sax player Ron Holloway traded licks with Haynes all night, and blasted solos of his own. Alicia and Haynes did the same, as she manipulated her voice as easily as Haynes does the strings. To say his playing is effortless is an understatement. As he leans his head back and works the neck of his guitar, you can't help feel like you are in the presence of greatness.
Haynes broke out the slide for "A Real Lonely Night" and added some of the grit we are used to hear from him. After "Tit for Tat" and "Invisible" he closed the first set with "Man in Motion." The rowdy New Orleans jam during this song was amazing! Those who had room to dance went ape-shit and with set-break upon us, we could not wait for Haynes to give us his version of The Godfather of Soul.
Haynes came back and immediately got the crowd steamy with the sounds of James Brown! The horns blared as Haynes and Alicia belted out some serious soul. I couldn't believe how a man can tap into so many different genres of music and be "Hittin the Note" every time. I love seeing a side of a musician I have never seen before. We danced 'til round about midnight as Haynes covered some legendary tunes.
Haynes and the band ran through the more lively JB songs, like "Papas Got a Brand New Bag" and "I Feel Good" but it was some of the slower more emotional songs like "Georgia on My Mind" and "It's a Man's World" that really hit me. After getting down to the sounds of James Brown for over an hour Haynes stepped off the stage. The audience quickly cheered him back for an encore of "Papas Got a Brand New Bag Part 2" into the anthem "Soulshine."
There is a reason this man is considered one of the greatest guitarists of all time, and his chops really stood out at The Ogden. I really got to hear the detail in his guitar playing and the depth of his voice. He tapped into every bit of soul he possessed to satisfy our Halloween hunger.
Energy: B+
Sound: A
Musicianship: A+
Stage Presence: B
Set Light Show: A-
Overall: A-

Brian Turk grew up in the shadow of the Catskill Mountains, near Woodstock, NY. He comes from a family of music lovers, audiopliles, Dead Heads and avid concert goers.The musical magic that can only be created in the Catsklills, both past and present, is what Brian cosiders the epicenter of his music addiction. The music of The Band, and most recently The Levon Helm Band, is the soundtrack of home for him. Brian's mother took him to his first concert at 5years old...it was Johnny Cash and Roseanne Cash at Jones Beach Amphitheatre. For Brian, music is a family affair. He feels the same way about live music...we all convene to celebrate together. Brian's writing life started when he wrote his favorite author, southern fiction writer Clyde Edgerton, a fan letter at age 13. When most kids were idolizing baseball players and television, he was worshipping writers and musicians. The two became friends and Clyde shared his craft with Brian. The next year Brian attended Duke University's Young Writers Camp. This is the extent, of what Brian considers, his "formal" training in writing. From then on his goal was to capture snapshots of life through words. Brian has been involved with live music in various facets over the years, and combined with his enthusiasm and love for Denver's music scene, he creates a vivid description of what he sees and hears. If you see him out at a show, dancing with a notebook in hand, say hello.