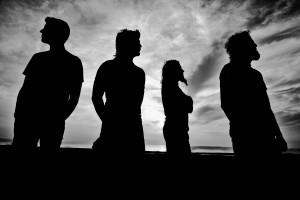 Photo By Cindy Frey
Sometimes in the midst of great tragedy, the best thing you can do is "just close your eyes, and pretend that everything's fine." While Mastodon sings this on their latest release, it's clear that the group takes a different approach to life's struggles, and instead rolls up their sleeves and loses themselves in their art.
The Atlanta-based quartet has been revolutionizing the hard rock/prog-metal scene since their inception in the early 2000s. Melding deep conceptual and classic literary themes with heavy progressive riffs and intense drumming that shakes the ground like their namesake did millennia ago, they've created a world of their own, pushing the boundaries of themselves and their sound with each successive album.
They're a self-described working/touring band that has been on the road for the better part of ten years — most recently finishing a hectic European trek last year, before writing and recording their fifth studio album The Hunter.
In a recent interview with The Marquee, drummer, vocalist and songwriter Brann Dailor talked about the intensity of touring and how the creative drive is a hard one to dismiss, even when tragedy begs otherwise.
"It's been pretty wild, actually," Dailor said. "Lots of highs and lots of lows; we've had members be hospitalized, members kind of losing their minds out there, which can happen when you're away for too long. But as touring musicians that's what we signed up for. The response to [2009's] Crack the Skye was great, we gained a lot of new fans. But it was wild. Then we got home from all the touring and asked ourselves, 'Now what do we do?' Got to write another record, you know?"
Initially deciding to take a year off after touring for nearly two-and-a-half years in support of Crack the Skye, it wouldn't take long before these metal ass-kickers succumbed to their natural inclination to write and play music. "We were all pretty burned out from touring for the last ten years and just felt that we needed to chill. But low and behold, about two weeks later someone suggested we go down to the studio and just mess around a little bit," Dailor recalled. "Then things started rolling and we just started plowing through songs and it became really fun and everybody was reenergized and ready to dive back in. Because deep down that's really what we do — hang out together and write music," Dailor said.
Finish This Article Over At The Marquee Magazine Site . . .

Catch Mastodon Performing Live:
The Ogden Theatre – November 9th
The Marquee is an independent, Colorado-based, PRINT & ONLINE Free Music Magazine. The Marquee strives to be the Farmer's Almanac of the regional music scene — providing readers with facts, tid-bits, in-depth feature stories and a Calendar section that is unparalleled on Colorado's Front Range, covering every live music venue from large venues such as Red Rocks Amphitheatre to small clubs and coffee shops.