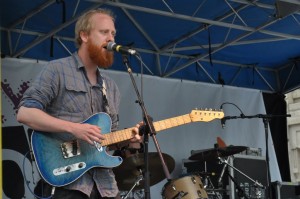 Photo By Tim Dwenger
The Congress have exploded out of Denver this year.  With performances at  Wakarusa, High Sierra, Tall Tree Lake, Jazz Aspen Snowmass, Groovefest, and Targhee Fest, their brand of rootsy Rock-n-Roll has been taking the nation by storm.  Anchored by strong songwriting, The Congress draws comparisons to Little Feat, The Rolling Stones, and The Black Crowes while maintaining an originality that is attracting the attention of critics across the country.  As they prepared for their last show of the year in Denver, the guys took some time out to sit down and answer our 20 questions.  So sit back, read on, and if you are at all intrigued, by all means head out to Cervantes Other Side on Friday night (11/11/11) to check them out!
Listen Up Denver!: How did you come up with your band's name?
The Congress: The band started as a studio project in Richmond, VA where our friends would get together and record songs that Jonathan and Scott had written. The Congress is just kind of what we came up with.
LUD: What is the line-up of the band?
TC: 2 Guitars, Bass, and Drums
LUD: How would you describe your sound?
TC: Rock and Roll
LUD: Who would you count as major influences on your band?
TC: The list could go on for days, but some highlights are: Rock bands from the 60's and 70's: The Band, Pink Floyd, Beatles, Stones, Elton, The Grateful Dead, pretty much anyone who was kicking ass back then.  R&B music: Shuggie Otis, Sly, Curtis Mayfield, Otis Redding, most anything that was coming out of Stax, Motown, Atlantic, Chess.  Current stuff we're listening to a lot of: Wilco, My Morning Jacket, Dr Dog, Grace Potter, and Drive-by Truckers' latest album gets played on repeat on the road
LUD: How did you guys get started playing together?
TC: Jonathan and Scott started writing music together in Richmond after his band broke up. We ran an open mic together, then I moved to Colorado and started freelancing guitar. Jonathan moved out about a year later and we picked up a couple guys I had been playing with in other groups to start a band.
LUD: Does anyone in the band have any formal musical training?  If so, what is it?
TC: Jonathan's got about a year of music school from VCU, he studied classical voice. Scott's taken some classes here and there, but is mostly self-taught. Dwight (Bass) went to DU for Jazz. Mark (Drums) went to New England Conservatory for percussion performance.
LUD: Where was your first gig together and how did it go?
TC: Hard to say, Jonathan and Scott ran that jam together back in Richmond with a house band for a while, when he came to Colorado we played some bar gigs. Our first "real" show was at the Walnut Room a couple years ago, and we all got hammered and fucked it up pretty good. It was a riot though.
LUD: What's your favorite memory of playing together?
TC: Been some good ones — High Sierra Music Festival was amazing, Halloween 2010 was a really great and fun show, and a month ago at Cervantes was one of my favorites. Also, at Tall Tree Lake festival in Illinois, the mainstage got destroyed by weather and they moved it to the upstairs deck in a barn overlooking a huge lake. We played right before Leftover Salmon on the new stage with a huge light show behind us and it felt like we were in a spaceship exploding over everyone, that was really fun.
LUD: Are you playing any shows coming up that you are particularly excited for?
TC: We are excited to wrap up 2011 in Denver on 11/11/11 at Cervantes Other Side. It will be our last Denver show of the year before we take some time to start recording our first full length album. Also, looking forward to two nights in Targhee for New Years; we played Targhee Fest this summer and had a blast, so we're excited to get back.
LUD: What is your favorite song to cover?
TC: Changes often, but right now "Sweet Virginia" by The Stones.
LUD: What is the strangest request you've had at a show?
TC: "I'll give you $100 if you let me jump on stage and play bass on Sweet Home Alabama."
LUD: What was the first song you wrote together as a band?
TC: The first real collaboration we did with more than just Jonathan or Scott writing a song was "Queen Mary," which is on our EP. Jonathan, Daniel Clarke (played keys on the EP), and Scott wrote it together sitting in Scott's living room the night before we went into the studio.
LUD: Do you still play that song live?  If not, why?
TC: Not often, but yes.
LUD: Have you released any of your material yet?  If not, do you have any plans to?
TC: There's an EP out on all the regular online outlets. We are starting to record our first full length in December.
LUD: What is your favorite venue in Colorado, and why?
TC: The Bluebird and Cervantes'. Good sound, good people.
LUD: If you could play on any stage in the world where would it be and why?
TC: Anywhere we can throw down with a bunch of people . . . and Red Rocks. No explanation needed there.
LUD: If you could open for any band or artist, who would it be and why?
TC: Right now, probably My Morning Jacket. Got to catch them when we were at Wakarusa and the set was amazing. We want to share that kind of high energy.
LUD: What is the most outlandish thing your band would consider putting in your backstage rider?
TC: Two nuns and a set of jumper cables.
LUD: What is your bands drink of choice?
TC: Used to be a bottle of whiskey until we had a collective effort to keep whiskey away. Now it is tequila, which I'm not sure is much better.
LUD: Can you name a few local Colorado bands that are really impressing you right now?
TC: Big fan of 200 Million Years, and props to Oak Creek and Fox Street Allstars for getting out there on the road.
Music has always been a part of my life. It probably all started listening to old Grateful Dead, Peter Paul & Mary, and Simon & Garfunkel records that my parents had, but it wasn't long before they were taking me to concerts like Starship, Crosby, Stills & Nash, and Huey Lewis & The News. I got the bug to write about music after reviewing an Eric Clapton concert for a creative writing project in high school but didn't really take it up seriously until 2002. Since then I have published countless articles in The Marquee Magazine and done some work for Jambase.com, SPIN Magazine, and various other outlets. I started Listen Up Denver! as a way to share the music information that is constantly spilling out of my head with people who care. Please enjoy!