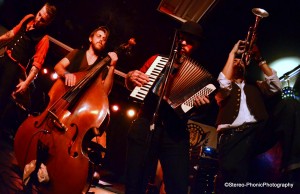 Photos by Johne Edge
On most days I am not a writer, but a photographer.  I use a  device that consists of a lightproof chamber with an aperture, fitted with a lens and a shutter, through which the image of an object is projected onto a surface for recording.  My camera and a leaky liver is usually what I use when covering music.  After meeting Mark "Doc" Rossi briefly  one evening,  I had no option but to pick up pen and paper to write about his band Champagne Charlie.  How could I not?  Named after the Leon Redbone song, Champagne Charlie has taken root in the naugahyde covered barstools of Denver's seediest bars.
They are a band that grew both musically and lyrically despite, or maybe due to, dimly lit rooms, and the smell of stale beer combined with sour bar towels.  Manifestation artistique, originally a four member band,  their numbers have grown to seven or more depending on the night.  Like Chicago Cabaret, Champagne Charlie fully embraces a larger band ensemble, believing "the more the better."   Playing a dozen different instruments, the band combines elements of Jazz, Blues, Waltz, and Americana to create their own style of Dark Denver Cabaret music.  With several members being multi-instrumentalists, rhythm and melodies intermingle as one instrument is set down and another is picked up.  While the band plays a drinking man's music, Ryan "Peepers" King sings with the gravelly delight of a parched throat encased in a sailor's bones about love, loss, damnation, and a lack of forgiveness.
I arrived at the 3 Kings Tavern a little bit after 8:00 and found Mark "Doc" Rossi playing pinball.  As we waited for other band members to trickle in, I took the opportunity to order a white trash mimosa from the bar.  I thought the added fortification of the PBR Tall Boy and OJ might be necessary for this evening's interview.  After all, I was getting ready to head backstage with a band that, urban legend has it, would consider putting "a dozen strippers to do cocaine off of and a big box of crayons with the built in sharpener on the side," in their backstage rider.   As a lifestyle photographer for music, I was all right with the naked women and illicit drugs, but the whole Crayola thing had me a little worried.  With a few shots of whiskey down,  front man/guitarist/and horn player Ryan "Peepers" King, accordionist/bassist/ and tuba player Mark "Doc" Rossi, banjo player/ bassist Caleb Hal, and percussionist Matt Vogel sat down with us at Listen Up Denver! to talk about playing music together, nudity on stage, and cheap beer.
Listen Up Denver!:  How did you guys get started playing together?
Champagne Charlie:  (Ryan)We met when we were both in high school and we're playing in different bands, but we both liked the same type of music.  So when I was going to art school, Mark would come down when I had a break and we'd just play music on the bench and that's what really started it…our love of music.  (Mark) We've had four bands together before this…a couple rockabilly bands, a band with a Modest Mouse sound, and  a circus sounding band.
LUD!:  Where was your first gig together as Champagne Charlie and how did it go?
Champagne Charlie:  (Ryan)It was my birthday…at Paris on the Platte.  We had a month to put a band together.  (Mark)At first it was just the two of us.  I played upright and Ryan would sing.  We played open mics and what not, but then we got booked for a show and we realized we needed a drummer.  So Squids and my buddy Eric came down and played with us.  (Ryan) That was a fun show…I don't remember half of it on account of the birthday though.
LUD:  What's your favorite memory of playing together?
Champagne Charlie:  (Mark) It's got to be that Oriental Theater show (Cirque Voltaire Deux).  It was the first  big stage that we ever played on and the whole circus vaudeville thing was going on.
LUD:  Are you playing any shows coming up that you are particularly excited for?
Champagne Charlie:
Nov. 17th (Thursday) @ Rockaway Tavern
Nov. 18th (Friday) @ Kaze Gallery
Nov. 22nd (Tuesday) 3 Kings Tavern
LUD:  What is the strangest request you've had at a show?
Champagne Charlie:   (Ryan) Besides everybody asking me to take my clothes off?  I guess for my size, it's strange, but whatever makes the crowd happy.
LUD:  Have you released any of your material yet?
Champagne Charlie:  (Ryan) We did a garage recording in July?  Or was it April?  Anyways, the time doesn't really matter.  We're trying to pull some money for recordings, but we also don't want it to sound overproduced or extremely  clean because that's not our style of band.  We like a grungy and soulful sound.
LUD:  What is your favorite venue in Colorado, and why?
Champagne Charlie:  (Ryan) I like Bar Bar, on account of the free drinks all night long.  A lot of the venues give you 2 drink tickets, which is great, but I'm a cheap bastard. (Matt) I think the Larimer Lounge is fun too…the energy there is great.
LUD:  If you could play with any band or artist, who would it be and why?
Champagne Charlie: (Ryan) The Tiger Lilies…they're a really weird cult band from England.  The singer is trained in falsetto opera.  It's a crazy, but beautiful voice.  Their music is very waltzy…accordion based, and drums.  You might say, "Oh my God, why the fuck are you listening to this shit?"  But, I don't know, we all love listening to them. It's weird, weird music…but that's what we're trying to get to…the weirder the better.  (Mark) And (live) they put on huge plays…entire performances…with puppets and dancers.
LUD:  What is your bands' drink of choice?
Champagne Charlie: (Ryan) Whatever they give us for free… but I would have to say, The champagne of beers– Miller High Life or maybe Milwaukee's Best it's even cheaper.
LUD:  Can you name a few local Colorado bands that are really impressing you right now?
Champagne Charlie:  Widow's Bane, A Tom Collins, Broken Bridge, Reverend Dead Eye (he doesn't live here anymore, but he's from here), Slim Cessna, River Drifters, and The Denverites (for Squid's sake).
Check the band out on Reverb Nation, or better yet support local music and get out and see them live.  Denver has a great music scene, and bands like Champagne Charlie are the reason why.
Wherever the music is, you'll find me with my camera, shooting on street corners, from barstools at clubs, from the side of the stage at theaters, and from photo pits in places like Red Rocks. Clicking away, trying to capture the emotive essence of music, and all those moments that we forget because of one too many Pabst Blue Ribbons.