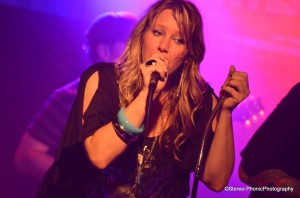 Photos By Johne Edge
The Scene: Cervantes Other Side was home to a hip-hop celebration last weekend. Broken Tongues fans had obviously been waiting anxiously for the release of Crooked Skyline on CD, and the subsequent gala that went along with it. The place was packed, and as I walked in, I realized this was going to be no simple release party, but a full on production. There were banners strategically placed in various spots in the venue and a bustling merch booth at the back of the room. As I stood by the booth during the first opener One Be Lo, I realized that the white ladies tank tops seemed to be jumping off the table and on the torsos of every other college cutie in the place. How could a band who is just releasing their first album have such an established fan base? One word: Tenacity.
This is not a game for Broken Tongues and they are all established musicians who have finally found the right home. They have trained like fighters over the past year in order to prepare for the full on rampage they planned to bring not only to Denver, but I predict a larger national market. People are hungry for something different in hip-hop, and Broken Tongues just may satisfy a bit of that craving.
This band worked tirelessly on the album, making sure they were presenting themselves as vividly as possible. They even incorporated the help of two very dedicated and professional interns to help build the movement. These two not only slung merch like true hustlers, but also chatted fans up about Broken Tongues and represented the group in fine fashion all night long. The Listen Up Denver syndicate was so impressed with the interns enthusiasm, (one in school for Music Business and Art, the other for Photography) that photographer Johne Edge spent a good part of the night sharing trade secrets with the young picture snapper, and even set him loose with his own camera! It was just a great night to be witnessing the unveiling of a new hip-hop phenomenon.
Opener: One Be Lo. You know it is going to be a good night when a nationally touring act is the first opener at a CD release party! One Be Lo has fought his way to the top over the past decade by always staying true to himself. He has lived the kind of life that has led him to some wisdom and that wisdom definitely comes out in his lyrics and stage presentation. A true, authentic and talented MC, he set it off right…and set a high standard.
DJ Abilities: Touring with One Be Lo is the formidable DJ Abilities. They are supporting their recently released collaborative The Labor Hood and true to his name, he displayed mad skills. Turntable, CDJ, Laptop, Sampler…it didn't matter…he is a "jack of all trades and master of three. Rockin' the tables, rockin' the mics and rockin' the young la-tees." And speaking of the young ladies, nothing but white Broken Tongues tank tops in the front row! His abilities actually stopped me mid-conversation; I apologized to the other participant, and walked into the crowd for the rest of the set. I got completely sucked in to the tracks he was playing and heard some interpretations that just blew my mind.
Broken Tongues: We were all so worked up by now that we must have looked like a pack of rapid dogs, eager for the Broken Tongues to release the powerful and unique uppercut it is hitting the hip-hop community with. CC Chambers walked sassily onto the stage and was immediately greeted by cheers as she beamed a smile of achievement, looking out onto the supportive crowd. The throw down began as the rest of the Broken Tongues camp entered the ring. Joining CC at the front of the stage was MC Loose Change, then Donny Broussard on drums, Erin Angel on bass and keys, Zach Warkentin on guitar and Greensleeves was slyly rockin' the mic and turntables behind Ms. Chambers.
They worked the stage like pros, CC wowing us with a set of the most soulful pipes in the biz while Loose Change aggressively was spitting lyrics like you owed him money or stepped on his new British Knights. I wear my BK's! I actually couldn't believe what I was seeing! Let's get this out of the way, Broken Tongues are as white as the driven snow. At first glance you might underestimate them, but they are pit bulls on the stage. I had listened to Crooked Skyline a few times before the show and had no idea they were going to elevate it to the level they did live!
There wasn't a person in the joint that wasn't pickin' up what they were puttin' down. Not only covering their album, they also played a few new songs they had written the day their CD was released. Ambitious. But what really showed their versatility was the cover of The Talking Heads "Psyco Killer," and their own version of Zeppelin's "Trampled Underfoot" which was explosive. Just to show how connected to all scenes they are, Andy Rok from The Flobots and Bop Skizzum came out to rock with them for a few.
A Broken Tongues show will take you on a journey of  Funk, Hip-Hop, Soul, Rock and Jazz, but with Hip-Hop firmly in the driver's seat. Energetic and well executed from start to finish, these guys are sure to be one of those bands you are going to want to say you knew about before they blew up. They may not appeal to the hard-core rap enthusiasts, but that may be more because of appearance than talent. Loose Change is one of the best MC's I have heard, and there is no way you can capture his power on an album. This band is a live band. Their album is great, but seeing them live is a whole different animal!
Energy: A
Sound: A-
Musicianship: B
Stage Presence: A-
Set Light Show: B+
Overall: A-
Brian Turk grew up in the shadow of the Catskill Mountains, near Woodstock, NY. He comes from a family of music lovers, audiopliles, Dead Heads and avid concert goers.The musical magic that can only be created in the Catsklills, both past and present, is what Brian cosiders the epicenter of his music addiction. The music of The Band, and most recently The Levon Helm Band, is the soundtrack of home for him. Brian's mother took him to his first concert at 5years old...it was Johnny Cash and Roseanne Cash at Jones Beach Amphitheatre. For Brian, music is a family affair. He feels the same way about live music...we all convene to celebrate together. Brian's writing life started when he wrote his favorite author, southern fiction writer Clyde Edgerton, a fan letter at age 13. When most kids were idolizing baseball players and television, he was worshipping writers and musicians. The two became friends and Clyde shared his craft with Brian. The next year Brian attended Duke University's Young Writers Camp. This is the extent, of what Brian considers, his "formal" training in writing. From then on his goal was to capture snapshots of life through words. Brian has been involved with live music in various facets over the years, and combined with his enthusiasm and love for Denver's music scene, he creates a vivid description of what he sees and hears. If you see him out at a show, dancing with a notebook in hand, say hello.