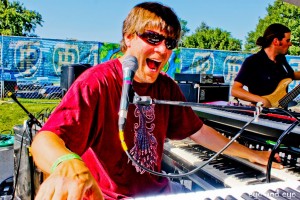 Photo by Ben Wilson's eye and eye photography
Why You Should Go:  In anticipation of The String Cheese Incident's first full tour in more than four years, keyboardist Kyle Hollingsworth will gear up in Colorado with two shows on the Front Range with Kyle Hollingsworth Band, featuring very special guest and SCI bandmate Michael Kang. Minneapolis' Roster McCabe will join the festivities to open both nights. Both shows will feature one-time-only collaboration brews from Kyle with Dry Dock and Odell breweries.
The weekend will also mark the kick-off of Hollingworth's Hop On Tour interactive fan experience. Throughout SCI's tour, Hollingsworth will connect with fans via his Facebook page and blog to provide a behind the scenes look into life on the road as well as the craft beers and brewing that come into picture along the way. To top it off, fans will have the opportunity to win an invite to exclusive meet & greets and tastings with Hollingsworth and others through various contests at select SCI shows. Stay tuned to Hollingsworth's Facebook page for regular Hop On Tour updates.
Venues:
Cervantes', 2635 Welton Street, Denver, CO 80205 – 303/297-1772
Hodi's Half Note, 167 North College Avenue  Fort Collins, CO 80524 – 970/472-2034
Doors:
Friday – 7:30 PM
Saturday – 8:00 PM
*Price:
ADV – $16.00
DOS – $18.00
Buy Tix For Friday
Buy Tix For Saturday
*All times and prices are gathered from other sources and I am not responsible for mistakes or inconsistencies. They are intended only as guidelines. Please, always call the venue if you desire the most accurate information possible.