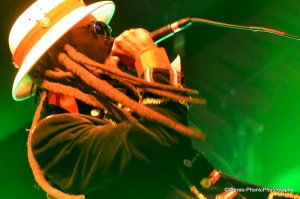 Photos By Johne Edge
The Scene: Cervantes' Masterpiece Ballroom, formerly the Casino Cabaret, lies in the middle of Denver's Five Point Neighborhood, where the thriving music scene in this town was born.  Cervantes' has a long history and on Friday night the room that once hosted the great James Brown was again filled with strains of Funk and Soul.  The only difference was that this time those classic sounds were blended with Reggae and Dancehall as See-I brought their signature sound back to Denver.  Having one of Denver's best bar staffs, the drinks flowed with a laid back ease as the room filled comfortably and soon found folks from all walks of life grooving and rubbing elbows.
The Opener: Atomoga Groove Alliance. Denver based twelve piece Atomga Groove Alliance opened up the evening with a surprisingly fresh and energetic set of music.  With a four member horn section and three percussionists, the band took the audience on a musical journey that blended Afro-Beat with Jazz and Funk.  Throw in a keys player, a couple guitarists, and the melodic male and female vocal duo of Devon Jones and Laura Marques, and you have not only a very talented band, but a full stage.  For an hour or so Atomga Groove Alliance got the crowd warmed up, and dare I say ready to boogie.  We look forward to hearing more from these guys in the future!
See-I: Shortly after 11 the See-I band took the stage and lurked in the shadows as they jammed a bit to warm up.  Then, with great pomp and fanfare, Frank Mitchell Jr. introduced the bands vocalists, brothers Arthur "Rootz" Steele and Archie "Zeebo" Steele and they bounded in the light  adorned in pith helmets and Aviator glasses.  Mitchell, aka the Sax Pusher, began to blow his horn to kick off "Thunder Dawn" and we were off on a wild ride.  Guitarist Rob Myers and barefooted bassist  Ashish "Hash" Vyas filled the room with high energy rhythms and a deep full bass sound while Enea Diotaiuti provided melodies on the keys and Empresarios band mates Javier Miranda and Jeff Franca laid down the grooves on percussion. "The real See-I sound" blends Roots and Dancehall music with Funk, Dub, and Rock to create a unique brand of Reggae that is pleasing crowds from coast to coast.
The Denver crowd was treated to a mixture of songs off the bands self titled debut album like "Haterz 24/7″ and "Soul Hit Man," and See-I classics like "The King" which blended into "Dangerous" but not before quoting from Chuck Brown's "Bustin' Loose," and P-Funk's "We Want The Funk" to the delight of everyone in the room.  Like a seasoned DJ, the band kept newcomers sucked in as they wove well known tunes like "Fly Like An Eagle," "Louie Louie," and "Leaving On A Jet Plane" into the their originals.  Though many of these covers appeared in the set last time the band graced the stage at Cervantes', I think it's safe to say that no really noticed or cared.  It was full-on party time and dancing was the number one priority!     
In case you are new on this scene, See-I's members are culled from DC area groups like Thievery Corporation, Nappy Riddem, Fort Knox Five and the aforementioned Empresarios and they all brought unique talent and musical diversity to the night's marathon performance.  As the clock struck 2, members of the crowd joined the band on stage for the final song to dance to the bangin' See-I party anthem "Homegrown."  Longtime See-I fans and newcomers alike witnessed a show that none of us will soon forget.
Editor's Note: Stay tuned for an interview with See-I that went down right after this show.
Energy: A+
Sound: A
Musicianship: A
Stage Presence: A+
Set / Light show: A-
Overall :  A
Wherever the music is, you'll find me with my camera, shooting on street corners, from barstools at clubs, from the side of the stage at theaters, and from photo pits in places like Red Rocks. Clicking away, trying to capture the emotive essence of music, and all those moments that we forget because of one too many Pabst Blue Ribbons.