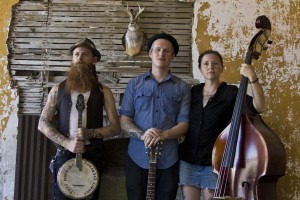 Photo by Max Blau
The Scene: A rough and raw acoustic power house, The Devil Makes Three brought their unique Bluegrass hybrid to the very packed Larimer Lounge this past weekend. The show read "Sold Out" on the website for weeks and the Facebook event page and Craigslist alike were littered with ticket requests. It would suffice to say that a larger venue is in order the next time these guys stop in Denver. Even with that being the case it did seem that most of the people looking for tickets out front ended up finding one and eventually getting through the doors.
Once inside, the performance space was completely packed shoulder to shoulder with hardly any room to move around. The back bar area was rather empty which was most likely due to everyone attempting to cram as close as possible to the stage. I arrived around 10 and was able to plow my way through the inferno and find some room near the back door where I was could dance with ease and breathe fresh air while doing it.
The Devil Makes Three: Fresh off the release of their newest live album, Stomp and Smash, The Devil Makes Three are in the midst of a grueling tour playing shows nearly every night for all of November and December. Their punk-rock infused, old timey Americana sound is built around rhythm and like nothing I have ever heard before. Their instruments were rustic in appearance, almost as if they had been picked up from a second hand store years prior. The energy was that of a punk rock show and I could feel the heat radiating off of the crowd while I stood in the open doorway that let the night air in.
Lead vocalist and songwriter Pete Bernhard has a way of channeling the spirit of all that is right and true in Blues music through his lyrics. Backed by thunderous rhythms, he is able to draw from his personal experiences and strike a chord in the soul of all who will listen. They shuffled through their eclectic catalogue quickly and with precision. Even with the lack of dance space the crowd still managed to stomp the wooden floor in unison with the band adding another element to the performance and becoming a fourth instrument for the evening. I was also very surprised by the fact that the drummer-less three piece was almost too loud for the Larimer Lounge's sound system to handle. Once again confirming that they need a much larger venue the next time they make it out this way.
They played one long set filled with sing-a-longs such as "Gracefully Face Down" that got everyone involved, and darker numbers like "Graveyard" that left you to simply think about the words he was bellowing out. Many songs brought to mind what you might have expected to hear coming from a street corner in the Deep South during the times of Robert Johnson.
It's no secret I'm a man of many vices, and perhaps that is part of what attracts me so strongly to this band. The latter half of the set was where I found myself most at home. With odes to Whiskey, wrong-doin', and gambling, numbers like "Old Number 7," "Aces and Twos," and "Do Wrong Right" left me feeling completely content with the way in which I live my life. They certainly have a very fine way of appealing to my inner desperado. They brought the set to an end after well over and hour with the song that initially got me into The Devil Makes Three a long while back; "Black Irish." A number that could arguably be the theme song to a large portion of my life's story.
When it was all said and done, I was whiskey drunk and in complete awe. I've seen some major acts around this town and had the opportunity to be up close and personal with some rather large bands. None of that compares to the energy that The Devil Makes Three brings to the stage. This kind of raw sound and truth is what I live for when it comes to music. If it wasn't for a few prior obligations I would have packed my car up last Saturday night and followed them right to Salt Lake City to do it all over again.  They are easily one of the best unknown bands touring right now. They relate to a part of the soul that is not visible on a daily basis.  100 proof when it comes to old fashioned authenticity, this is the type of music that makes you want to stand on tables and do what feels right even though it may seem wrong in the eyes of others. They have a sound that stays true to the spirit of what American Blues and Rock & Roll was built on. Never compromise who you are as a person, ramble and be free, travel your own road. That is how their music speaks to me. Without a doubt I suggest you give The Devil Makes Three a chance. You know I will be there dancing my ass off with a Pabst in one hand and a bottom shelf bourbon in the other.
Energy: A+
Sound: C+
Musicianship: A+
Stage Presence: A
Set / Light Show: N/A
Overall: A

I rode my skateboard from school in 7th grade to my buddy Vince's house where he put on the song "Perfect Government" by NOFX and I was hooked. The next day I bought the album Duh by Lagwagon. The next year I saw Against Me! at the Starlight Theater in Fort Collins, my mom dropped me off. I've since devoted every waking hour to anything done with passion. My speakerbox bumps everything from Lil' Wayne to Pablo Casals. I was never very good at making music, but I am damn good at listening to it. I've been filling up yellow notepads with random thoughts and misspelled words for as long as I can remember. I enjoy whiskey of all sorts, Newport cigarettes and the company of my family. I've got an addiction to run-on sentences that I'll probably never cure. A solid handshake with a stranger who has become a friend over a few beers means the world to me. You'll often find me wide eyed and wandering with an ear to ear grin. I live for funky break beats and spreading the love.