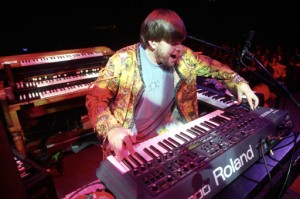 Photo by C. Taylor Crothers
As he prepped for a pair of shows this weekend and a full 14 show tour with String Cheese Incident, keyboardist Kyle Hollingsworth took sometime to answer some questions for us here at Listen Up Denver!  He talked about working with Dry Dock and Odell's to brew two new beers, writing new material, and even the possibility that SCI will do more touring in the near future.  While nothing is set in stone until it's announced through public channels, maybe the West Coast will get some of that Cheese they have been craving before too long!  Check out our conversation with him below.
Listen Up Denver!: I understand that these two Kyle Hollingsworth Band shows in Fort Collins and Denver will be featuring some collaborations between you and Odell's and Dry Dock.  Can you talk a little about working with them and what concert goers can expect in terms of beer offerings?
Kyle Hollingsworth: I am totally psyched to working with these guys.  I have worked with Odell's many times before they are great guys over there. This time around we made a vanilla porter.  With Dry Dock we made a "Solstice Spice" that is a lightly spiced, high alcohol beer so these rounds of brews are more in the "winter warmer" style.  And I believe Hoopla will be there as well.
LUD!: There is a rumor that the Cervantes' show will feature free beer.  Is this true?  If so, what prompted it?
KH: Well these 2 shows are the kick-off party for "Hop on Tour," which is an interactive fan experience with me on SCI's fall tour, so I wanted to give something to the fans to make it extra special. So yeah, come on out and get it while you can.  The draft beers will be free until 9pm.
LUD!: Michael Kang will be joining your band for these two shows.  Can you talk about how that came together?
KH: I play with Kang in this other band I tour with so it seemed like a natural fit.  Also I really wanted to bring his sound and collaboration to my band.  I think it'll be great and I'm excited to see what will come of this combo.
LUD!: It's been a couple of years since the last solo record from you.  Have you been writing much?  Can we expect to hear any new songs at these shows?
KH: I have been doing lots of writing and it may be time for another disc soon. At the shows this weekend, there will be a combination of some newer tunes and older material.  I've also been bringing some new stuff into SCI shows recently.
LUD!: Brewing seems to be becoming more and more of a passion for you over the last couple of years.  Can you talk about how you got involved with brewing and whether you ever consider it as a possible career option?
KH: Wow! Being a professional brewer for real? That would be awesome. Though from my experience working with breweries, it takes a long time to reach brewer status.  From the bottling to clean-up crew, there is a lot to do to rise up that ladder. Not sure that I have that much time to dedicate to this passion.
LUD!: SCI is about head out on a real tour for the first time in 4 years.  What about the tour is the most exciting?  Any fears about heading out on the road again after so much time?
KH: Fears…umm…well trying to sleep on a bus with 11 snoring band and crew members is always challenging.  But most of all I feel super lucky that this is my profession. I get to perform music with my friends and fans come out to listen.  It's a blessing.
LUD!: Is this tour the beginning of more touring for SCI or just a one time thing?  I'm sure the West Coast would love to see you guys head out there for a run of shows.
KH: Yes Yes!! More tours please! We are definitely back in it and the West coast will for sure be on our radar.
In the meantime you can catch Hollingsworth and his band funking it up at Hodi's Half Note in Fort Collins on Friday night and at Cervantes' in Denver on Saturday.  Tickets are still available for both shows!

Music has always been a part of my life. It probably all started listening to old Grateful Dead, Peter Paul & Mary, and Simon & Garfunkel records that my parents had, but it wasn't long before they were taking me to concerts like Starship, Crosby, Stills & Nash, and Huey Lewis & The News. I got the bug to write about music after reviewing an Eric Clapton concert for a creative writing project in high school but didn't really take it up seriously until 2002. Since then I have published countless articles in The Marquee Magazine and done some work for Jambase.com, SPIN Magazine, and various other outlets. I started Listen Up Denver! as a way to share the music information that is constantly spilling out of my head with people who care. Please enjoy!