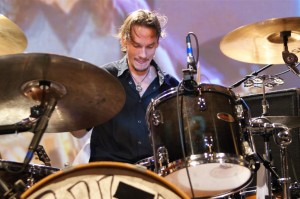 Photos by Jeff Hyatt
The Scene: The Bluebird Theater was ablaze with the sounds of a steamy Mississippi night on Saturday. It was the second of a two night run for the North Mississippi Allstars, but it was a couple of firsts for me. It was my first time at the Bluebird Theatre and my first time seeing The North Mississippi Allstars. Well, as they say, you never forget your first!
As I was picking up our tickets at the box office, I ran in to the person who was most influential in me moving to Denver and also the person who introduced me to the Denver music scene by recommending I go to Sancho's Broken Arrow my first night in town (you know who you are). If it wasn't for you, I wouldn't be writing these words right now! It was great watching a show with family.
We got in as The Buffalo Killers were just starting and walked upstairs so I could get a sense for the lay of the land. The room has an intimate feel and I especially liked the lower stage height. Even though the sounds were steamy, the place was cool, and with the amount of dancing I did, I would have been a sweat factory in most other venues. A night that started off smoldering was soon stoked by the North Mississippi Allstars.
Opener: The Buffalo Killers. These guys have a unique sound; it's raw and unpolished, lyrics mostly unintelligible, with a kind of sedated feel.  They are the kind of band that could be the sound track of a 1978 Cincinnati to Pittsburgh heroin run in an El Camino with a roach clip in the ashtray, cigarette ashes on the floor boards, and the windows down to stay awake. We sat down upstairs for the set, uninspired to dance, but content to just ride with it.
North Mississippi Allstars: Pure fire all night long. As I said, it was my first time seeing them, but I have heard both their music and fans sing their praise for years. I also have heard about the legacy of their father Jim and how the Dickinson Family was a cohesive, blues breathing organism since Luther and Cody were very young. If you want to understand the power and soul that runs through this family's veins, watch the film Do It Like We Used To. It's one of the most amazing music films I have ever seen. The blues the North Mississippi Allstars play is some of the most passionate and mood altering music I have ever heard! I usually am known for dancing with my notebook in hand, but that was not an option tonight!
Instead what the night required was dancing like a heathen who is pouring moonshine on a campfire to watch the flames rise. I was sucked in by the continuous set. No time was wasted with talking between songs, just a non-stop barrage of blues. Heavy, rocking, thick, and intoxicating blues. Blues that makes you taste Sweet Tea and fried Okra as you as you imagine Cicadas singing on a balmy night. The fact that the screen behind the stage was cycling through images of flames, churches, and shots of the south made the night an even more gripping and spiritual experience.
Although Cody sits behind the kit with this band, he is no slouch on guitar either. As he sat on the drum stool pointing the headstock to the sky, he played a detailed and at times blazing and refined acoustic for a few songs. That wasn't all Cody had in store for us, he also broke out the electric washboard and even played his kit with what looked like two Wiffle Ball bats! He drummed better with the bats than most drummers do with hickory in their hands!
Luther really shows his dedication to the craft of guitar playing through his arsenal of instruments. He has some of the most beautiful guitars I've seen in a long time, in both appearance and tone and I've got to say that watching him play a cigar box guitar is one of the most amazing sight and sounds I have seen. This man breaths the blues into every instrument he touches!
Bassist Chris Chew has to be one of the most expressive and jovial musicians I have seen, He works the bass with a smile and his energy is contagious. Although he doesn't possess the same last name, he truly looks like family on that stage.
Some highlights from the evening included a sassy "Shake What Yo Mamma Gave You" and an amazing run from "Po Black Maddie," into "Skinny Woman" into "Ho Down" that really lit things up about halfway through the show.  In addition, watching these boys tear into Taj Mahal's "Chevrolet," a track I got to see the man himself perform this past summer, was a real treat! Just to keep the night flowing, and give us a little more of what we came for, Luther stayed out during set break and played solo, seemingly possessed by the spirit of the blues. A cover of RL Burnsides "Snake Drive" to close the show was just what we needed to wrap up the night.
This was not a show, but a show of force. I was so emotionally charged from their performance that I wanted to go to an all night juke-joint to hear these guys play till the break of dawn! Simply put, The North Mississipi Allstars are one of the most authentic and talented bands I have heard in years.
Energy: A
Sound: A
Musicianship: A
Stage Presence: A
Set / Light show: A
Overall: A
Brian Turk grew up in the shadow of the Catskill Mountains, near Woodstock, NY. He comes from a family of music lovers, audiopliles, Dead Heads and avid concert goers.The musical magic that can only be created in the Catsklills, both past and present, is what Brian cosiders the epicenter of his music addiction. The music of The Band, and most recently The Levon Helm Band, is the soundtrack of home for him. Brian's mother took him to his first concert at 5years old...it was Johnny Cash and Roseanne Cash at Jones Beach Amphitheatre. For Brian, music is a family affair. He feels the same way about live music...we all convene to celebrate together. Brian's writing life started when he wrote his favorite author, southern fiction writer Clyde Edgerton, a fan letter at age 13. When most kids were idolizing baseball players and television, he was worshipping writers and musicians. The two became friends and Clyde shared his craft with Brian. The next year Brian attended Duke University's Young Writers Camp. This is the extent, of what Brian considers, his "formal" training in writing. From then on his goal was to capture snapshots of life through words. Brian has been involved with live music in various facets over the years, and combined with his enthusiasm and love for Denver's music scene, he creates a vivid description of what he sees and hears. If you see him out at a show, dancing with a notebook in hand, say hello.