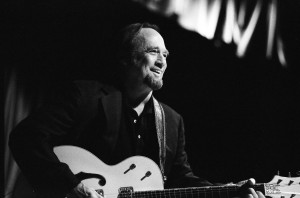 Photos by Lisa Siciliano
The Scene: The Ogden Theatre looked like an early retirement party this past Sunday night and was just as joyful! Theses hip fans were looking back on their lives with Stephen Stills instead of ahead to a life of spending the inheritance, and were basking in the music that this guy has been creating since the 60's.  There was definitely a good mix of people there, music lovers of all ages are captivated by this man, but there was a show of force from the "we just paid our house off " crowd. It was a great showing for any night, especially a Sunday, but that is no surprise really. This man could draw a crowd anywhere and any night of the week and Denver's more discerning ears proved that. The sound was adjusted to reflect the audience, and I really enjoyed the lower volume. Even when people sang along, it was more of a loud whispering, ever mindful not to disturb anyone else's enjoyment. This crowd was thoroughly moved by the two hours of amazing music the 66 year old Stills gave us.
Stephen Stills: As he took us on a tour of his extensive catalogue, he told stories of the past. From his beginnings in Cambridge and Greenwich Village to his Manassas days on a British Estate he touched on just about everything. Stephens's choice of guitars is impeccable and his extensive use of open tunings requires a different guitar for nearly every song. There is no doubt that this man is an amazing guitar player and I have always loved his acoustic based material, but his chops on the Strat are what really blew me away at the Ogden. I noticed him holding his wrist at various points during the night, and it made me wonder if all this guitar slinging might be wearing on him. One thing was clear, as they have been wearing on his wrist, the years have worn on his voice. While it was possibly a bit strained by the altitude, gone is the sweet tenor that blended so well with his bandmates in Crosby, Stills, & Nash and it's been replaced by a gruffer tone with a much more limited range.
Despite his limitation vocally, as Stephen Played the Stills-Young song "Long May You Run" in front of a distinguished curtain backdrop, I realized how lucky I was to be seeing this man play. He played another Stills-Young song during the second set, "Wanna Make Love to You," and made that Strat sing with nothing but seductive blues. The first set, exactly 50 minutes long, included one of the most hauntingly lovely versions of Dylan's "Girl From the North Country" I have ever heard, but the highlight was the moving and crowd pleasing version of "Suite: Judy Blue Eyes." As he got in to the more detailed solos of this song the crowd was in complete awe as they watched his fingers flying on the fretboard. He punctuated his playing with occasional slaps on the body of the guitar. When he shocked everyone, including himself, by hitting the high note he sent the crowd in to a joyful roar.
As Stills walked off the stage for a brief intermission, I made my way over to talk to Scramble Campbell, the local live painter who was capturing the performance on canvas. Scramble was just as excited to see Stills perform as I was and his enthusiasm was right there for all to see! Watching Scramble in action is a show in itself. He dances with intensity as he somehow creates a masterpiece in a flurry of movements; crouching, pondering, and exploding. He is a mainstay in Colorado's music scene and, according to him, he has painted over 260 performances at Red Rocks. 30 of them this year alone!
As Stills came back on stage about 15 minutes later, he and his band ripped into the CSN&Y hit "Woodstock" and it was nothing short of spectacular! As Stills leaned back and looked into the balcony of the Ogden he stepped into the role of rock god. The last two songs of the set were powerful and dance provoking as Stills ripped out a version of Joe Walsh's "Rocky Mountain Way" that shook Mount Evans itself and I found myself running back over to Scramble and see him get down to this! As Scramble boogied and blotted, I danced with my notebook in my hand and reveled at Denver's love of live music! Going right into "Love The One You're With," it seemed like this guy may never stop! He said goodnight, but came right back on stage for his Buffalo Springfield hit "For What It's Worth," and gave a shout-out to the 99% and The Occupy Movement. Solid!
Stills brought not only a great sense of nostalgia, but helped connect past with present as we all listened to songs penned in days of revolution and love. Despite losing a step or two vocally, Stephen Stills is going strong and strongly going ahead into his wiser years.
Energy: B
Sound: A
Musicianship: A+
Stage Presence: A
Set Light Show: B+
Overall: A-
Brian Turk grew up in the shadow of the Catskill Mountains, near Woodstock, NY. He comes from a family of music lovers, audiopliles, Dead Heads and avid concert goers.The musical magic that can only be created in the Catsklills, both past and present, is what Brian cosiders the epicenter of his music addiction. The music of The Band, and most recently The Levon Helm Band, is the soundtrack of home for him. Brian's mother took him to his first concert at 5years old...it was Johnny Cash and Roseanne Cash at Jones Beach Amphitheatre. For Brian, music is a family affair. He feels the same way about live music...we all convene to celebrate together. Brian's writing life started when he wrote his favorite author, southern fiction writer Clyde Edgerton, a fan letter at age 13. When most kids were idolizing baseball players and television, he was worshipping writers and musicians. The two became friends and Clyde shared his craft with Brian. The next year Brian attended Duke University's Young Writers Camp. This is the extent, of what Brian considers, his "formal" training in writing. From then on his goal was to capture snapshots of life through words. Brian has been involved with live music in various facets over the years, and combined with his enthusiasm and love for Denver's music scene, he creates a vivid description of what he sees and hears. If you see him out at a show, dancing with a notebook in hand, say hello.