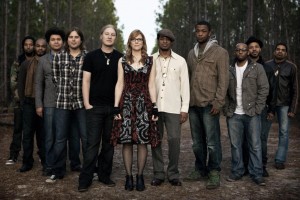 When America's First Couple of The Blues first met backstage at an Allman Brothers show in 1999, the music world was buzzing with the possibility of a collaboration. But instead, as the years passed, the two fell in love, married and started a family without more than the occasional sit-in. It wasn't because they didn't want to work together. Derek Trucks' commitment to fill the shoes of the late Duane Allman with The Brothers, coupled with a rigorous touring and recording schedule with his own Derek Trucks Band, and Susan Tedeschi's responsibilities with her own group put some roadblocks in the path of a truly collaborative project.
In 2007 the couple took the first steps toward fulfilling their dream of building a band together when they headed out on the road with The Soul Stew Revival, a project that largely focused on material plucked from Trucks' and Tedeschi's respective solo projects. While that band didn't really satisfy their creative desires and as Trucks has stated, was more of a "summer vacation band" that allowed them to take the family on tour for the summer, it did solidify their desire to get something more permanent established.
In 2009 the roadblocks that had prevented them from going into the studio and writing material for a new band eased a bit as their respective recording contracts drew to a close and their two children reached grade school age. With much of the red tape out of the way, the pair decided to put their solo bands on hold and dive headlong into a project that would allow them to work together on the music that they love, and the Tedeschi-Trucks Band was born.
While it took them a while to put a band together, by the time their New Year's Eve show rolled around last year things were falling into place nicely. "With an 11 piece lineup it's hard to lock all the schedules in and New Year's was the first time we had this group on stage together," Trucks told The Marquee during a recent interview from his home in Jacksonville, Fla. as he and Tedeschi prepared to head out on a lengthy fall tour. "That was the first time that we really hit it. Up 'til that time we were kinda feeling it out and while you want to make every show you play great, that was when I really felt like we had finally settled on something."
Finish This Article Over At The Marquee Magazine Site . . .

Catch Tedeschi-Trucks Band Performing Live:
Fillmore Auditorium – November 18th
The Marquee is an independent, Colorado-based, PRINT & ONLINE Free Music Magazine. The Marquee strives to be the Farmer's Almanac of the regional music scene — providing readers with facts, tid-bits, in-depth feature stories and a Calendar section that is unparalleled on Colorado's Front Range, covering every live music venue from large venues such as Red Rocks Amphitheatre to small clubs and coffee shops.