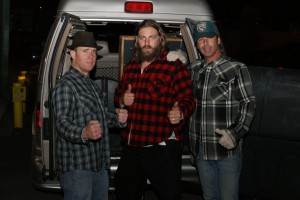 Photo By Jeff Hyatt
The White Buffalo charged into to Denver last weekend to support their new EP The Lost and Found (see our review of the show at The Walnut Room here). Listen Up Denver! had the pleasure of talking with these guys before the show and we are happy to try and shed some light on the mystery of The White Buffalo. I stumbled upon this band by way of a recommendation; and the person who made it was my music partner for the evening. As we watched The White Buffalo do sound check in the otherwise empty listening room, I got a very intense image. I was thinking about what it must have felt like to hear Johnny Cash play before he was famous; while he was still selling appliances. A thought of being dragged into a 1950's Memphis bar by a friend saying "You gotta hear this!". Would I be telling a similar story 15 years from now, talking about The White Buffalo in a similar fashion?
As the guys finished up with their sound check, we made our way to a quiet spot to have a chat.
Listen Up Denver!: So, your new EP came out last week, right?
The White Buffalo: (Jake Smith – The White Buffalo himself) Yeah, it will come out digitally in December, hopefully. There is no firm date yet but right now I have the CD for sale at my shows, and it might be exclusive. There might be a couple songs switched out on the digital release. The new full length will come out sometime in February.
LUD!: You play solo and with a band. How long has the band been together?
TWB: (Jake) A long fuckin' time. (Matt Lynott – Drums) Since the beginning. (Tommy Andrews – Bass) Yeah, like 8 or 9 years.
LUD!: So a lot of playing out, but not much recording.
TWB: (Jake) I have albums I've released independently, but this is the first with a label backing me. The EP Prepare for Black and Blue was released through Ruff Shod, but I had already signed with Unison before it was released. They put it out anyway, but it didn't get a push. Things are working out well with Unison Records.
LUD!: How do you capture that lonesome outlaw ramblin' man sound in an age when life is all about connectivity and Facebook. How do you stay disconnected enough? It is hard to disappear now-a-days.
TWB: (Jake) I just try to write honest songs, songs that have a purpose. A lot of them are story songs and completely honest. Some are just complete dark fantasy, like a murder song, which is something I know nothing about.
LUD!: Well that you will admit to anyways…
[Group Laughter]
TWB: (Jake) Some of my songs are still personal, but more jaded and twisted versions of the truth. I think it's in the delivery too. There's not a lot of bullshit in between what's important.
LUD!: So what's it like being on the road with this guy? [Motioning to Jake]
TWB: (Matt) It's great! We always have a good time. We have been friends for a while. Me and Tommy have been playing together since we were little kids and we have a blast with Jake!
LUD!: Now when I think of San Diego and the beach, the sound you put out is not what I envision. What did your sound grow out of?
TWB: (Tommy) A lot of it, for me, had to do with my father. Driving around in the station wagon listening to old Merle stuff, or Waylon and Willie. All of that kind of music. My dad is from Arizona, so that's what he listened to. (Jake) And I was born in Oregon. I grew up on Country Western music. I had seen probably a 100 country concerts when I was younger. (Tommy) My mom's from southern Illinois, so I also grew up with her playing that kind of stuff on the piano.
LUD!: So true roots influences. Americana?
TWB: (Jake) No, American. I think Americana has an old timey element to it. We have some Classic Rock vibes, some Folk Country, Western Swing, the faster barn burner shit… (Tommy) There is even a Waltz. Even Polka. (Jake) Definitely some stranger stuff.
LUD!: But who doesn't love the Polka?
TWB: (Tommy) Sometimes that's all you need!
LUD!: Is there a song or band that you listen to that almost embarrasses you to admit? I will start it off…I love "Afternoon Delight" by The Star Land Vocal Band. There, I said it.
TWB: (Jake) There are a lot of people who put down shit because they think it is lame. Like Bob Seeger or Neil Diamond, who I think are amazing songwriters. They may have simple chords or story lines, but they are still great. (Tommy) I love Bread! (Jake) Tommy's into Bad Company too!  A lot of songs are powerful simply because of nostalgia. Like you can sing every word to a Journey song and absolutely love it!
LUD!: Or Night Ranger!
TWB: (Tommy) Yeah! "Sister Christian" is a great song. (Matt) Hell yeah. (Jake) One time when I was in San Francisco, me and my buddy jammed the juke box with "Sister Christian." So it played like fuckin' ten times in a row! (Group Hysterics, Tommy and Matt singing "Motorin!") We wound up getting kicked out!
LUD!: That was my first record! That and The Dukes of Hazzard theme song. What are you guys listening to now?
TWB: (Jake) I just picked up the new Wilco album. Everything about that band is amazing. The song writing, the musicianship, the dreaminess of the whole thing. I also got the new Ryan Adams which I like. (Matt) I have been listening to all Stax records lately. (Jake and Tommy) Yeah he has! (Matt) You know, Booker T and the MG's. Sam and Dave. (Tommy) I have gotten hung up on the Springsteen album Just like Tom Joad.  It has been on constant repeat.
LUD!: Thanks guys, I know we are all ready to get out and eat that pizza we smell. I just want to say that your music really resonates with me personally and it was one of the best recommendations I have ever gotten. I think a lot of people will connect to your songs.
TWB: (Jake) We really appreciate that! The thing is, we have been doing this for so long underground, with no promotion, PR or marketing. It only spread by this guy telling that guy. I guess the internet helped a little bit, but I wasn't even trying to facilitate that at all. I wanted it to spread by its own means, by people liking it and talking about it.
LUD!: Well I think a lot more people need to hear your music. Hopefully your new label will make that happen!
TWB: (Jake) That's the goal man. Thanks
As everyone went to go order pizza, Tommy and I stepped out for some fresh air. He told me just how amazed he was with Jake's talent. Telling me how, "songs just seem to pour out of him. And it is all fucking good! He bought a guitar in a pawn shop at 18 or 19 and it just came right out of him." With the right support, I'm sure The White Buffalo will stampede into the hearts of many.

Brian Turk grew up in the shadow of the Catskill Mountains, near Woodstock, NY. He comes from a family of music lovers, audiopliles, Dead Heads and avid concert goers.The musical magic that can only be created in the Catsklills, both past and present, is what Brian cosiders the epicenter of his music addiction. The music of The Band, and most recently The Levon Helm Band, is the soundtrack of home for him. Brian's mother took him to his first concert at 5years old...it was Johnny Cash and Roseanne Cash at Jones Beach Amphitheatre. For Brian, music is a family affair. He feels the same way about live music...we all convene to celebrate together. Brian's writing life started when he wrote his favorite author, southern fiction writer Clyde Edgerton, a fan letter at age 13. When most kids were idolizing baseball players and television, he was worshipping writers and musicians. The two became friends and Clyde shared his craft with Brian. The next year Brian attended Duke University's Young Writers Camp. This is the extent, of what Brian considers, his "formal" training in writing. From then on his goal was to capture snapshots of life through words. Brian has been involved with live music in various facets over the years, and combined with his enthusiasm and love for Denver's music scene, he creates a vivid description of what he sees and hears. If you see him out at a show, dancing with a notebook in hand, say hello.