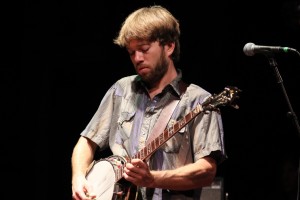 Photos by Terry Rogers
For over 20 years, Leftover Salmon has been blowing minds and bringing smiles to dancing faces with their home grown Polyethnic Cajun Slamgrass music. While they are both pioneers of sound, and household names along the Front Range music scene, Salmon sightings have been few and far between since the passing of founding member and banjoist Mark Vann in 2002 and a subsequent hiatus in 2004. Aside from a few short runs, they have been relatively inactive; at least until now. After trying a few different people out at the coveted banjo role, they have finally made an official choice and are ready to move forward as a band.
Andy Thorn of the Emmit-Nershi Band will be joining this Colorado family of musicians for good and will bring a fresh young energy to the project. In a recent Interview with Listen Up Denver!, Andy discussed growing up plucking a banjo and being influenced from an early age by the band he is now a part of.
"I grew up in North Carolina and my parents were big bluegrass fans. They took me to MerleFest back in the day. That was the first time I ever saw Leftover Salmon. I was probably 14 or 15 at the time," Thorn said. "Now, I've been jamming with Salmon on and off for the past couple of years. Just filling in when Matt Flinner couldn't do it. He had a couple conflicts being that he is mainly a mandolin guy."
It seems as if it's almost a perfect situation for the fast picker with a degree in music from UNC. Though most musicians would see it as a real challenge to juggle two fulltime bands, luckily for him Drew Emmitt shares the same schedule. When we spoke, the pair was in the midst of a tour with The Infamous Stringdusters playing with Bill Nershi as the Emmitt-Nershi Band and without him as the Drew Emmitt Band.
When asked about how this all came about Andy said: "I've been playing with Drew for about 4 years now. Sure did fly by, but it's really been that long. Right out of College I started touring with Larry Keel of Keller and the Keels. That was kind of my training, traveling with him for a while. I always knew I wanted to make music a career, I just wasn't sure if I wanted to go the performance or scholastic route. Then, Drew's old Banjo player, Chris Pandolfi, who is now a member of the Infamous Stringdusters, actually recommended me to Drew."
Back in 2007, Leftover Salmon decided to regroup and start playing a few festivals and holiday shows. Since then both Noam Pikelny of the Punch Brothers, and Matt Flinner have rotated through banjo slot that Thorn will now occupy full time. Between touring with Drew and sitting in on numerous picking sessions with Salmon's charismatic frontman Vince Herman, the transition into becoming a fulltime band member has been quite easy for Thorn. "I've been playing with Drew, and jammin' with Vince, for so long that it made getting on stage really easy and fun. It's great to actually be up there with both guys at the same time," Thorn said. "Vince definitely brings out Drew's funnier side, he'll screw around a little and it's much more playful."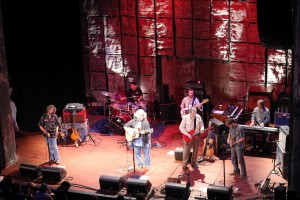 While the playful vibe and masterful playing has always been a part of the Leftover Salmon experience, Thorn's fresh new energy, drive, and motivation is sure to push the band to new heights. "I did a bunch of gigs last year, but starting this year I have been pretty much 'in' the band," said Thorn. "It's been a full time thing for me since about January. I always felt like I could get in there and play with these guys even if I might not have been ready. It's always been something I wanted a do, definitely a goal of mine. There is a lot I am still figuring out. It's a process, but I'm getting more and more honed at it. All of the guys have become really good friends of mine over the past 4 years and to be a part of it is just a lot of fun."
Now that Thorn's spot in the line-up is official, things are going to begin moving in a new direction. It's been 7 years since the band has put out new material and almost as long since they have been on what can actually be considered a "tour." Well, that is all about to change real soon. "It's exciting!" Thorn exclaimed. "After Thanksgiving we are going to do some writing and practicing for a few days then we are heading into the studio to throw down the new Leftover album." When it hits shelves late next year, it will mark the first studio release for the Salmon boys since 2004. With so much time between albums it's certainly going to be interesting to see what everyone contributes to this much anticipated release.
"We are going to be recording in a couple of places," said Thorn "I think we are going to start in Denver then finish it up in Portland during our New Year's run. Following that we will be starting the 'On the Road Again Tour.'" The tour will be the bands longest in many years and will find the boys playing 8 different venues in the Rocky Mountains from Missoula to Telluride.  Thorn then offered some welcome news for Salmon Fans in markets nationwide that have been neglected in recent years when he answered a question about whether the band will be touring more by saying "I think we are pretty much pumping it back up."  According to their manager, this can loosely be translated to mean the band will be playing 40-50 dates a year in coming years!
With Thorn playing his new custom electric Banjo by Ian Davidson and the rest of the guys up to their regular hijinx, who doesn't want some leftovers after a giant Thanksgiving meal? Lace up your best dancing shoes and bring your appetite for bluegrass. "We will start previewing some new material during the Thanksgiving dates and I'm sure we will have some other special things lined up," Andy said about the shows that will feature Fort Collins band Head for the Hills as the opener.
It's time to hop back on these musical pioneers' bandwagon and ride this thing until the wheels fall off. It is clear that these guys are far from ready to hang it up for good and with a breath of fresh air and a youthful motivation, the bluegrass world better be ready to be taken by storm by the band that laid the groundwork many years ago for so many of the sounds we are hearing today.
(Editor's Note: If you are heading to the shows at The Ogden this weekend, don't forget to bring 10 canned food items in order to receive a commemorate poster from the Conscious Alliance. Also, don't forget about the 9th Annual Mark Vann Benefit Concert on December 16th at the Boulder Theater.) 

I rode my skateboard from school in 7th grade to my buddy Vince's house where he put on the song "Perfect Government" by NOFX and I was hooked. The next day I bought the album Duh by Lagwagon. The next year I saw Against Me! at the Starlight Theater in Fort Collins, my mom dropped me off. I've since devoted every waking hour to anything done with passion. My speakerbox bumps everything from Lil' Wayne to Pablo Casals. I was never very good at making music, but I am damn good at listening to it. I've been filling up yellow notepads with random thoughts and misspelled words for as long as I can remember. I enjoy whiskey of all sorts, Newport cigarettes and the company of my family. I've got an addiction to run-on sentences that I'll probably never cure. A solid handshake with a stranger who has become a friend over a few beers means the world to me. You'll often find me wide eyed and wandering with an ear to ear grin. I live for funky break beats and spreading the love.