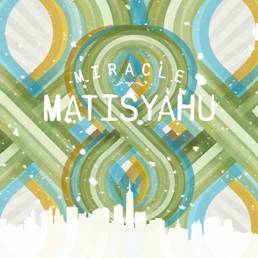 With indie popsters She & Him and Stone Temple Pilots' Scott Weiland singing Christmas carols, there is no shortage of Christmas songs to listen to while curled up in front of the window with a cup of hot cocoa, but can you name a Hanukkah song (and Adam Sandler's "The Hanukkah Song" doesn't count)?  I couldn't either until last year when Hasidic Reggae artist Matisyahu released the single "Miracle."
While the song was a celebration of his Jewish faith, the singer made a point of avoiding familiar clichés. "I recorded Miracle aiming to make a celebratory, feel-good song that still gets across the depth of Judaism rather than the typical watered-down Jewish humor about Matzo balls and Hanukkah Harry," he says. "I'm trying to make the Jewish kids out there proud."
Dropping today, The Miracle EP features alternate versions of "Miracle."  Never afraid to break from convention, Matisyahu blends traditional Jewish themes with reggae, rock and beatboxing.  Backed by his band Dub Trio, he first offers up a version of the track that is reminiscent of early Police before dropping a dirty Dubstep remix by freshman CU Boulder student Miniweapon.  Also included is are beatboxing and acoustic versions of the song.
This EP is available at ITunes or from Matisyahu's website and these remixes, especially the Miniweapon one, may just be what you need to get you through until his upcoming live appearances on December 15th at the Boulder Theater, and December 17th at the Ogden Theatre.  Until then enjoy the music!

Wherever the music is, you'll find me with my camera, shooting on street corners, from barstools at clubs, from the side of the stage at theaters, and from photo pits in places like Red Rocks. Clicking away, trying to capture the emotive essence of music, and all those moments that we forget because of one too many Pabst Blue Ribbons.