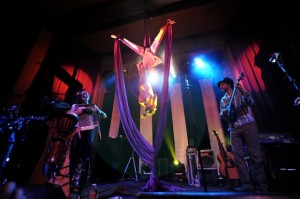 Photos by Kit Chalberg
The Scene: As we stood in line at the box office at exactly 9:10, the announcement was made that the show was sold out. Boom, fingers went in the air left and right (hippy sign language for "I need a ticket"). I used to think the finger in the air thing was universal, but the diverse mixture of folks coming to see this band proved me wrong. As I observed the crowd milling about outside, I saw many of the un-initiated inefficiently walking up to people and saying, "excuse me, you wouldn't happen to have an extra ticket, would you?" Just throw your finger in the air and wait for a miracle, man!
Later, inside the theatre, as I was watching Elephant Revival put on one of the most unique performances I have ever seen and taking notes to help explain the night, an audience member leaned in close and said "I hope you get what is going on here. If you've been to Nederland, well, then you know." Well…I have been to Nederland, I was getting it, and that statement pulled it all together for me. So, to say that the sounds of Nederland were transported to the Bluebird Theatre on Friday night would be fitting.
Openers: Shel.  To say that Shel graced the stage, would be an understatement. These four sisters from Fort Collins put on a hell of a set that was filled with precision and poise. These women were performers at heart! Each one had a completely different look and personality, and they all shared a bit of them with us. Keys, Mandolin (electric and acoustic), Violin, and Djembe were the backbone of a sound that had hints of Celtic, Pop, Folk, and Classical composition with a driving rhythm. One sister even detached the mic that was amplifying her drum and beatboxed for a song! It wasn't a novelty; she had the skills for sure. Their range of styles was impressive and it all meshed together well. I would love to see Shel on the Folks Fest main stage and they were a perfect opener for the eclectic sounds of Elephant Revival.
Elephant Revival: As Elephant Revival came on stage, their appearance set the tone for the performance before a note was ever played. Period dress for some, bare feet for others, this band looked exactly the way they sound. Nederland has long been a refuge for people seeking a more simple life that can only be found through closeness with nature, absorbing the history of the hills, and immersing yourself in more traditional forms of music. The town almost seems timeless, and the music of Elephant Revival reflects that.
The members of Elephant Revival have amazing abilities on any instrument they wield. What drew me to this band at first was the amazing reputation of Bridget Law on the fiddle and while I expected her to be the shining star of the group, I now see they all bring a ton of talent to the table. To give you an idea what we are dealing with here, here is the lineup: Bonnie Paine (vocals, Washboard, Djembe, Musical Saw), Sage Cook (Electric Banjo / Guitar, Acoustic Guitar, Mandolin, Viola, vocals), Dango Rose (Double-Bass, Mandolin, Banjo, vocals), Daniel Rodriguez (Acoustic Guitar, Electric Banjo/Guitar, Vocals) and Bridget Law (fiddle and vocals). So that is a 15 instruments roster between five people who all can sing!
To pin the genre of this band down is impossible. Not only are the songs different in style, there are different styles within the songs. That is what makes them so appealing to everyone from dreadlocked hill people to buttoned down Folk lovers. I heard technically advanced instrumental pieces, foot stomping rhythmic explosions, bouncy Reggae inspired riffs, and even some jammed out Country. It was one of those shows that transcended an explanation and demanded you feel it. This must be why their sound has been dubbed "Transcendental Folk"
Elephant Revival can cover a lot of ground in their shows musically, but no matter how calm the composition, a surge of energy pulses through it. You WILL dance at one of their shows and it might happen unexpectedly. A song that may seem tranquil will hook you with its groove while still keeping you firmly planted in its depth. The band brought out acrobats to perform during two of their songs and as these dancers worked their way up, down and around long ribbons that hung from the ceiling of The Bluebird they exhibited the passion that we were all hearing in the music.
To me this band captures the laid back feel of Colorado in the most refined way possible. There is no sloppy playing or sacrifice of musicianship for speed and energy. They perform a few traditional songs mixed in with their original material and there is a historical feel to them all. There are a handful of great bands that are claimed by Colorado, but a lot of the Jamgrass/Bluegrass/smoked too much grass bands just don't resonate with me. Elephant Revival relies on musicianship and amazing vocal range instead of silliness and oblivion. For me, they are the embodiment of the sound of Colorado.
Energy: B+
Sound: A
Musicianship: A
Stage Presence: A-
Set / Light show: B
Overall: A-
Brian Turk grew up in the shadow of the Catskill Mountains, near Woodstock, NY. He comes from a family of music lovers, audiopliles, Dead Heads and avid concert goers.The musical magic that can only be created in the Catsklills, both past and present, is what Brian cosiders the epicenter of his music addiction. The music of The Band, and most recently The Levon Helm Band, is the soundtrack of home for him. Brian's mother took him to his first concert at 5years old...it was Johnny Cash and Roseanne Cash at Jones Beach Amphitheatre. For Brian, music is a family affair. He feels the same way about live music...we all convene to celebrate together. Brian's writing life started when he wrote his favorite author, southern fiction writer Clyde Edgerton, a fan letter at age 13. When most kids were idolizing baseball players and television, he was worshipping writers and musicians. The two became friends and Clyde shared his craft with Brian. The next year Brian attended Duke University's Young Writers Camp. This is the extent, of what Brian considers, his "formal" training in writing. From then on his goal was to capture snapshots of life through words. Brian has been involved with live music in various facets over the years, and combined with his enthusiasm and love for Denver's music scene, he creates a vivid description of what he sees and hears. If you see him out at a show, dancing with a notebook in hand, say hello.