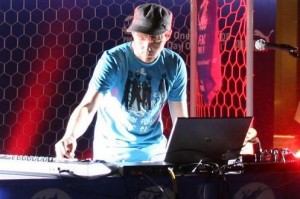 The Scene:    A large crowd gathered outside the Aggie Theater in Fort Collins Friday evening for the much-anticipated return of Emancipator. Emancipator is Doug Appling, a young up-and-coming Producer out of Portland, Oregon. I've listened to his chilled out grooves countless times over the last several months while skiing, walking to class, or on long car-rides. It just seems to be the perfect music for any situation where you need to relax or pass the time. I've been mostly hooked on his 2006 release, Soon It Will be Cold Enough, which is filled from beginning to end with gorgeous tracks that remain stuck in my head even though I've been listening to the album for over a year now.   I eagerly anticipated this concert to see how Emancipator translates his mellow grooves to the live arena.  This being the third, and largest show of his 2011 Colorado run so far, I knew the diverse Aggie crowd would be ready for a night of blissful Violin laced grooves.
Opener: Tycho. I arrived midway through the opening set by Tycho, a San Francisco based ambient project headed by Scott Olsen who also does extensive design work under the moniker, ISO50.  To put it simply, this was some of the most relaxed and beautiful music I've ever heard coming off the Aggie stage. Olsen handled the guitar duties while a live drummer and programmer kept the chilled beats going.   Tycho seemed to be in full control of their music, carving a path somewhere between elegant synthy beats and Lotus esque guitar riffs.  Adding to the atmosphere was an early arriving crowd that fully embraced Tycho and their ambient style. Ambient music has seen a bit of resurgence over the last several years and it was great to see the Fort Collins crowd embrace the simplicity that this set provided.
Emancipator: After a short break, Emancipator took the stage with his computer, a Violin player named Ilya Goldberg, and a vivid array of lights behind him. Over the last several years, Appling has developed a reputation for making incredibly beautiful tracks that somehow maintain a dancey kick.  Looking back from my spot near the front of the stage, I saw that a sell-out crowd had crept into the theater and all eyes were fixed on the artist who was about to turn the Aggie into a dream world.
Emancipator began with a beautiful rendition of "First Snow," off his debut album and any worries I had about Emancipator only playing tracks off his computer were soon alleviated as the live Violin player adeptly cut in and out of the candy laced grooves. Looking back I saw the crowd fall into a trance of epic proportions, swaying slowly and back and forth with the alternating rhythms. It was truly an incredible sight.
Emancipator's songs often begin slowly, winding up to a Violin or guitar based peak and then erupting into ecstasy that opens up the heavens and lets the music gods shine down.  He continued with "Maps" and "Lionheart," two more tracks often his debut album before sprinkling several newer songs into the mix.  Interestingly, the newer tracks had a more Middle Eastern sound that I hadn't heard before out of the producer. This ignited the crowd and the energy level was raised to another plateau.  The highlight of the show for me was certainly "Anthem," a track that's been everywhere over the last few months, including blaring through my headphones.  Everyone should listen to this song as a case example of how to incorporate string instruments into electronic music. Hearing it live with a professional Violin player only made me appreciate its beauty further.  With a beautiful and constantly shifting array of lights behind him, Emancipator brought the Aggie one of the most consistently beautiful shows of the year.
Two things really stood out to me, the fact that he played all the way until 2 am, and the variety in such simple music.  I seriously thought about it for a week before this show; how could he possibly play an entire set off his computer and maintain interest from the audience.  Well, he blew me away, plain and simple. The world is a better place with Emancipator's music and Colorado can only hope his upcoming winter tour swings through our great state once again.  He also hinted at an upcoming album, which would mean many more months of blissful listening ahead.
Energy: A+
Sound:  A
Musicianship:  A-
Stage Presence:  A-
Set/Light Show: A-
Overall: A 

I've worked various positions in the music industry with Madison House, Rock The Earth and Bohemian Nights. My dream is to travel the world and seek out all the good tunes, beer and food that make life so special. I have a healthy obsession with live music and I'm thrilled to share the epic moments with you.