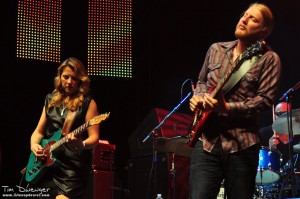 Photos by Tim Dwenger
(Taken At New West Fest In Fort Collins In August)
The Scene: Friday night at The Fillmore was just about the perfect concert going experience.  There was enough space to move around, but it was still crowded enough to catch an energy buzz.  There was a good contingent of grey hairs around, but also enough young people that you didn't feel like you were at some reunion tour show.  The volume was just loud enough to discern the intricacies of every instrument on stage, but it wasn't so loud that you had to scream to make yourself heard.  The band played a long set, but it wasn't so long that anyone got bored.  I guess you can say it was a bit of a "Goldilocks Show," everything was just right, and let me tell you, that doesn't happen to often!
Opener: JJ Grey. When we walked into the Fillmore, JJ Grey's set was in full swing.  The Mofro frontman was performing solo with all the energy and passion of a man possessed.  His gritty but groovalicious swamp rock filled the room and at moments even bordered on being too loud (my guess is the soundman was compensating since the band that was to follow him is 11 members strong).    The portion of Grey's set we heard was everything I hoped for as he cranked out stellar renditions of several Mofro tunes back to back to wrap up the set.  "The Sweetest Thing" gave way to the sultry combo "Lochloosa" and "Slow, Hot, and Sweaty" which definitely turned the temperature in the room up a few notches as couples slid a closer to one another.  Grey wrapped up his set with his ode to Southern cookin', "Ho-Cake."  Midway through the song he slowed up to tell us all that he knows there is a great Soul Food restaurant in Denver, but laughed at the fact that he couldn't find it if he tried.  Before kicking back in to the tune, he respectfully asked that we help him if we knew where it was and saw him after his set.  Overall, Grey came off very well as he served up a hefty helping of the south in his 45 minute time slot.
Tedeschi Trucks Band: When I caught Tedeschi Trucks Band back in August, I wasn't too familiar with their music but was still blown away by the massive amount of sheer talent that crowded the stage.  I didn't run home singing their praises, but I did toss their CD in my stereo to delve a little deeper into their music and even got the chance to interview Trucks to preview this show.  Suffice it to say I had done my homework before walking into the Fillmore to see what they had in store for me.  I had high expectations and they blew them out of the water!
First off, the talent in this band is like nothing I've ever seen assembled together in one place.  Think of super-groups like Cream,  The Highwaymen, Traveling Wilburys, and Them Crooked Vultures.  While most of these players may not have quite the name recognition as Clapton, Cash, Petty, or Grohl, I think it would be safe to say that any one of about seven or eight of these musicians could lead their own band.  From left to right, Kofi Burbridge is an astonishingly talented keyboard player, while his brother Oteil (bassist for the Allman Brothers) is one of the better bass players out there today.  Obviously Tedeschi and Trucks themselves are born band leaders, but as we move across the stage we get to the area that was truly surprising.  In the horn section, Trombonist Saunders Sermons blew everyone away by not only laying down soulful and jazzy horn lines but also displaying some of the best singing of the night when he quoted from "Kissin' My Love" by Bill Withers.  On backing vocals, Mark Rivers could easily front a major band and while Mike Mattison has calmly stepped into the shadows from his place out front as lead singer in The Derek Trucks Band, his voice shines through clear as day and he seems thrilled to be on stage with this group of musicians.
While it's an impressive roster of seasoned veteran players, what's almost more impressive is the fact that they have fallen into line under the leadership of Tedeschi and Trucks.   Their debut album, Revelator, is a one of the better records of the year,  but this band truly shines on stage where they have the opportunity to stretch out and make the album's great songs even better.  The guitar duel that was the centerpiece of a raging take on "Learn How To Love" showcased Tedeschi's guitar talents as she held her own with her virtuoso husband and unleashed some searing blues licks.  "Bound For Glory" featured an extended B3 solo from Kofi Burbridge, and an inspired cover of Stevie Wonder's "Uptight" allowed the two drummers, Tyler Greenwell and J.J. Johnson, to break it down and put on a percussion demo that Mickey Hart and Bill Kreutzmann of The Grateful Dead would be proud of.  As the evening flowed from song to song, there were so many highlight moments, and displays of instrumental prowess, that I was scared people might start to take it all for granted.
Through it all Tedeschi stood up there front and center and her powerhouse voice carried the performance.  While she and the band sounded right at home on material culled from the groups album, they displayed their amazing versatility as they funked up the Harry Nilson classic "Everybody's Talkin' At Me" (written by Fred Neil) and took us to church with a stirring rendition of the traditional spiritual "Wade In The Water."  It was truly an amazing performance and as the two hour mark approached, the band blew all our minds as they turned it to 11 and dropped into the Sly & Family Stone hit "Simple Song."  The floor might as well have lit up, and a disco ball descended from the ceiling, because everyone in the room was busting their best dance moves.  The band fed off the energy and segued seamlessly into another Sly Stone classic "Take Me Higher" to close out the show to thunderous applause.
The Tedeschi Trucks Band is truly a force to be reckoned with.  They pair virtuoso musicians with brilliant vocals to create some of the most passionate and soulful music being played today.  It's almost as if they have harnessed the combined energy of Stax, Motown, and Muscle Shoals and are channeling it all through one eleven member band.  Get on board, or get out of the way, cause this train is bound for glory!
Energy: A
Sound:  A
Musicianship:  A+
Stage Presence:  A
Set/Light Show: A
Overall: A
Music has always been a part of my life. It probably all started listening to old Grateful Dead, Peter Paul & Mary, and Simon & Garfunkel records that my parents had, but it wasn't long before they were taking me to concerts like Starship, Crosby, Stills & Nash, and Huey Lewis & The News. I got the bug to write about music after reviewing an Eric Clapton concert for a creative writing project in high school but didn't really take it up seriously until 2002. Since then I have published countless articles in The Marquee Magazine and done some work for Jambase.com, SPIN Magazine, and various other outlets. I started Listen Up Denver! as a way to share the music information that is constantly spilling out of my head with people who care. Please enjoy!