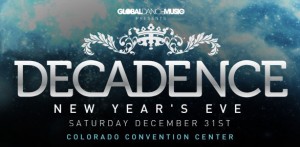 DECADENCE
A New Year's Eve Celebration Presented By Global Dance Music 
Colorado Convention Center
Saturday, December 31st
Tickets: $60 – $335
PURCHASE HERE
The producers of the Global Dance Festival have announced that they will be throwing a massive New Year's Eve celebration in the biggest and most extravagant venue in Denver. Get ready for a night of lavish self-indulgence as you dance in the New Year! When the clock strikes midnight and we enter a new year, we make vows to leave our sinful habits behind. This is your final night to indulge. What's your vice?
Decadence will feature two-stages and some of the biggest names on the scene including Bad Boy Bill, Feed Me, BT, and Flux Pavillion.  All in two arenas inside The Colorado Convention Center! The current line-up is below.
– Global Dance Arena –
BAD BOY BILL
FEED ME
BT
ECOTEK
TRAJIKK
JONTRON
JOMAN
HYCLOUD
– Sub.mission Arena –
FLUX PAVILION
DOCTOR P
DIESELBOY
ISHE
DAYQUILL
FURY
DIRT MONKEY
DODGER
THORAZINE
GENERAL ADMISSION
– Access to all arenas
VIP TICKET
– Gets you access to private VIP decks overlooking the crowd in both arenas.
– Separate check-in booth
– Separate VIP entrance for fast entry
– Collectable VIP laminate and lanyard
GLOBAL DANCE VIP TABLE PACKAGE
Starts at $2,000. Party like rockstars!
Only available in the Global Dance Arena. Price will go up based on availability. Limited packages available. Liquor is not included in the package. Must be 21+ and have valid ID.
INCLUDES:
– Private 10ft x10ft area on exclusive elevated 'Cabana' deck
– Furnished with lounge seating for 6 guests
– Private space to dance up against front of deck with full view of the entire stage and dance floor
– Six (6) 'Cabana' passes. Includes VIP privileges
– Complimentary snacks
– Separate check-in booth
– Separate VIP entrance for fast entry
– Private cash cabana bar
– Six (6) Souvenir VIP laminates and lanyards
– OPTION: You can purchase additional 'cabana' passes for more guests at your table. 5 max.
– NOTE: You may purchase two of these packages to accommodate 12 or more guests. Your areas will be combined for a 20ft x10ft area.
CABANA PASS
In order to purchase this you must purchase a GLOBAL DANCE VIP TABLE PACKAGE. This is an optional add-on for more guests to join your table. Limit is 5 max.
GLOBALDANCEMUSIC.COM DISCOUNT TICKET OFFER
A $10 discount off GA tickets is being offered courtesy of globaldancemusic.com. Limited time only. Take advantage of it now and visit their site for Free dance music!