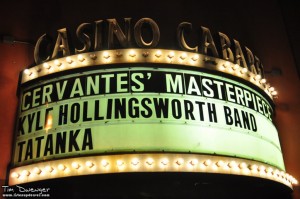 Photos by Tim Dwenger & Ben Wilson
Click Here To Stream This Show While You Are Reading This Review
The Scene: Cervantes' Masterpiece Ballroom was packed with Colorado's finest on Saturday night, both on the stage and off. There had been a buzz about free beer that was going to be available until 9 and quite a few folks showed up to take advantage of the offer. You see, this wasn't just any show, but a party. The String Cheese Incident kicked off their Roots Run Deep tour on the 25th and Kyle Hollingsworth fans will be able to "Hop on Tour" with him during these dates. "Hop on Tour" is an interactive fan experience based on Kyle's love of brewing beer (which he talks about here), where fans get to drink beer that Kyle put his own love and sweat into. By 9pm the place was packed and I had heard the show had just sold out. My thought was "Oh boy, the wheels might just come off the bus tonight." Colorado loves it's Cheese and the fact that Kyle was going to be playing with his SCI cohort Michael Kang was almost too much for some eager fans to handle! When openers Roster McCabe walked on to the stage, a good portion of the audience was already experiencing the phenomena known as "Permagrin."
Roster McCabe: These Minnesota boys know how to get down! There set was a cornucopia of sounds and full of raw energy. Jammed-out rock guitar solos, funk and soul tinged vocals, reggae grooves, and electronic synth slams were all performed with skill. My only complaint was it felt like there was too much going on, and too many stylistic changes too frequently. Just when they were killing an electronic jam, or really laying down the reggae vibe, they would change into something poppy or light, which stopped your dancing in its tracks. They tried to cover too much ground at once. The plus to that is that they have the ability to cover all that ground! All these guys are amazing musicians and the crowd was going nuts for them especially when the welcomed the star of the evening, Hollingsworth, to the stage for a killer take on David Bowie's "Fame!" I had a blast the entire set and can't wait for them to come back to Cervantes' Other Side on February 11th. I have a feeling we will be telling you more about this band that is quickly on the rise.
The Kyle Hollingsworth Band: The String Cheese Incident and The Motet are two of the most loved bands here in Colorado and the fact that the stage was graced by members of both bands was quite a treat. I have seen Kyle play with various bands, and in different settings, but I have to say this is my favorite lineup that I've seen him with. It was funky, infectious and an all night dance party! Garret Sayers is one of, if not the best, bass players in town, and he can funk anything up with his powerful and thick tone. He brought along his Motet companions Dave Watts on drums, and Dan Schwind on guitar, to form a true homegrown, Colorado supergroup.
From the first notes of the opener, "Let's Go Outside," it was a continuous storm of musical genius! Kyle isn't just a keys player, he composes and writes the lyrics to these pieces and he and the songs exist interdependently. Watching Kang get lost in the music with his eyes closed as he worked the strings of his electric mandolin was nothing short of awe inspiring. He is a true virtuoso. He and Kyle play off of each other like Siamese twins thumb-wrestling; connected and joyfully. The Motet crew is just as tight and all five of them seemed as if they had been playing together forever.
I love watching side projects that remind you nothing of the "bigger" band that an artist is from.  With this band you got the positivity and brightness of SCI, but they focused on the funk that Kyle brings to the Cheese party. These boys must have eaten their Wheaties on Saturday, because they tore the roof off of Cervantes for well over two hours of playing. Whoever is going to see this run of SCI shows should get ready because Kyle and Kang are in fine form! The Latin groove of "Yo Se" reinforced the vibe of grooving bouncy fun, and I couldn't stop dancing as they busted out an amazing version of "Boogie On Reggae Woman" that featured Kang on lead vocals. Joey Porter from The Motet came out and joined Kyle on the keys for "Boogie," and watching the two of them standing, dancing, and playing right next to each other was a blast!
After a short break they kicked the second set off with the disco infused "Rosie," one of Kyle's newest contributions to String Cheese. His solos were screaming and synthed out for this one as the band teased out Chromeo's "Bona Fide Lovin,'" complete with vocals, midway through the jam.  Throughout the song Kyle and Kang looked like they were loving every minute of it as they looked forward to life on a tour bus together in less than a week.
After a brief encore break the band returned and dropped into one of Hollingsworth's strongest tunes, "Bam!" The funky tune really showcases just how many sounds Kyle can get out of his instruments and as we all got lost in the jam, Sayers' bass lines kept us jumping! Closing the night out was a raging cover of Led Zeppelin's "Ramble On" that again featured Kang on lead vocals. As they left the stage at quarter to two in the morning, the room was still full and the crowd was begging for more.  It was an infectious night of funk and one that left us all primed for The String Cheese Incident to get back out on the road.
Energy: A
Sound: A-
Musicianship: A
Stage Presence:A-
Set / Light show: B+
Overall: A-
Brian Turk grew up in the shadow of the Catskill Mountains, near Woodstock, NY. He comes from a family of music lovers, audiopliles, Dead Heads and avid concert goers.The musical magic that can only be created in the Catsklills, both past and present, is what Brian cosiders the epicenter of his music addiction. The music of The Band, and most recently The Levon Helm Band, is the soundtrack of home for him. Brian's mother took him to his first concert at 5years old...it was Johnny Cash and Roseanne Cash at Jones Beach Amphitheatre. For Brian, music is a family affair. He feels the same way about live music...we all convene to celebrate together. Brian's writing life started when he wrote his favorite author, southern fiction writer Clyde Edgerton, a fan letter at age 13. When most kids were idolizing baseball players and television, he was worshipping writers and musicians. The two became friends and Clyde shared his craft with Brian. The next year Brian attended Duke University's Young Writers Camp. This is the extent, of what Brian considers, his "formal" training in writing. From then on his goal was to capture snapshots of life through words. Brian has been involved with live music in various facets over the years, and combined with his enthusiasm and love for Denver's music scene, he creates a vivid description of what he sees and hears. If you see him out at a show, dancing with a notebook in hand, say hello.