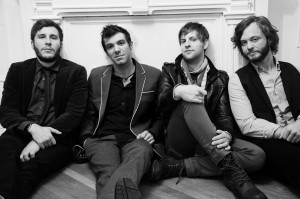 Photo by Megan Baker
Why You Should Go: There's nothing hidden or tentative about Stephen Kellogg's music or the values he stands for. If you've been itching to get out for some bracing, timeless rock & roll that speaks to these values loudly and proudly, then this show is exactly what you've been waiting for.
Stephen "Skunk" Kellogg, Kit "Goose" Karlson (keys, bass, vocals), Brian "Boots" Factor (drums, vocals) and Sam "Steamer" Getz (guitars, vocals) – have been out on the road since September performing tracks off their October 11th release Gift Horse. "I had a real arc in mind with this tour," says Kellogg. "I wanted to give folks the full spectrum of what this band is about. It's been going so well, I don't even remember a better musical live experience than this."
Gift Horse, the band's second album on Vanguard Records, brings the rich legacy of rock & roll into the present tense with 11 real-life narratives about love, family, and what it means to be an American today. By and large, the songs are directly relating to Kellogg's personal experiences. The album's debut was SK6ERS highest soundscan to date, reaching #1 on Amazon MP3's Best Sellers, #14 on the Independent Current Albums chart, and #87 on Billboard's Top 200.
Venue:
Thursday – The Fox Theatre, 1135 13th Street Boulder, CO 80302 – 303/443-3399
Friday –  The Bluebird Theatre, 3317 E. Colfax Ave, Denver, CO 80206 – 303/377-1666

Doors:
Thursday – 7:00 PM
Friday – 7:30 PM
*Price:
Thursday – $16.00 Adv & $18.00 DoS – Buy Tix
Friday – $18.00 Adv & $20.00 DoS – Buy Tix
*All times and prices are gathered from other sources and we are not responsible for mistakes or inconsistencies. They are intended only as guidelines. Please, always call the venue if you desire the most accurate information possible.