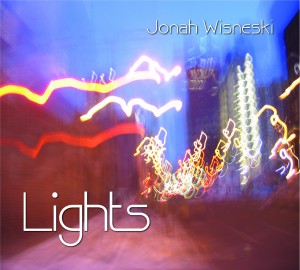 I will admit that I underestimated the abilities of Jonah Wisnenski at first. I went to the CD release party of Lights back in September, and even wrote a review of the show (read it here). The room wasn't right for Jonah's music and the mediocre sound did not do his band justice. Unfortunately, that first impression didn't draw me back to his music. I am glad that I ran in to Jonah again and I accepted his invitation to give a listen to his album with a fresh perspective . . . so glad!
Jonah has been involved in the Colorado music scene for years, and he had some friends join him on his first solo endeavor. Leftover Salmon's Bill McKay played keys on a couple of tracks, Rose Hill Drive's Nate Barnes played some drums, and members of Fox Street Allstars and Kinetix also got in on the action. This album is a great representation of how much the scene digs Jonah's music, and I consider that some of the best praise that can be offered.
Jonah's years working as a session man has given him chops in many styles and he really shows them off on Lights. From the country shuffle of "Route 6," to the funky and soulful "Riverboat Queen," Jonah keeps the songs grounded in his smooth and jazzy version of the blues. "Grant Me Patience" and "Runaround" give us a taste of his more traditional electric blues playing and also showcase a grittier tone in his vocals.
"Of All the Things I've Lost, I miss My Mind the Most" is soaked with sax and is the song that really showcases Jonah's skills on the guitar. His soloing is tight and has some feeling behind it; natural and unforced. A blues solo is where you can hear if someone plays the blues, or lives the blues, and Jonah sounds liked he is living it!
The album has a lot of different styles and sounds, but they fit together really well. I like being able to leave an album on from start to finish and here it as an entire work of art. I look forward to checking Jonah out again in a room that really compliments his sound. The Walnut Room perhaps?

Brian Turk grew up in the shadow of the Catskill Mountains, near Woodstock, NY. He comes from a family of music lovers, audiopliles, Dead Heads and avid concert goers.The musical magic that can only be created in the Catsklills, both past and present, is what Brian cosiders the epicenter of his music addiction. The music of The Band, and most recently The Levon Helm Band, is the soundtrack of home for him. Brian's mother took him to his first concert at 5years old...it was Johnny Cash and Roseanne Cash at Jones Beach Amphitheatre. For Brian, music is a family affair. He feels the same way about live music...we all convene to celebrate together. Brian's writing life started when he wrote his favorite author, southern fiction writer Clyde Edgerton, a fan letter at age 13. When most kids were idolizing baseball players and television, he was worshipping writers and musicians. The two became friends and Clyde shared his craft with Brian. The next year Brian attended Duke University's Young Writers Camp. This is the extent, of what Brian considers, his "formal" training in writing. From then on his goal was to capture snapshots of life through words. Brian has been involved with live music in various facets over the years, and combined with his enthusiasm and love for Denver's music scene, he creates a vivid description of what he sees and hears. If you see him out at a show, dancing with a notebook in hand, say hello.