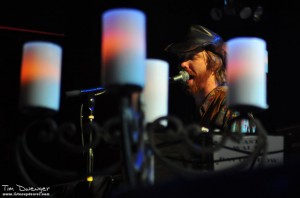 Photos by Tim Dwenger
The Scene: The night before Thanksgiving is traditionally a time for people to gather with family and friends you haven't seen in a while and catch up on the year.  This is exactly what Polytoxic's Last Waltz – Revisited has become for so many people in Denver.  While the annual event is a place for Denver music fans to come together, it is also a time for Denver musicians to gather and do what they best, play music together.  Since it started back in 2005, this event has steadily grown in size to the point where this year the event was held at two of the most iconic venues on the Front Range, The Boulder Theater and The Ogden.  While neither show sold-out, they were both plenty full and it allowed for plenty of space for dancers.  With nearly 40 performers on stage throughout the evening, it was an incredibly collaborative night that featured some absolutely brilliant musical performances.
The only real bumps in the road came courtesy of some rude fans around us.  To the girl who had no sense of personal space what-so-ever and insisted on bumping into just about everyone in our group countless numbers of times, learn how to hold your liquor.  And to the meathead that was yelling "you suck, get off the stage," at Buck Perigo as he performed a spot-on rendition of Arlo Guthrie's "Alice's Restuarant," if you are going to heckle someone, try to be creative at least, but better yet, give the guy some respect and shut your mouth.  You were only embarrassing yourself.  As if that wasn't bad enough, the same meathead was in the bathroom while I was after Perigo wrapped up, and was trying to strike up a conversation about how "shitty" the performance was.  When two guys next to him told him they thought it was great, he further proved his worth by having nothing more to say than "fuck you then, fuck you."  Classy dude . . . classy!
The Opener: Buck Perigo. Perigo took the stage at about 9:15 and gently launched into a 20 minute version of Arlo Guthrie's Thanksgiving classic "Alice's Restaurant."  It was pretty amazing to watch as Perigo nailed the narration and told the hilarious story as the crowd slowly filled the room.  While many folks were talking, and not paying Perigo much heed, he did manage to get us all to sing along to the closing chorus.  Though, truth be told, he let us know that Boulder did it much better!
The Last Waltz: I've been a fan of The Band for as long as I can remember and have gone through several periods where I've been completely obsessed with their Martin Scorsese concert film, The Last Waltz.  Despite the fact that most of the members were Canadian, to me the music of The Band embodies American musical history.  It's rife with Blues, R&B, Jazz, Soul, Funk and, of course, Rock and Roll.  Their's is a deep catalog of gems and The Last Waltz showcased it brilliantly.  While Scorsese, Robertson, Helm, Danko, Hudson, and Manuel set an extremely high bar with the original Last Waltz, CR Gruver, Tori Pater and Chad Johnson set something pretty amazing into motion as well when they got the idea to revisit it 6 years ago.
As the "Theme From the Last Waltz" died out and Pater's whiskey soaked growl grabbed the lead on "Cripple Creek," the show took off and no-one looked back as guests galore came and went leaving Gruver and Pater, on opposite sides of the stage, as the mainstays of the show.  The first highlight of the evening came when Peter Stelling took center stage and embodied Eric Clapton for "Further On Up The Road."  His note perfect playing gave Slowhand a run for his money and set a high standard early on as it quickly became clear that this was much more than just another jam session.  These guys came to play.
In a set that contained favorites like Joni Mitchell's "Coyote" and Neil Young's "Helpless" alongside The Band classics like "The Weight," "It Makes No Difference," and "This Wheels On Fire," there were a couple of guests that really stood out above the others.  First up was Robby Peoples doing an incredible version of Muddy Waters' "Mannish Boy."  Peoples wailed on the harmonica and delivered a riveting performance that would have made John Belushi proud as the band kept a rockin' blues beat going behind him.   Second, Jessica Goodkin seemed to channel the great Van Morrison on a version of his classic "Caravan" that made most people in the room stop in their tracks.  Her powerhouse vocal brought all the Irish soul of the original right here to Denver.
The set break was relatively brief and before too long the band came back out to dive headlong into a second set of music that kicked off with "Who Do You Love?" and kept the dancers happy with a rockin' take on "Rag Mama Rag." Adam Kilgus stepped up to the mic for "Life Is A Carnival" and the party really seemed to be in full swing.  Looking around the crowd, people were smiling, dancing, and tipping back drinks like the night was still young.  For just about everyone in the Ogden on Wednesday, life was a carnival, at least for a few hours.
The collective took the second set to the next level when they launched into "Don't Do It" and followed it up with followed it up with "Chest Fever."  The "Chest Fever" intro, while maybe not a complete "Genetic Method," featured Gruver being joined on the keys by Ted Tilton.  Together they managed to pull off a massive solo, in the style of the great Garth Hudson, that set the stage beautifully for Jake Wolf's powerfully raw take on the anthemic song that was highlighted by The Denver Horns.  A song or two later, the moment that everyone was waiting for arrived when Aaron Rose took the stage in 70's attire as Neil Diamond.  Rose has been doing "Dry Your Eyes" from the beginning of this project, and I think they would have to retire it from the setlist if he wasn't around to make it his own.  From the blue suit, to the glasses, to the voice, he's got this one nailed and had the crowd eating out of the palm of his hand.
As Rose left the stage, the band kicked off a run of songs that started with a beautiful take on "Stagefright" and slid into two of my personal favorite The Band songs, "Shape I'm In" and "The Night They Drove 'Ol Dixie Down."  The later two tunes featured Brian Adams, Chris Sheldon, and Paul Murin who played together for years as Phix and now gig together as DeadPhish Orchestra.  Murin is clearly right at home with these two playing behind him because he delivered some of the strongest soloing of the night and even stepped to the mic and took his turn on a few verses.  After takes on "Ophelia" and the New Orleans themed "Such A Night," the whole cast emerged for a group sing-along to "I Shall Be Released."  It was a fitting end to an amazing display of talent and a fantastic night of music.  I swear this thing keeps getting better every year!  If it's not already, do yourself a favor and make Polytoxic's The Last Waltz – Revisited a part of your Thanksgiving Tradition.
Energy: A-
Sound: A
Musicianship: A-
Stage Presence: A
Set Light Show: A
Overall: A
Music has always been a part of my life. It probably all started listening to old Grateful Dead, Peter Paul & Mary, and Simon & Garfunkel records that my parents had, but it wasn't long before they were taking me to concerts like Starship, Crosby, Stills & Nash, and Huey Lewis & The News. I got the bug to write about music after reviewing an Eric Clapton concert for a creative writing project in high school but didn't really take it up seriously until 2002. Since then I have published countless articles in The Marquee Magazine and done some work for Jambase.com, SPIN Magazine, and various other outlets. I started Listen Up Denver! as a way to share the music information that is constantly spilling out of my head with people who care. Please enjoy!