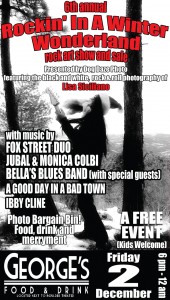 You Are Invited To Rockin' In A Winter Wonderland!
A Rock Art Show and Sale
Lisa Siciliano's 6th Annual Holiday Rock & Roll Photography Art Show & Sale is happening this Friday night, December 2nd at George's (located right next to the Boulder Theater).  As usual, the event will feature live music from some fantastic local artists, food, drink, and of course 100's of black & white rock & roll photos on display and for sale.
Siciliano has shot all of the big names over the course of her career, including Slash, Neil Young, Roger Waters, BB King, Aerosmith, The Who, Iggy Pop, and this goes on.  This is a one of a kind event that you do not want to miss.  If you haven't been to one of her shows, or it's been a few years….this is the one to see!
5 GREAT BANDS
Fox Street Duo 6pm
A Good Day in a Bad Town 7pm
Bella's Blues Band (with special surprise guests) 8pm
Jubal 10 pm
Timber Bridge 11 pm