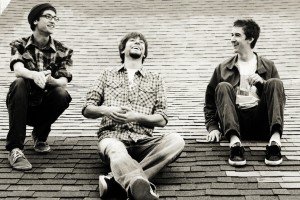 The Big Motif is blending a wild combination of blues, rock, reggae, and jazz to create a unique sound that is sweeping the Front Range.  These guys are offering up a new breed of Rock & Roll that has been well recieved by critics and fans alike.  With influences ranging from The Black Keys to Medeski, Martin & Wood, to Slayer, this is band that is breaking the mold and surprising audiences of all ages.  Don't miss them this Saturday when they rock The Gothic Theatre with Andreux and The See of Sounds, you will not be disapointed.  They took the time to sit down with us here at Listen Up Denver! and answer our 20 Questions.  Check out what they had to say!
Listen Up Denver!:  How did you come up with your band's name?
The Big Motif: It took us a while to come up with a name we really liked. Ironically it came from a "Word Of The Day" (Motif) and Hunter [Roberts] adding the "Big" to it.
LUD: What is the line-up of the band?
TBM: Jeff Jani – Percussion, Hunter Roberts – Bass, Keys and Vocals, Tony Pacello – Guitar and Vocals
LUD: How would you describe your sound?
TBM: A tornado of sex and danger
LUD: Who would you count as major influences on your band?
TBM: We try and absorb as much music and inspiration we can, coming from all different genres. Medeski, Martin and Wood, Derek Trucks, John Scofield, The Black Keys, the occasional Slayer…
LUD: How did you guys get started playing together?
TBM: We all met at a radio contest in 2005 hosted by Lewis and Floorwax and 103.5 The Fox. We started with a few more musicians, but eventually it was just us three.
LUD: Does anyone in the band have any formal musical training? If so, what is it?
TBM: All of us grew up taking lessons, but Hunter is the only one who can read music (well, anyways). Hunter studies jazz bass at DU, and we are all continuing to take lessons.
LUD: Where was your first gig together and how did it go?
TBM: Our first gig as a three-piece was at The Celtic Pub in Parker, CO. It went really well, considering we were only 13-15 years old and made close to $400 in tips and were asked to come back nearly every month.
LUD: What's your favorite memory of playing together?
TBM: We've played at some cool venues around Colorado. We've opened up for both CCR and Jonny Winter. But I'd say the most fun I've had with this group was on our month long tour across Texas and the Mid-West, partying in the back of the van!
LUD: Are you playing any shows coming up that you are particularly excited for?
TBM: We have a show at The Gothic Theater on Dec 10 with Andreux and The See of Sounds (CD release) and everyone who attends will get a copy of Andreux's CD.  It should be a great show and we're really looking forward to it.
LUD: What is your favorite song to cover?
TBM: "Next Episode" by Dr. Dre
LUD: What is the strangest request you've had at a show?
TBM: We were still minors and a woman asked us to sign her…um…breasticles. I think that's the scientific term for it.
LUD: What was the first song you wrote together as a band?
TBM: A song called "Hyde" that incorporated a 10min long drum solo, which we haven't played in years
LUD: Do you still play that song live? If not, why?
TBM: Nay… it sucked
LUD: Have you released any of your material yet? If not, do you have any plans to?
TBM: Yes, we have released 2 CDs.  In 2010 we released our debut self titled CD that has 5 songs, and in 2011 we released the 7 song 'Does it Weigh Heavy' CD.  We also have a Live at Quixotes release available for free download, along with the other 2 releases, at www.thebigmotif.bandcamp.com.
LUD: What is your favorite venue in Colorado, and why?
TBM: Red Rocks is incredible. Although we haven't played on the main stage there, we've done a few gigs at the top for the 9/11 Stair Climb. As for a favorite venue we've actually played, The Bluebird Theater and The Ogden Theater were great, but I think we can all agree that an involved and pumped up crowd is really what makes a venue great. Gunnison has one of our favorite crowds to date.
LUD: If you could play on any stage in the world where would it be and why?
TBM: Either Red Rocks or The Gorge. They're both amazing outdoor venues that have an atmosphere that you can't even explain.
LUD: If you could open for any band or artist, who would it be and why?
TBM: The Black Keys would be great. One, because they're the f**king Black Keys, and two, because they seem like such cool dudes.
LUD: What is the most outlandish thing your band would consider putting in your backstage rider?
TBM: I have no idea what you're talking about.
LUD: What is your bands drink of choice?
TBM: If it's beer, we like it cold. If it's a cocktail, we like it strong.
LUD: Can you name a few local Colorado bands that are really impressing you right now?
TBM: Moss, Pries, The Pirate Signal, Boulder Acoustic Society, Air Dubai, Musketeer Gripweed, to name a few…

Music has always been a part of my life. It probably all started listening to old Grateful Dead, Peter Paul & Mary, and Simon & Garfunkel records that my parents had, but it wasn't long before they were taking me to concerts like Starship, Crosby, Stills & Nash, and Huey Lewis & The News. I got the bug to write about music after reviewing an Eric Clapton concert for a creative writing project in high school but didn't really take it up seriously until 2002. Since then I have published countless articles in The Marquee Magazine and done some work for Jambase.com, SPIN Magazine, and various other outlets. I started Listen Up Denver! as a way to share the music information that is constantly spilling out of my head with people who care. Please enjoy!