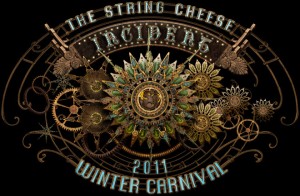 The String Cheese Incident's Winter Carnival tickets began shipping last week and they are amazing. Some of the most original and beautiful tickets (short of that engraved glass Bar Mitzvah you got years ago) that you've ever seen.
In case it doesn't come across in the photos below, the tickets have depth and the images change as you move the ticket or look at them from different angles.  They seem to printed using Lenticular printing technology.  It's really quite impressive and, as usual, String Cheese Incident is setting a new and higher standard for the concert experience.  This time with a ticket.  Nice work team SCI!!!
According to Wikipedia: Lenticular printing is a technology in which a lenticular lens is used to produce images with an illusion of depth, or the ability to change or move as the image is viewed from different angles. Examples of lenticular printing include prizes given in Cracker Jack snack boxes that showed flip and animation effects such as winking eyes, and modern airport advertising graphics that change their message depending on the viewing angle. This technology was created in the 1940s but has evolved in recent years to show more motion and increased depth. Originally used mostly in novelty items, lenticular prints are now being used as a marketing tool to show products in motion.
Music has always been a part of my life. It probably all started listening to old Grateful Dead, Peter Paul & Mary, and Simon & Garfunkel records that my parents had, but it wasn't long before they were taking me to concerts like Starship, Crosby, Stills & Nash, and Huey Lewis & The News. I got the bug to write about music after reviewing an Eric Clapton concert for a creative writing project in high school but didn't really take it up seriously until 2002. Since then I have published countless articles in The Marquee Magazine and done some work for Jambase.com, SPIN Magazine, and various other outlets. I started Listen Up Denver! as a way to share the music information that is constantly spilling out of my head with people who care. Please enjoy!