Below is a feature that I published in The Marquee Magazine back in August of 2005.  With Anastasio's performances at The Ogden tonight and tomorrow, I figured I would post this here for anyone who wants a little more information about another incarnation of Trey's Band.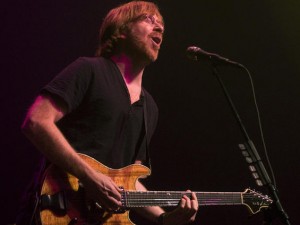 Photo by Jon Gitchoff
It was a year ago this month that the city of Coventry Vermont played host to the final three performances by the group that redefined the Jam-Band genre, Phish.  They weren't washed-up, no one had passed away, and tickets to their shows were still prized possessions.  So why did they call it quits?  The answer is quite simple and understandable if one imagines what life might have been like in their shoes.  They wanted to live their lives, be with their families, and pursue creative outlets outside of the band they had been with for more than 20 years.
Trey Anastasio, the man who was considered by many to be the front man of Phish has been a notably prolific songwriter and composer over his career.  In addition to Phish, Anastasio has been a part of at least 12 other bands and released 8 albums under a moniker other than Phish.  Bands such as Oysterhead, 8FT Fluorescent Tubes and Surrender to the Air have all been fortunate enough to feature Anastasio's blistering guitar in their sound.
True to form, he has shifted gears once again.  In his first "post Phish" project, Anastasio has returned to the studio and the stage with a band he has dubbed, 70 Volt Parade. This high energy rock and roll quintet is a distinct departure from the sound of the Trey Anastasio Band that blew audiences away in the summer of 2003.
The only member of the most recent incarnation of the Trey Band that was tapped to join 70 Volt Parade was longtime friend and collaborator Ray Paczkowski on the keyboards.  While Paczkowski's presence provides Anastasio with a familiar face on the stage, he couldn't say enough in a recent interview about his choice for a drummer.  "I was looking for a drummer who had a back beat, but could float in a Mitch Mitchell kind of style.  I was having a real hard time and I had decided to use 2 drummers until I heard about Skeeto [Valdez] . . . The band was built around my instant chemistry with Skeeto and he is working out incredibly well.  He is 51 years old and I am amazed that he wasn't discovered earlier.  He is killing me, he is an amazing drummer and I can't say enough good things about him."
The energy and playfulness that is blowing Anastasio's mind comes, at least in part, from a promise Valdez made to himself 16 years ago.  "I decided when I was 35 that every time I sit down at the drums, whether it's in my basement or onstage, I'm going to play like a 5-year-old kid."  Now 51, his hard work and commitment to his art has payed off.  Today he slides in behind his kit every day as the drummer in one of the most high-profile bands on the touring circuit.
Valdez, Anastasio, Paczkowski and the rest of 70 Volt Parade, (Peter Chwazik – Bass, Les Hall – Keys, Guitar, Synths) began marching together on April's Fools Day of this year in Burlington Vermont at the Higher Ground.  In front of the hometown audience the band debuted 6 new, original compositions and combined covers (Phish included) and re-arrangements of Anastasio's older solo material to round out a full, two set show.
Soon after their first public appearance, the band hit the road for a spring tour that would route them through the deep south, and the Mid-West, until the tour came to a close in thunderous fashion at the Hammerstein Ballroom in Manahattan.
While the band had been covering several Phish songs for the entire tour, it was in New York that Mike Gordon joined 70 Volt Parade for the first and only time in the brief history of the band.  Anastasio and his former band mate pulled some classic Phish material off the shelf as they dove headlong into Back On The Train, Waste and Wolfman's Brother to the delight of phans across the country.
Though the critics didn't give the tour glowing reviews fans reached out from all corners to share their 2 cents.  Comments like: "People, you need to remember this was only the third live performance for this band, and I'm sure if you went back to Phish's third live show you would be blown away at how raw it was!!!"  By all accounts, performances on the spring tour were loose, but since the tour ended in May,  the band has been playing and recording 6 days a week in Atlanta.
With an album that is slated to be completed by the start of the summer tour, the band has had time to work out the arrangements and polish them up a little bit.  As Anastasio is quick to point out "The chemistry between the band members is evident," and "I want to stay with this band for a long time, because things are working out so well."  With the hard work that they are putting in, and the chemistry that seems to exist, it is likely that we are witnessing the birth of a band that will soon rival Trey's last ensemble, a project that took 2 full years to hit its full stride.
While they are a rock-n-roll band by trade, 70 Volt Parade has very distinct Jazz influences.  The rhythm section of Valdez and Chwazik come from backgrounds of groove and jazz and play tightly off Anastasio's guitar work to flavor the music with a New Orleans style low end that brings audiences to their feet.

Music has always been a part of my life. It probably all started listening to old Grateful Dead, Peter Paul & Mary, and Simon & Garfunkel records that my parents had, but it wasn't long before they were taking me to concerts like Starship, Crosby, Stills & Nash, and Huey Lewis & The News. I got the bug to write about music after reviewing an Eric Clapton concert for a creative writing project in high school but didn't really take it up seriously until 2002. Since then I have published countless articles in The Marquee Magazine and done some work for Jambase.com, SPIN Magazine, and various other outlets. I started Listen Up Denver! as a way to share the music information that is constantly spilling out of my head with people who care. Please enjoy!