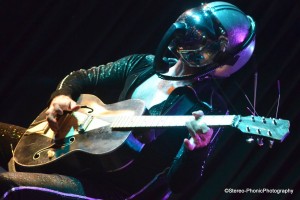 Photos by Johne Edge
The Scene: Arriving late, I had to swim through the sea of cigarette smoke that tends to accumulate outside the venue in a city with a smoking ban to get to the box office of the Marquis Theater.  Just through the door I was met by the smell of delicious pizza.  Marquis Pizza, which is located on site, serves up slices everyday beginning at 5:00pm. The sidewalk and bar line were both abuzz about the opener Broken Spirits.  The Brent Burkhart led trio had apparently wowed the audience with their set that had combined elements of Garage Rock, Delta Blues, and Rockabilly.  Damn, I hate being late to shows.  I had also missed one of my local favorites, Champagne Charlie, who had also played in support of the night's bill.  After buying Mark and Ryan (from Champagne Charlie) a beer as atonement for my sin of tardiness, we headed up to the side of the stage and awaited the appearance of the enigmatic headliner.
Bob Log III: Bob Log III took to the stage in a full-body black and silver Cannonball Man suit.  On his head was a helmet with a metallic flake paint job and a face-shield.  The helmet had been wired for sound with a handset from what could have been any payphone (no wonder you can never find one that works anymore).  Bob is a one man band, and perhaps the lyrics from his song "One Man Band Boom" best describe what came next"
Bob Log the third, one-man band, Tucson, Arizona.
Heyeeeh! Lemme introduce the band to ya.
On cymbals, left foot.
Over here on the bass drum we got right foot.
Shut up! This is my left hand that does all the slide work, right hand does the pickin'.
My mouth hole does most o' the talkin'.
And you're looking at my finger.
And so it went as the masked man lit off into some of the fastest and strangest lo fidelity Blues that I've ever had the pleasure of hearing live.
The one man band touring sensation pounded out the rhythms with a kick-drum and a homemade foot cymbal which he had custom-outfitted with a kick pedal of its own.  In addition, he used a drum machine to add to the complexity of the raw rhythms.  These beats, combined with his slide guitar work and irreverent distorted telephone microphone vocals, were the reason such a large group of fans had ventured out on a Wednesday night.  Bob fed off the audience, finger picking faster and faster, and did not miss a beat as a drunken girl who had jumped on stage to dance took a header into the back of his chair.
The audience enjoyed song after song as Bob continued to play.  Though he was finding it a little hard to breathe at altitude, more disturbingly, he was also finding it hard to find his beer from behind the confines of his helmet.  Bar sales of scotch increased dramatically as the opening notes of "Boob Scotch" were played.  Later Bob called on three female audience members to come on stage to sit on his knees while he continued to play (I guess after years of drumming with your feet you gain the ability to simultaneously drum and support the weight of multiple people).  The show came to an end around 12:30 as one of Bob's loops continued to play and the audience milled around for about 15 minutes after he left the stage in hopes that he would return to the stage. Sadly he did not.
After witnessing this highly entertaining form of dirty Delta Blues played with Punk Rock attitude, I am now a fan of Bob Log III.  If you have not heard his stuff yet, check out his new album My Shit is Perfect, available for purchase on iTunes or at Voodoo Rhythm Records.
Energy: A+
Sound: B+
Musicianship: A
Stage Presence: A+
Set / Light show: C
Overall: A
Wherever the music is, you'll find me with my camera, shooting on street corners, from barstools at clubs, from the side of the stage at theaters, and from photo pits in places like Red Rocks. Clicking away, trying to capture the emotive essence of music, and all those moments that we forget because of one too many Pabst Blue Ribbons.