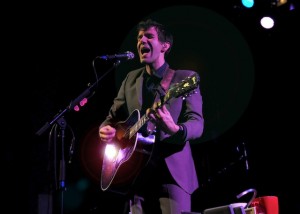 Photos by Kit Chalberg
The Scene: The Bluebird Theatre was filled with a great looking and clean cut crowd on Friday night. The polite young professionals with Starbucks cards in their wallets were out in full force. Stephen Kellogg and the Sixers obviously appeal to a very specific demographic and the crowd was one of the most homogenous I have seen in Denver recently . . . and that's saying something! SK6ERS sound has the same qualities of the audience: proper, polite, clean, positive, cheerful, fun and law abiding. To illustrate this point even further, not one puff of weed smoke went up in the air at The Bluebird on a Friday night and for anyone who sees a lot of music in Denver, that is as rare as good bagel here in town.
All that said, the SK6ERS crowd was also one of the most dedicated I have come across. Every band member has a nick name that fans yell out sporadically throughout the night making the audience and musicians seem like best friends. Most people knew all the lyrics and seemed to have a deep commitment to this band, their music, and their merchandise. Both SK6ERS and opener Jon McLaughlin seemed deeply connected to the fans and gave us a great night of very personal and well written material.
Jon McLaughlin: Jon has had much success over the past few years, lending his songs to commercials and movies, as well as appearing as himself in the film Enchanted. His commercial success didn't seem to allow him to get his true voice heard, and he has made some changes to keep artistic control of his career. The strong Ben Folds influences in his music were readily apparent as he gave us a set filled with romantic keys, pop laced vocals, and charm.
Stephen Kellog and the Sixers: These guys are some of the most genuinely happy musicians I have seen on a stage! They are obviously very appreciative of the opportunities they have been afforded and of the fans that have gotten them to where they are. Stephen interacted with the audience all night, telling stories and sharing himself through his songs and banter. I was caught off guard when he opened up with "Wagon Wheel," an Old Crow Medicine Show song that has long been one of my favorites, but seems to be appearing everywhere as of late. I just cannot get away from this song! The fact that it was just him and his guitar made it interesting and I eventually joined the audience for a big group sing along. I realized that if this guy can get the Bluebird singing on the first song, then I should probably just go along for the ride!
Stephens's lyrics are well written and are crafted to reveal much about his personal life. You are able to listen to the words and hear a story that is cohesive and easy to follow. The music is pop-rock with a good dose of American imagery. I guess I would say his music is very user friendly. You don't have to interpret his straight forward lyrics and the music is not too complex. The vocals are clear and the harmonies and minimal use of Mandolin and Banjo adds some tradition to the sound. It is easy for someone to relate and connect to what he is presenting; as well as bond with him through his self-disclosure. I would have to say that his personal connection with fans might be SK6ERS main draw.
The crowd was happy to hear songs off the bands recent release Gift Horse and when he played a solo version of "1993," the crowd sang along like it was a song they have been listening to for years. The highlight of the evening for us all was when the entire band walked off the stage, through the crowd and stood on risers in the middle of the Bluebird. They played a totally acoustic and unamplified version of "Shady Esperando" that immediately made me a new fan of these guys! Seriously. They got us all clapping in synch and singing the chorus, and for just a few minutes, the band and the audience seemed to merge into one sea of pure musical joy. Not only was the experience amazing, but they pulled it off without sacrificing the quality of the sound. Everyone could hear each word and note, even the ones who didn't rush down from the balcony or swarm to the middle of the room.
From that moment on the show was seen through different eyes. I suddenly got why my sister and her friends were so excited to drive from New York to Vermont during her senior year in high school to see these guys. (You would have thought they were going to see U2 in Dublin!) You just cannot help but love these guys when they are performing! Besides Stephen, there are three other talented characters on the stage. Kit "Goose" Carlson got down on the keys and bass, as well as the tuba, but it was his dance performance that truly got me. The dude actually did the worm on stage as well as some Kid & Play style moves…and he did it well! Yeah, I may have shouted "Goose" along with the rest of the crowd at this juncture, but I just couldn't help it. Brian "Boots" Factor beat the drums all night and Sam "Steamer" Getz worked the strings of the guitar. These guys were as tight as a pledge class and were definitely brothers on some level.
I've got to admit that I didn't think I would enjoy the show nearly as much as I did. I see a lot of music, and don't usually get into bands like SK6ERS, but I have to say they went way beyond what I had expected. After the "last" song the band left the stage briefly. The crowd quickly cheered them out for not one, but four encores. They threw some older and lesser known material into the encores for the die-hard fans that were sticking around till the end; and that was mostly everybody! This band was a shot in the dark for me. I had heard some good things, but never really took a listen. These guys work hard, stay humble, connect with the fans and put on one hell of a show! Nights like these are why I take risks on music I may stubbornly snub at first.
Energy: A-
Sound: B+
Musicianship: B+
Stage Presence: A
Set / Light show: A-
Overall: A-
Brian Turk grew up in the shadow of the Catskill Mountains, near Woodstock, NY. He comes from a family of music lovers, audiopliles, Dead Heads and avid concert goers.The musical magic that can only be created in the Catsklills, both past and present, is what Brian cosiders the epicenter of his music addiction. The music of The Band, and most recently The Levon Helm Band, is the soundtrack of home for him. Brian's mother took him to his first concert at 5years old...it was Johnny Cash and Roseanne Cash at Jones Beach Amphitheatre. For Brian, music is a family affair. He feels the same way about live music...we all convene to celebrate together. Brian's writing life started when he wrote his favorite author, southern fiction writer Clyde Edgerton, a fan letter at age 13. When most kids were idolizing baseball players and television, he was worshipping writers and musicians. The two became friends and Clyde shared his craft with Brian. The next year Brian attended Duke University's Young Writers Camp. This is the extent, of what Brian considers, his "formal" training in writing. From then on his goal was to capture snapshots of life through words. Brian has been involved with live music in various facets over the years, and combined with his enthusiasm and love for Denver's music scene, he creates a vivid description of what he sees and hears. If you see him out at a show, dancing with a notebook in hand, say hello.