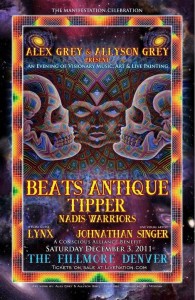 The Scene: The blistering cold last Friday night was unable to keep The Fillmore Auditorium in Denver from selling out. The Electronic, world-fusion band Beats Antique made their headlining debut at the auditorium in conjunction with psychedelic artists Alex and Allyson Grey. Outside of the venue there were many disappointed fans with one finger in the air attempting to find a ticket and survive the cold. Inside, it was nothing short of a circus. The sold-out room was, for the most part, packed shoulder-to-shoulder with a very eclectic mix of people. Shows like as this are always a great people watching opportunity. Young kids with wide eyes wandered around while others took the opportunity to dress in their best burning man gear and let their Freak Flag fly.
A massive screen projected works by Alex Grey along with other psychedelic images and Grey himself was positioned on stage right next to his wife with a large canvas facing the crowd. It was rather obvious that a lot of the folks were there simply to see the man paint. He is an iconic figure in this culture that is centered on finding peace through mind expansion. It is almost needless to say that the energy in the massive room was strange, but good strange.
Beats Antique: Beats Antique has become a huge force in a very short time through wildly entertaining live performances backed with some of the most unique sounds you will ever hear. They combine live instrumentation with computer generated sounds to create a beautiful soundscape for a troupe of belly dancers led by Zoe Jakes. With Side Car Tommy on a drum set and David Satori on a whole slew of instruments including Violin and a Turkish Banjo, their music has the ability to transport you to an entirely new place and time.
Friday's performance was nothing short of brilliant. Although it was very similar to the sets I have heard them play in the past, that didn't take away from the performance as a whole.  This tour is partially devoted to promoting their new album Elektraphone and it was nice to hear them play some new songs and switch up the style a little bit from their normal set.
The Fillmore has never been one of my favorite venues to see a show due to the strange set up and, at times, bad sound. This was not the case on Friday night. For the first time ever I was very impressed with the sound and how Beats Antique was able to fill the air perfectly. Between the belly dancers, the projected images, and the Grey's painting, it was hard to find one specific thing to focus on. Sensory stimulation was at an all time high and the heavy sound of a Baritone Sax played by Sylvain Carlton keeps the frequencies low and bodies vibrating.
It was obvious from the start that all of the members on stage were beyond excited to be performing in front of a sold-out crowd. Their stage antics and lust for the unknown kept every member of the audience wondering what might happen next. From skeletons arising out of Zoe's dress, to giant worm monsters parading around the stage, Beats Antique impressed everyone from seasoned fans to first time listeners. The set stretched for nearly two hours and ended with the one-two punch of Glitch Mob and Bassnectar remixes, the later of which they were more than happy to play for the first time.
I left the venue not completely blown away, but still in awe of Beats Antique's ability to capture the attention of so many people with such a unique sound.  Even though they have an element of surprise with every song they play, I was a little bit disappointed that the performed essentially the same set I had heard them play in the past. That aside, I was nothing less than impressed with their raw talent and drive to constantly create an amazing experience for their fans. That along with the psychedelic visual stimulation made for an amazing night of sights and sounds. If you have never seen Beats Antique live, I highly recommend you get out to at least one of their shows. You will walk away blissfully confused in the best possible way about what in the world just went down on that stage.
Energy: A
Sound: B
Musicianship: B
Stage Presence: A
Set / Light show: A+
Overall: A-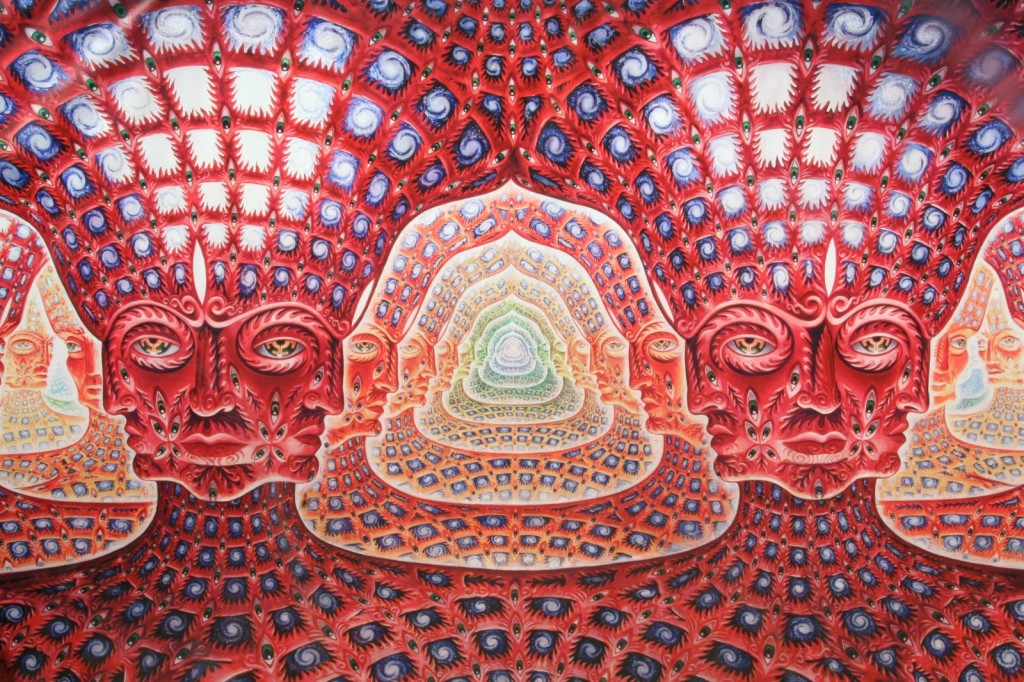 I rode my skateboard from school in 7th grade to my buddy Vince's house where he put on the song "Perfect Government" by NOFX and I was hooked. The next day I bought the album Duh by Lagwagon. The next year I saw Against Me! at the Starlight Theater in Fort Collins, my mom dropped me off. I've since devoted every waking hour to anything done with passion. My speakerbox bumps everything from Lil' Wayne to Pablo Casals. I was never very good at making music, but I am damn good at listening to it. I've been filling up yellow notepads with random thoughts and misspelled words for as long as I can remember. I enjoy whiskey of all sorts, Newport cigarettes and the company of my family. I've got an addiction to run-on sentences that I'll probably never cure. A solid handshake with a stranger who has become a friend over a few beers means the world to me. You'll often find me wide eyed and wandering with an ear to ear grin. I live for funky break beats and spreading the love.