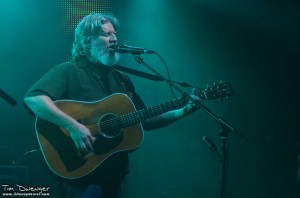 Photos by Tim Dwenger
The Scene: There were amazing things about the scene that surrounded the NYC String Cheese Incident shows last weekend, but we also got to see it's dark underbelly.  Let's start with the good stuff.  The venue was AMAZING!  Built in the 20's, the United Palace Theater is a stunning architectural wonder and I could have wandered around it for hours just soaking in the beauty.  The site lines from just about anywhere in the place, all the way up into the back of the balcony, are very good, and I was surprised at how it good the sound was down in the orchestra under the overhang.  With all this beauty came a few draw backs.  First, the place only has one bathroom, so lines were long for most of the night.  Second, it's way, WAY uptown at 175th and Broadway.  If you are at all familiar with New York City you'll agree that this is more than a little off the beaten path.  Subway rides were long, and cabs from midtown clocked in at around $20.  That said, if you can get up there, and time your bathroom breaks strategically to avoid the lines, you'll be just fine.
You might be wondering what I meant when I mentioned "the dark underbelly of the scene."  Well, here are a couple of examples.  On Friday night there was a bartender working upstairs on the mezzanine level who was treating women with no respect at all and when a fan confronted him about it, he swung at, and hit, the fan.  The resulting fight left the good samaritan with blood pouring down the side of his face.  Not exactly what my friends and I were hoping to see at a Cheese show.  Then, on Saturday, as we were exiting onto Broadway, we were confronted by countless hissing tanks of Nitrous and hundreds of balloons that made the crowded street outside the theater look like an evil carnival midway.  Fistfulls of money changed hands as kids huffed balloons and staggered around looking truly dazed and confused.  It was a dirty, dirty scene and one that really left me with a bad taste in my mouth.  As I look back on it I've got to say that it really was too bad because most of the folks I met during the two night run were great people who were just trying to have a good time with a fun band.  Such a shame that a few individuals can put such a black mark on the scene.
String Cheese Incident: Where to begin.  These two nights in New York City showcased two very different sides of the band.  It was almost a Jekyll and Hyde situation.  We went in to Friday Night with great expectations for a show that would keep us dancing late into the night and instead got one of the slower, and darker, String Cheese shows that I have ever seen (and I've been to almost 80 over the years).  Things started out pretty strong with "Cedar Laurels" which transitioned seamlessly into the traditional bluegrass number "Sittin' On Top Of The World."  Then the Latin bounce of "Blue Bossa" kept spirits high as the boys jammed their hearts out for 15 minutes and even took a dive into the electronic realm.
Sadly, what came next was a dark trudge through "Windy Mountain," "Way That It Goes," and "Song In My Head," that sucked most of the energy from the room.  The set closing "It Is What It Is" didn't do much for me either.  I'm not sure if it was just strange song selection or what, but I've got to say that the first set left me wanting a lot more. After a pretty lengthy break, the band returned with "Just One Story," and I was left fearing that we might be in for a similar second set.  The jam trudged on for what seemed like an eternity before peaking around the 13 minute mark with a pretty respectable climax that set the stage for the best song pairing of the night.
As unmistakable reggae laced beat of "Sirens" pulsed through the room, SCI took us on a crazy trip through electronic weirdness, soaring jams, and even an booming rap courtesy of Jason Hann.  Following that up with scorching take on "Daryl" that featured Kang tearing it up on the Fiddle, let many of us release some of energy that had been pent up since early in the first set.  Nershi latched onto the energy and directed it all into the first "Group Hoot" of the tour.  With things at an absolute fever pitch it stunned me when they let all the air out of the balloon with "Don't It Make You Want To Dance."   The pacing of the night continued to be just plain wrong and the only other highlight of the set came with the closer "Round The Wheel."
When they returned to the stage with the Bluesy Gospel strains of "The Bridge," they succeeded in sapping from me whatever energy was left.  Don't get me wrong, it's a good tune, but it's not one I'm gonna do much dancing to, and is much better placed midway through a set than as an encore.  Finally the unmistakable opening riff of Stevie Wonder's "I Wish" rang out, but it was too little, too late.  I dragged myself down the aisle as Kyle laid down a funky synth solo and my friends and I looked at each other with that "it can only get better from here" kinda look.  Fortunately, we were right.
Saturday Night the boys came on early and they were ready to get down.  Opening things up with a typically funky take on The Talking Heads "This Must Be The Place (Naive Melody)," it was clear from the get go that we were in for a good one and the first thirty minutes or more of the set were pure, sun-kissed, bliss.  In the way that only Cheese can, The Heads gradually morphed into Jean-Luc Ponty's "Rhum 'N Zouc" and we were whisked off to a Caribbean island for 10 minutes.  As I danced, all the reasons that I love this band came flooding back to me.  Next up came a trip to the inner depths of "Miss Brown's Teahouse" that featured a Kyle treating us all to a very funky "Chameleon" sandwiched in the middle.  As the boys ripped through "Wheel Hoss" this show came to embody embodied everything that I had wished for the night before . . . better late than never I guess!
The only "bathroom break" song of the first set came with "Sometimes A River," and I've got to say that I kinda like this tune.  While it doesn't have quite the funky good times vibe of my favorite SCI songs, Keith's smooth voice carries the sweet melody and really drives it home.   The next 30 minutes turned out to be some of the finest of the entire weekend as Nershi's relatively new "Colorado Bluebird Sky" found it's calling as the bread in a massive "Rollover" sandwich.  It was the stuff of legend and left us all panting for breath as the band walked off into the wings for a well deserved setbreak.
The second set didn't start off with quite the energy that the first ended with, but Kyle's "Let's Go Outside" let us get our dancing shoes laced up again before the band tore into "Restless Wind" and kept the dust in the air with "On The Road."  As the band sang, the smiling faces around the room made it quite clear that just about everybody in the room was indeed happy that SCI is back "On The Road."   Things slowed up a bit with "Betray The Dark" but the drum clinic that Travis and Hann put on next was nothing short of spectacular and from there the rest of the set was vintage Cheese.  A delightfully quirky "Joyful Sound" gave way to the boys first attempt at covering Radiohead's "National Anthem."  It was a bit of a stretch, but worked surprisingly well and the dark electronic jam sucked us deep into it's folds and offered a welcome deviation from the norm.  "Bumpin' Reel" aggressively built on the foundation that "National Anthem" laid down and offered us another chance to kick up our heels to Kang's Fiddle before the boys settled back into the Bluegrass of New Grass Revival's "Can't Stop Now" to wrap up a great set of music.
The lone encore of "Way Back Home," didn't pack quite the punch I was hoping for, but none the less brought me down easily and painlessly as I recalled the massive display of eye candy that took place during this tune at Winter Carnival back in March.  It was a fitting end to the two night stand, and I've got to admit the whole night made me wish I was going to make the trip up to Boston to round out the weekend.  But alas it was not to be, and over beers down in Hell's Kitchen after the show, we all agreed that String Cheese put their best foot forward on Saturday after tripping up and falling flat on Friday.  I guess that's what keeps us going out and hitting more shows . . . you just never know what you are going to get.
Energy: A-
Sound: A-
Musicianship: A-
Stage Presence: A
Set / Light show: A
Overall: A-
Music has always been a part of my life. It probably all started listening to old Grateful Dead, Peter Paul & Mary, and Simon & Garfunkel records that my parents had, but it wasn't long before they were taking me to concerts like Starship, Crosby, Stills & Nash, and Huey Lewis & The News. I got the bug to write about music after reviewing an Eric Clapton concert for a creative writing project in high school but didn't really take it up seriously until 2002. Since then I have published countless articles in The Marquee Magazine and done some work for Jambase.com, SPIN Magazine, and various other outlets. I started Listen Up Denver! as a way to share the music information that is constantly spilling out of my head with people who care. Please enjoy!